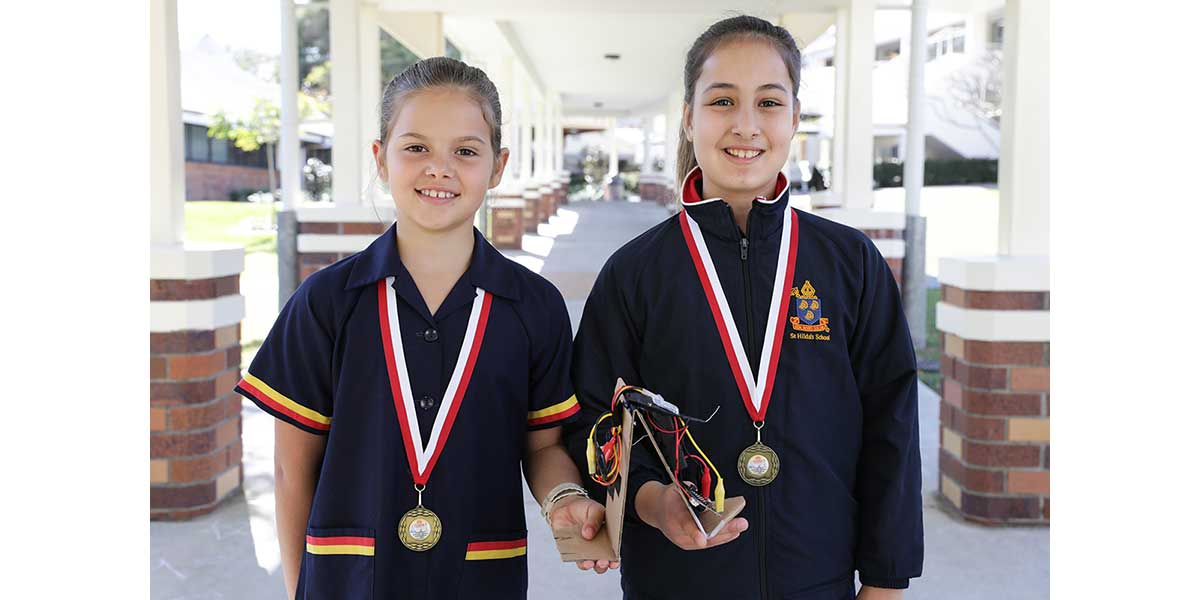 Education
Bright futures full STEAM ahead for young inventors
Two budding students from St Hilda's School were awarded first place at a statewide school science competition for a robot designed to detect signs of life underneath rubble following a destructive natural disaster event, as part of their STEAM Program.
Year 3 students, Hannah Baird and Georgia Bos placed first in the Engineering and Technology category for their creation at the Queensland Science Contest, and now qualify for the National BHP Foundation Science and Engineering Awards.
The small and agile robot has an in-built micro-camera attached to the body and is designed to travel through rubble and cramped passageways to detect people or animals caught underneath wreckage or debris.
The inspiration behind the STEAM project
Hannah was inspired to invent the device after she herself experienced and witnessed destruction caused by an earthquake while on a family holiday in Los Angeles this year.
"My family was in the backyard when suddenly we felt the rumble of an earthquake. We weren't in the epicentre of the earthquake, but there was a lot of damage caused around the area," Hannah said.
"I thought, there has to be a better way to get people and animals out of dangerous situations fast, whilst protecting their safety and the safety of emergency services workers."
Georgia and Hannah hoped to inspire other young girls to think about real world issues and create solutions that help others.
"We donated our prize money back to the School to encourage entries in next year's Science competition. We want to encourage more students to enter because at the Griffith University Competition, we learned that as girls get older, less and less enter these sorts of competitions," Georgia said.
St Hilda's Head of Junior School, Ms Amanda Shuttlewood said the school's integrated approach to learning made traditionally male-dominated industries such as engineering and technology 'the norm' for all students.
"Our STEAM Program within the junior school encourages creative thinking and problem solving across a number of curriculum areas including English, Maths, Science, Arts, Humanities and more," Ms Shuttlewood said.
"Hannah and Georgia's achievement is a great example of the types of opportunities on offer to our girls, enabling them to solve real life problems and contribute to society through an integrated approach.
"The entire school wishes Hannah and Georgia the very best of luck for the National Science Awards."