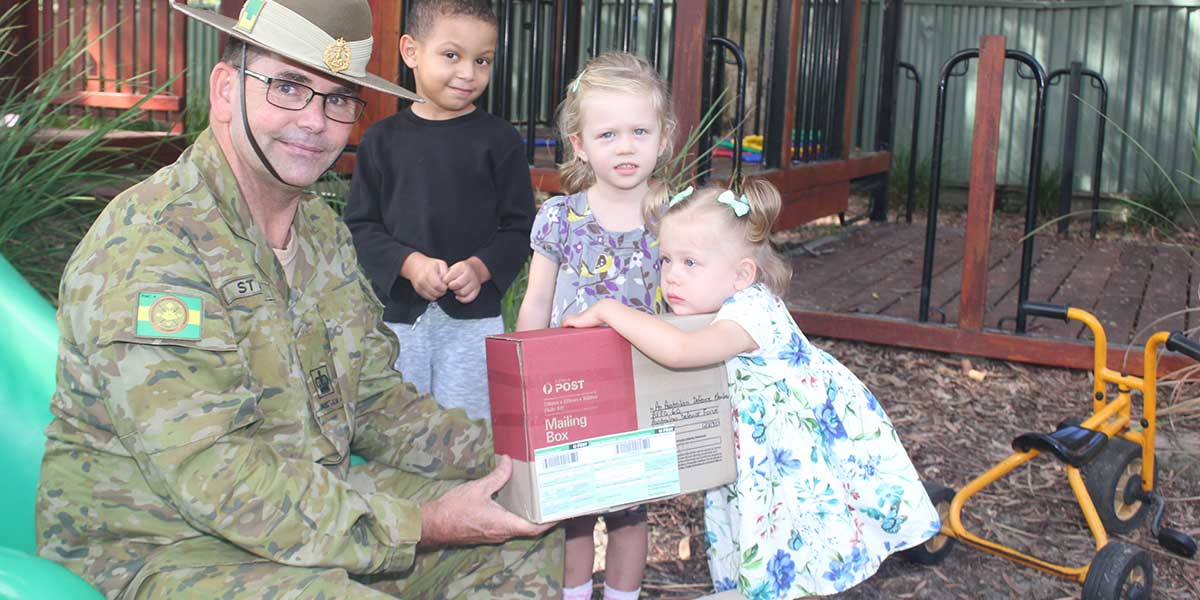 Education
Carey Lane ELC supports troops in the lead up to ANZAC Day
The community at Carey Lane Early Learning Centre in Southport is showing its support for our troops by sending numerous ANZAC care packages to Australian troops deployed overseas on operations. The packages have been sent to arrive in time for ANZAC Day on Thursday 25 April.
Donna Love, Director of Carey Lane Early Learning Centre said, "Sending the ANZAC care packages provides a great community opportunity for connectedness and a global outreach for our Defence Force troops. We had an excellent response from our children and their families with the donations basket filled to the brim. We sent 20 care packages filled with great items including our children's art work and letters, plus Aussie treats including Tim Tams, Shape biscuits, coffee satchels, tea bags, lollies and of course Vegemite.
"From a curriculum point of view, the ANZAC care packages drive ties in well with Quality Area 6 of the National Quality Standard in terms of collaborative partnerships with families and communities. The Kindergarten class were excited to help pack the care packages and we are all looking forward to the photos from the troops as they open their care packages from all over the world."
Former career soldier and Afghanistan veteran, Brad Copelin is an Ambassador for RSL DefenceCare and has coordinated the ANZAC care packages drive in conjunction with the support of Engadine RSL sub-Branch in NSW.
"For the last three years the Engadine RSL sub-Branch has been sending care packages to Australian troops deployed overseas on operations. Each time we have been very well supported by the community. This year more than 301 organisations – mainly early learning centres along with six primary schools plus other community groups from around Australia – have supported the troops by sending 850 care packages!
"When deployed, you often wonder if anyone knows where you are and what you are doing. At this time there are over 2,500 troops deployed on nine separate operations overseas. It is why these packs have a huge effect on morale. The letters and art work are always displayed on walls and notice boards. Our troops are very grateful for the support from our community including Carey Lane Early Learning Centre."
Image: Warrant Officer Shane St Clair from Canungra visiting the children of Carey Lane Early Learning Centre
---
You may also like…
The Sunshine Coast children's therapy service improving outcomes for kids
Gold Coast Kindy kid publishes bestselling book
Written by
kidsonthecoast