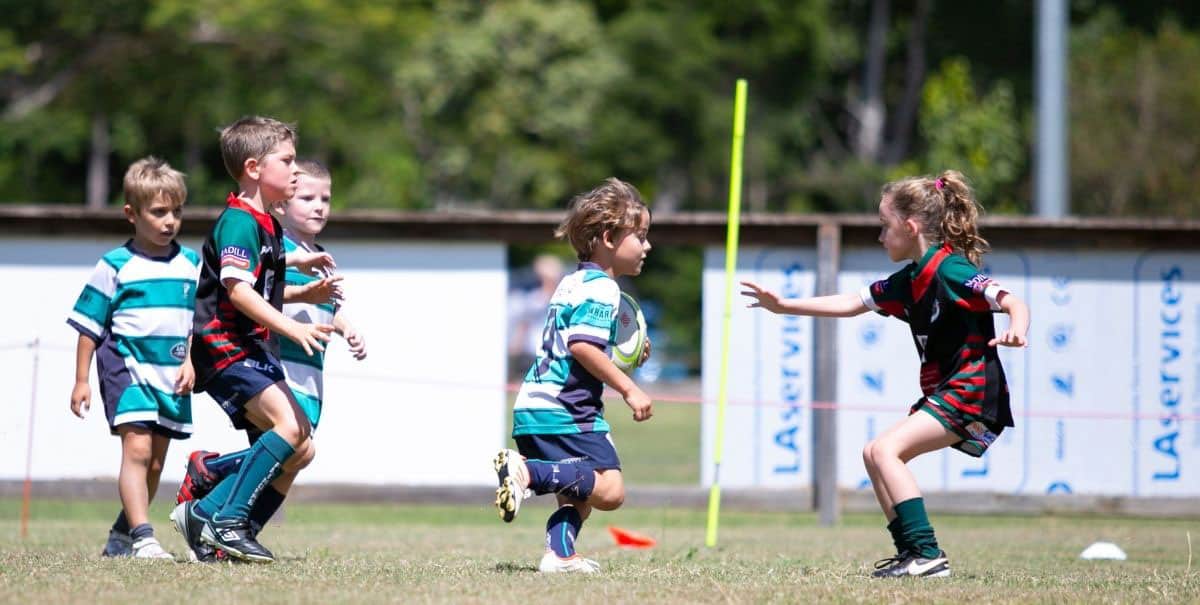 Education
Is rugby a good sport for a child?
Now our little ones are getting settled into their new classrooms, it's time to think about – TEAM SPORTS!
Yes, it's that time of year when a lot of the sport seasons commence. So, how do you find the right sport and club for your child?
Due to the high contact of the adult version, rugby is one sport often discounted by parents for the littlest ones. But as Owen Jenkins Club President at Flinders Rugby Club explains, rugby is a great sport for kids of all ages – both girls and boys. 
"Children at Flinders Rugby Club are introduced to rugby in a very safe way, in fact, studies have shown that there is a lower proportion of injuries sustained in rugby compared with soccer under the age of 13," said Owen.
"Under 6 and 7 play touch rugby. Contact rugby is safely introduced at Under 8 and minimally contested scrums are introduced at Under 10. Mixed teams are for children ages 5 to 13."
"We also have 'Size for Age' rule where a players can be moved up or down a grade, dependent on their ability and size. This means that kids who are small for their age can play alongside children of a similar size."
Benefits of rugby for kids
Playing rugby has many benefits for kids.
Being part of a team: Rugby is truly a team sport, where you need everyone to participate. This provides all team members with equal opportunities to run and pass and defend, nobody gets left out. Kids also learn how to make decisions that will not just benefit them, but also their team.
Social skills and communication: With plenty of interaction between team members, rugby is a very social sport. It also develops communication skills, as the team works together to achieve a common goal. 
Respect and responsibilities: Rugby focuses heavily on teaching children to respect their coach and referees. It also teaches children that there are boundaries and rules, and everyone has the responsibility to follow these.
Fitness and agility: Running, passing, defending, dodging, these are all great ways to improve fitness, strength and agility.
Problem solving: Kids learn to make quick decisions throughout the game, developing their ability to analyse and boosting their critical thinking skills and mental agility.
Choosing a rugby club
What club you go to is just as important as what sport you play. 
"With rugby, you are not just joining a team but joining a community that provides support both on and off the field," said Owen.
You do not have to attend the Matthew Flinders Anglican College to play for the Junior Rugby Club. Any child from the local area can play there and benefit from the many activities and positive community. 
"Many don't realise that Flinders Rugby Club is open to all local families, and I encourage anyone considering rugby to come along and find out more about our wonderful club!" said Owen. 
"We're confident you'll enjoy being involved in the many fun events we plan each season – for both children and family members."
Flinders Rugby Club is holding two information and sign-on sessions. There will also be a free BBQ, and fun games to play at each session.
When: 4th and 11th February; 3.30pm – 5.00pm
Where: Forrester Fields, Buderim
Can't make the sign-on session? Just head to www.flindersrugbyclub.com.au/ or see their Facebook page for more information. They also have a useful FAQ page, for any questions regarding rugby for kids.
Be quick, the season kicks off soon!
---
YOU MAY ALSO LIKE:
The Year 5 switch: Benefits of changing schools in Year 5
Instilling a love for fitness in kids
We meet Head of Primary at Matthew Flinders Anglican College