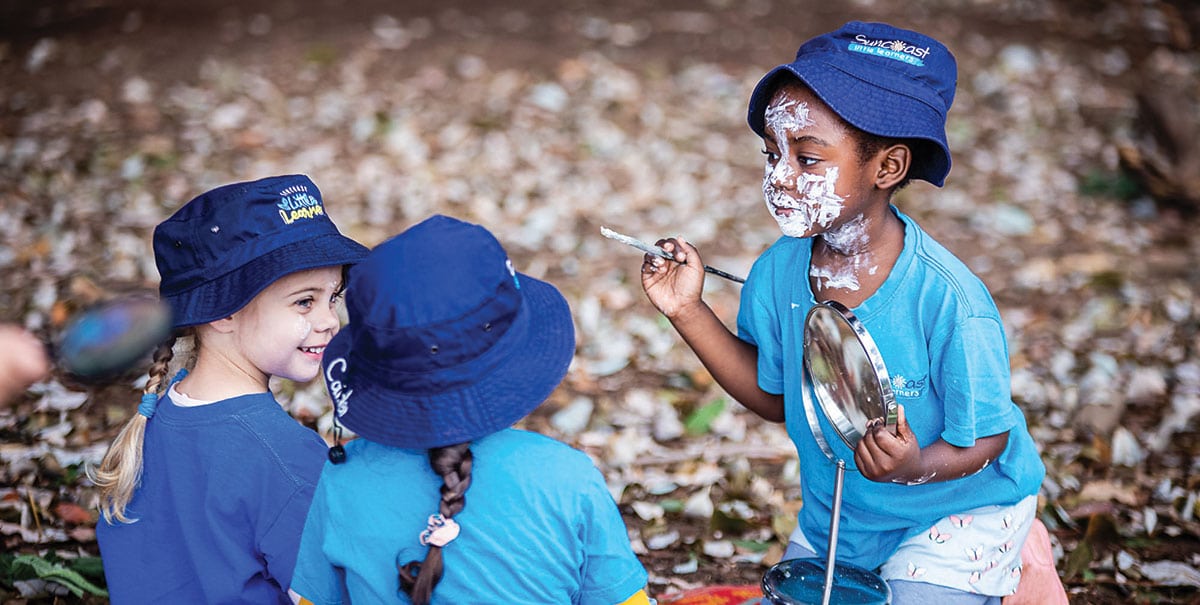 Education
Raising bush babies at this leading Sunshine Coast Bush Kindy
As open-ended outdoor play becomes less accessible for many, families, we chat to Krystle Cullen from Suncoast Christian College Little Learners to find out about the nature play adventures to be had at their flourishing bush kindy.
Why did the College start the bush kindy eight years ago?
The bush kindy grew out of our regular trips to the College Bush Chapel, where the children would have morning tea. Almost by accident, we came to realise how much the children loved the adventure, the bush, the mud and the insects. Now, Bush Kindy is the thing the children look forward to most at Little Learners.
Why is nature play such an important part of early learning?
The Little Learners team has always been a strong advocate of nature play, believing that is it fundamental for every child. For children, play is learning. Nature play significantly improves all aspects of child development: physical, cognitive, social and emotional.
Playing outdoors grows resilience, self-confidence, initiative, creativity and more. It encourages the joy of movement and it nurtures wild imaginations, experimentation, friendships, social connections and behaviour.
Is the bush kindy part of the classroom curriculum?
Bush Kindy is part of our curriculum and supports our centre philosophy. We acknowledge that children are full of curiosity about themselves, their environment and the world they live in. We advocate for children to question and reflect on their own ideas, as well as those around them, and to take risks where they become, in a sense, the catalyst of their own curriculum.
By allowing the children to 'be children', they explore and learn about their world and themselves through play, which is intentionally organised to promote further thinking and analysis.
Where is the bush kindy located?
We are extremely lucky to be set within the Suncoast Christian College grounds and be able to access all areas. Behind our service we have large bushland with large trees, creek bed, and plenty of space to explore and gather, right at our finger tips.
What do the kids do in each session?
Educators don't generally put in place a routine but rather let the children explore freely, moving or staying at a chosen activity. We allow our children to immerse themselves in the environment.
How many kids can attend, and what ages does it cater for?
All of our children enrolled at the service can participate, with children as young as two and a half participating. We find that our Bush Kindy days are our most popular, There are many families on the waitlist with children eager to experience the adventure.
Why do you think the program has become so popular?
I believe our program has been successful in many ways. It not only allows the children the freedom of unscheduled play, but also creates a space for them to negotiate, analyse, run, create, dream, explore and get dirty. We measure our success on our Bush Kindy's popularity—there is never any children who don't want to go, instead they are always asking to stay longer!
---
YOU MAY ALSO LIKE:
Meet the Principal at Suncoast Christian College
9 ways to reconnect your family with nature on the Sunshine Coast