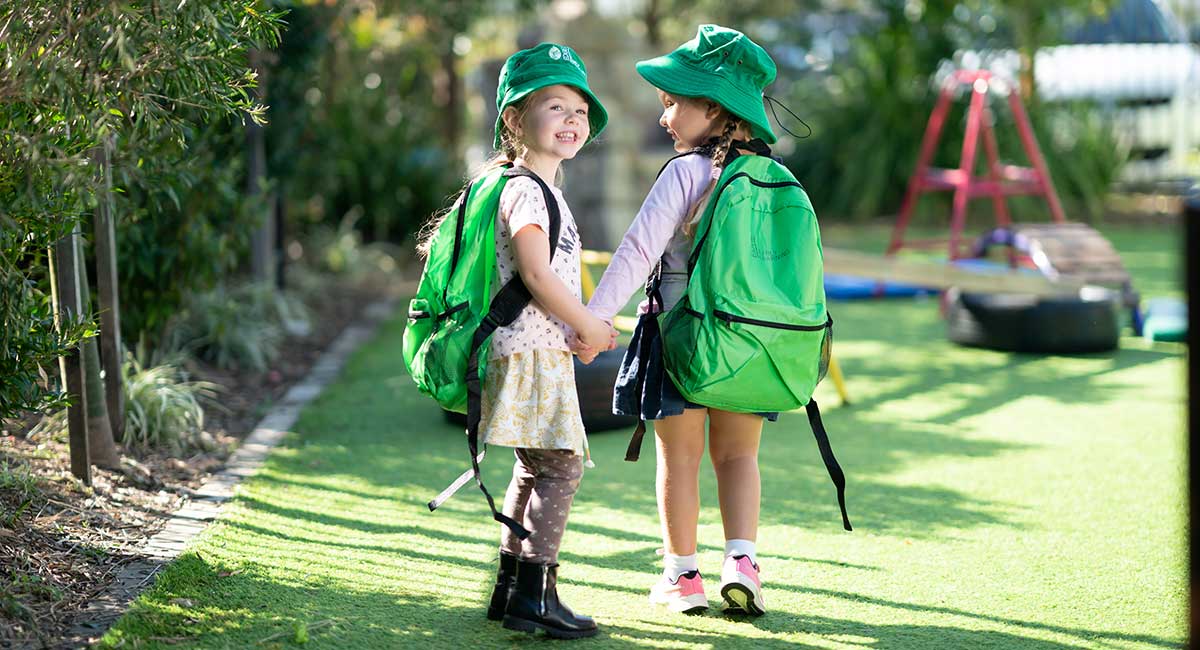 Education
Simple tips for nurturing your child's first friendships
As the school year comes to an end, children across the region are preparing for the next step in their education journey. For our littlest learners, this means the exciting step of starting Kindergarten and developing those first friendships.
"Your child's kindergarten years are an exciting time where they will start to focus on building friendships as they become more interested in playing with others and working in teams," says Edge Early Learning CEO Annie Bryce.
"They will start to engage in structured games and develop social skills and competence through learning to understand the perspectives of others and their rights and responsibilities within groups."
Making friends is an essential part of growing up and also helps to develop the social and emotional skills required for starting school. Friendships teach a child empathy and altruism, whilst also helping to develop their own identity and self-esteem. And, as they mature, friends are a vital support network in navigating the more challenging times.
Good friendships can also have a positive influence on a child's classroom learning. Children that don't feel comfortable in their environment find it harder to learn, and having strong relationships is an integral part to making children feel welcome.
"We strongly believe in building powerful relationships that promote inspiration in early learning," says Annie. "Strong relationships between our team and our families, the children and their educators, and between the children as they form friendships."
Nurturing without intruding
It is important for children to manage their own friendships, but there are many things parents can quietly do from the side lines to support this journey.
Help your child to develop positive social skills from an early age
Understanding the importance of sharing, listening to each other and taking someone else's feelings into account are all important part of positive social interaction. Guide your child to read social situations and interact positively. For example, being able to join a conversation without interrupting or saying something negative or hurtful, and listening to someone from start to finish. Organise plenty of opportunities for your child to meet lots of different people to experience many different social situations.
Model good friendships
Let your child see how friendships work by letting them see you with your friends.
Nurture their interests
As your child discovers their own interests, help them find other children with similar interests and hobbies. For example, a sports team, art club, or music group.  If they don't have any stand-out interests yet, encourage them to ask questions and become inquisitive towards trying new things.
Conversation starters
Help your child become more confident in starting conversations by having regular conversations together and guiding towards appropriate topics that they could use to start conversation. You can even role play what they might say! This is particularly useful for older children who might feel anxious or shy.
Choose a Kindergarten program that actively supports social growth
The Kindergarten room is where most first friendships begin, so attending a Kindergarten that supports social growth is vital. Programs such as the Active Early Learning Curriculum can significantly help in this.
"We have partnered with the Australian College of Physical Literacy to implement the AEL Curriculum, harnessing the importance of learning through structured games in team settings," explains Annie. "The AEL Curriculum not only promotes the development of strong physical motor skills, but also supports your child in developing their social, emotional, and cognitive skills to ensure that they feel confident starting school."
Encourage friendships that are important to your child
If there is a friendship that your child values, take time to nurture it – even if they are at different schools. Create time for them to see friends outside their school days.
Respect your child's personality
Some children may have heaps of friends, others may only need one or two to feel content and may even feel overwhelmed by more. If your child is nurtured and happy, they will develop positive friendships in their own way.
"By combining guidance at home with a positive Kindergarten program, your child will gain all the life skills and friendships for a successful year and a smooth transition to school," says Annie. "But if you have any concerns about your child's friendships, always talk to your Kindergarten teacher," Annie continues. "Our educators know every family extensively and are committed to working together for the best outcome for every child."