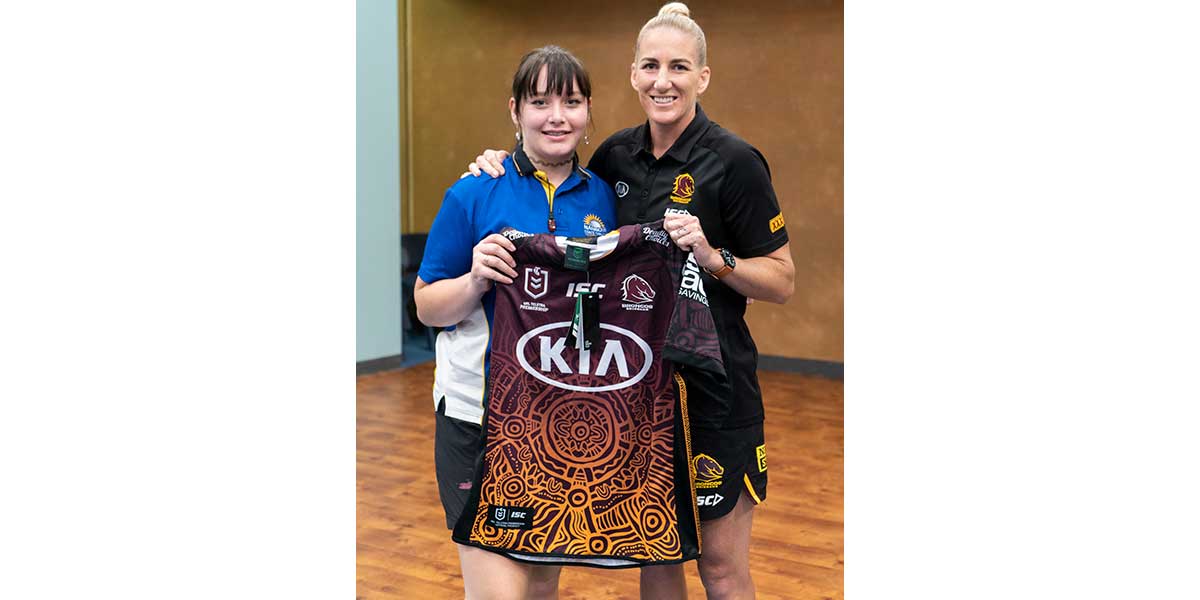 Education
Sunshine Coast school girls inspiring next generation of Indigenous leaders
Kicking academic goals in the classroom has seen two Indigenous stars of the Beyond the Broncos Girls Academy chosen to attend the prestigious 2021 NRL Indigenous Youth Summit.
Sabre Barr from Maroochydore State High School and Maya Jones from Nambour State College were both recognised by the Brisbane Broncos for their high attendance rate at school, commitment to education and having demonstrated leadership among their peers.
The Year 11 Sunshine Coast girls are the only two students of the Girls Academy chosen to represent the Broncos at the Youth Summit in Sydney from May 25th-29th.
Since joining the Broncos program in late 2020, both girls have shown an outstanding commitment to their education, demonstrating a high level of leadership while gaining valuable knowledge of their culture.
Linking cultural identity with academic achievement, more than 1,700 young Aboriginal and Torres Strait Islander girls are enrolled in this years' Broncos Girls Academy, an initiative of the Brisbane Broncos to inspire, empower and assist with educational opportunities.
Sabre said she was excited to have been chosen to attend the summit and learn more about her culture.
"I think it is extremely valuable to listen and ultimately learn from our elders and from this I am hoping to be able to help others in my situation," she said.
"My family only learnt a short time ago that we are from Indigenous decent. I have always supported the diverse range of groups at my school and now find that I am included in this very important family of people.
"I would like to be able to share my discussions and gain further knowledge of my heritage, and to look for opportunities in which I can contribute to my new community."
Christine Halliwell, General Manager of Community & Government Programs at the Brisbane Broncos, said Sabre and Maya were wonderful role models for other young Indigenous women showcasing what could be achieved through hard work and determination.
"The Brisbane Broncos are very proud to have Sabre and Maya represent our club at the 2021 Indigenous Youth Summit," she said.
"In a short time, we have seen the positive impact the Girls Academy has had on these students. Both girls have incredibly bright futures ahead of them and we are proud to see how seriously they are taking their education."
The week-long youth summit facilitated by the National Rugby League (NRL) and Mirri Mirri is designed to encourage youth to value their education and aspire to achieve meaningful employment, training or further education while embracing their unique culture and identity.
It enables participants like Sabre and Maya to interact with other young leaders through a series of workshops, activities and discussions.
Each NRL club nominates two Aboriginal and/or Torres Strait Islander students to attend the summit, which culminates in their attendance at the NRL Indigenous Round Wests Tigers Vs Dragons on Friday 28th May.
Mark deWeerd, General Manager of Indigenous Strategy with the NRL, said the Indigenous Youth Summit would empower and inspire more than 60 young Indigenous men and women from across Australia.
"Our young people look up to our NRL players and see their leadership, success and opportunities. Through this summit, we want students to strive for all of these things, providing them with tools and opportunities to develop into young leaders," said Mr deWeerd.
"The summit has been running for the past 10 years and is a wonderful opportunity to bring our emerging leaders together for a week of skill development and mentoring. Building on what they have learned, students return to their schools and communities with more confidence and knowledge to become inspiring young leaders."
The Beyond the Broncos Girls Academy, which aims to improve school attendance, increase confidence and foster leadership, is supported by the Federal Government, State Government, and major community partner NRMA Insurance.
Beyond the Broncos Girls Academy has supported more than 4,000 students from Year 7-12 since it was established in 2016, recognising the vital role that young Aboriginal and Torres Strait Islander women play in influencing the next generation.
To find out more, visit broncos.com.au/community or see their Facebook page.