Offering a more organic style of learning, Agricultural Science at Nambour Christian College goes beyond the classroom to shape a generation of kids that care about the land.
Built on the grounds of an old pineapple farm, Nambour Christian College has always had its roots in agriculture. For 30 years, the College community has acted as stewards of the land, teaching students the importance of quality food and farming, and imparting the greater life lessons that caring for animals and the environment offers.
Because of this, over time, the College farm and Agricultural Science program has grown to become one of the most respected on the Sunshine Coast.
"Our fully functioning farm has gradually expanded to now take up most of the land that the school buildings don't take up!" says Phil Rienecker, Head of Agricultural Science at Nambour Christian College. "With animals, veggies, fruit and more, it's not only a place for education but also a place of respite; where children can come to connect with nature and animals."
And it's this flourishing farm that provides the base for the College's many agricultural programs.
In Years 7 and 8, the College runs a compulsory elective rotation system, in which every student takes part in a six-week block of Agricultural Science.
"In Year 7 we teach students all the stages of the veggie growing cycle: the basics of soil care, and how to dig, plant, grow and harvest their own crops," Mr Rienecker explains. "They might plant broccoli one week, then the following week they might harvest some corn that a previous rotation planted."
In Year 8, the students are given the important responsibility of looking after the chickens. "We have 20 laying chickens that are given plenty of space to roam at the farm," Phil says. "Students learn how to look after them and what to feed them."
Students in Year 8 also learn the value of composting, returning the goodness of any food scraps to the soil. "We look at how we can all be part of the global warming solution by efficiently composting food scraps, rather than those scraps ending up in landfill," Phil continues. "Many students take their new-found skills home to start their own compost and veggie patches."
In Year 9, Agricultural Science becomes an elective subject and students challenge themselves with more in-depth projects. "A very popular Year 9 project is one in which students lease an 8m square garden to grow their own crop," Phil says. "They each give me $20 to cover the lease of the land, seeds, fertiliser and other resources needed. They then research, plan the crop, plant, maintain, harvest and sell their crop, and they get to keep any money they make. It's not uncommon for students to realise a 300 per cent profit on their original investment!"
As students progress through the program, the projects become increasingly involved.
"Year 11 is currently doing a major assignment on horse nutrition and how to manage small acreage pastures on the Sunshine Coast," says Phil. "Many people don't realise that not all pasture grasses are healthy for horses, and there are a few species on the Sunshine Coast that are becoming more prevalent on small acreage blocks that can make horses quite sick."
Though Agricultural Science is a subject predominantly for Years 7–12, the Prep, Kindergarten and Junior students (Years 1 to 6) are also regular visitors to the farm.
"The younger students might come to the farm as part of their class time to chat to Farmer Barry, to see the lettuces and veggies, feed the chickens, or simply use the farm to add another layer to their classroom studies, ensuring we raise kids that care from a young age."
DID YOU KNOW?
Nambour Christian College has 18 miniature horses, 13 of which are in their show team. As an extra-curricular option, students can join the show team where they prepare and train the horses to exhibit at a series of shows and events.
Beyond the paddock
As well as the direct skills that Agricultural Science imparts, regular exposure to farming and animals brings a wealth of other skills.
"The projects the students get involved in teach skills that go far beyond the basics of agriculture," Phil says. "They are exposed to business skills as they learn to sell crops, Maths as they calculate, weigh and measure, Science as they test and hypothesise, and English as they discuss and communicate."
But beyond that, there are bigger life lessons being acquired. "The farming cycle is the perfect example of patience and delayed gratification. You can't have it all now… you have to work at things before you harvest a reward," continues Mr Rienecker. "They also get tremendous satisfaction from the work because they get to see tangible results: 'I planted that broccoli, I mulched those citrus trees', 'I trained that horse'. They quickly find that working in the garden isn't easy – it takes effort and perseverance – but when they look at it in 6 or 12 weeks' time and harvest, it's a genuine feeling of pride and accomplishment."
Reconnecting with nature
Due to increased urbanisation over recent years, many children are no longer growing up with access to a natural environment. This disconnect from nature means that caring for animals and the environment is something that needs to be taught to kids, and Nambour Christian College's farm plays a large part in this for their students.
"Animals depend on us for food, water, and care, and these are all skills that need to be learnt," says Mr Rienecker. "Thanks to the farm on-site, we have the opportunity to teach all of our students the responsibility of animal care; to know what it eats, and what the signs are if it's not well. If I can kick kids off on that journey, I've set them up with some lifelong skills to be responsible and compassionate owners of animals."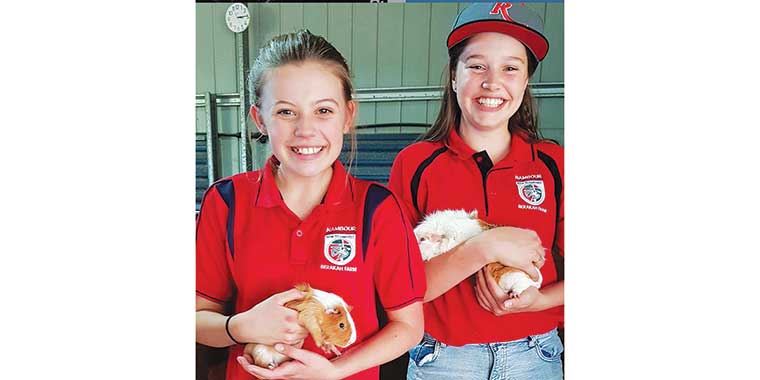 Lessons for the future
Though Agricultural Science might feel quite far removed from everyday urban life it is surprisingly relevant to everyone's day. "We come into contact with agriculture every day," explains Mr Rienecker. "The clothes you wear, the coffee you drink, the food on your table, your timber deck – these things are all grown and harvested for you."
Because of this demand, agriculture makes up a significant percentage of today's workforce in Australia.
"Agriculture today is highly scientific and a very viable career path," explains Phil. "Thanks to the technology boom it's much more complex than you might think! It's a high-tech profession – from using drones to scan fields and state-of-the-art irrigation systems through to research trials and genetics of breeding veggies. We need smart people to look after the land, if we don't look after the soil then the planet is in a mess."
But most of all, the program is about establishing a genuine love for the land that kids can take through to adulthood. "Agricultural Science students are always elbow-deep in hands-on learning; they get to go outside and discover a real freedom from the classroom," says Phil. "And they quickly discover how much fun it can be!"
To find out more, visit NCC on Instagram: @nccberakahfarm, or head to their website: ncc.qld.edu.au
For more on what's happening at Nambour Christian College, read Parlez-vous Francais? Learning French at preschool.