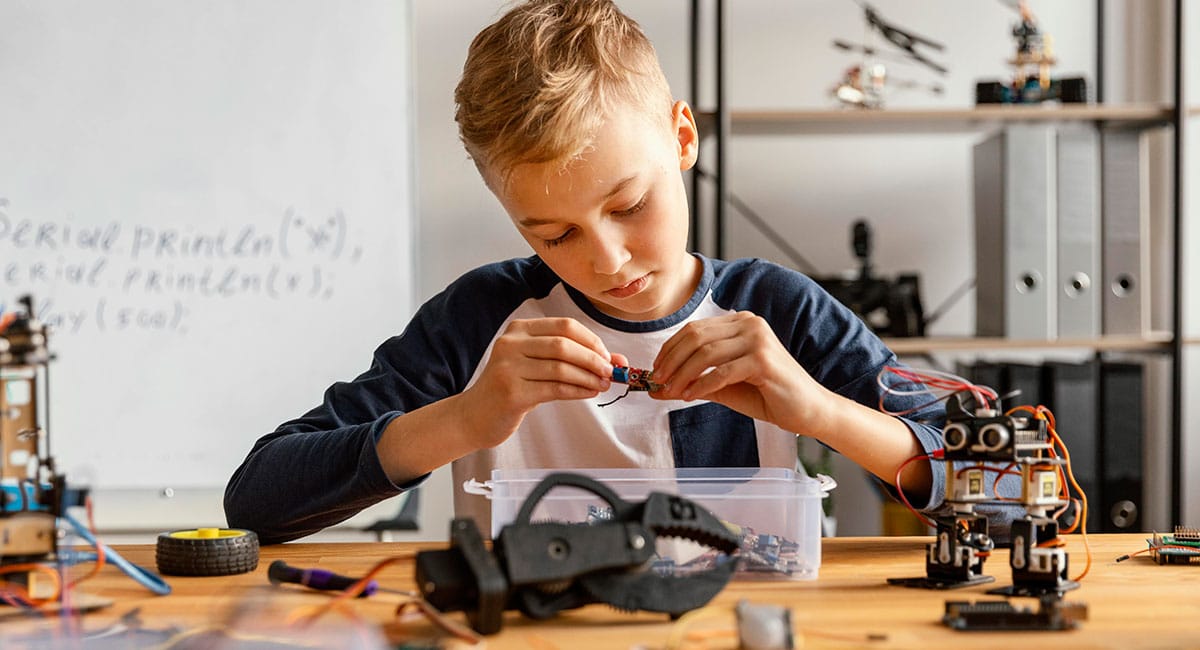 Education
The robotics program readying students for the 4th Industrial Revolution
According to a new report by Oxford Economics, up to 20 million manufacturing jobs could be lost to robots by 2030, making a robotics program an essential part of education today.
This new era is now being coined as the Fourth Industrial Revolution – where technologies such as robots, artificial intelligence, autonomous vehicles, drones and the internet, are merging with humans' physical lives. This revolution is expected to drastically change ours and our children's future work and recreation lifestyles.
Robotics program at Grace Lutheran College
Grace Lutheran College, Skills Generation (RTO number 41008) and Cyborg Dynamics Engineering have partnered together to develop a program that seeks to equip the school students of today with the skills they will need to work with the future robotic and drone workforce. This partnership has been formed in order to provide innovative learning experiences for students.
The introduction of the robotics program to Grace Lutheran College has its foundation in current research on STEM (Science, Technology, Engineering & Mathematics) education to drive the academic and social engagement of students.
It is an initiative that encourages young people to take an interest in scientific, mathematic, engineering and technological fields and to cultivate their interest through encouraging open-ended thinking and hands-on learning.
The MEM20413 Certificate II Engineering Pathways (build a robot and build a drone) course allows students to develop an understanding of how robots and drones work. Throughout this program, students will learn to build and maintain their own robot and drones, as well as complete a class project to build and maintain a robot that will provide a commercial service to the college. Once the robot is built, the students will then continue their learning by problem solving how to maintain the commercial robot in a simulated workplace environment.
What the students think
Grace College student, Nathan Lockyer, has been involved in the Robotics Program since Year 7. During that time, Nathan has participated in the FIRST LEGO League, FIRST Tech Challenge and FIRST Global Challenge. Nathan's family has been involved in the FIRST Global Challenge at Grace College since the inaugural event where Nathan's sister, Sarah, attended the event in Washington DC. Nathan followed suit by competing for Team Australia in Mexico City during the 2018 edition of the event.
At both events, the Grace College and 
St Peter's Lutheran College teams were awarded silver medals.
"The event in Mexico City was just amazing – we made so many new friends and the quality of the other robots blew my mind. I can't believe we have been asked to represent Australia again in 2019, this time in Dubai!" says Nathan.
Teacher of Robotics at the College, Peter Kellett says, "I have seen Nathan's confidence and ability grow so much over the past three years. Like we say at FIRST, we don't use kids to build robots – we use robots to build kids."
Nathan is also enrolled in the Certificate II in Engineering Pathways and is looking forward to improving his hands-on skills and developing more complex machines.
Grace Lutheran College is quickly gaining a reputation for excellence in robotics. Each year they host the FIRST Lego League National Finals North, the FIRST Tech Challenge Queensland Regionals and FIRST Global Challenge –International Robotics Olympiad.
Grace students also form part of the 'Pineapples', Queensland's only team represented in the FIRST Robotics Competition. The same Grace students will be part of Team Australia in the FIRST Global Robotics Challenge being held in Dubai later this year.
Grace Lutheran College commenced its inaugural class in July 2019 with 15 Grace Lutheran students from both the Rothwell and Caboolture campuses. Schools within the Moreton Bay Region are currently being invited, through the
Grace Lutheran Trade Training Centre, to provide an expression of interest from individual Year 10 and 11 students wishing to participate in this exciting program in 2020.
Schools and parents of Year 10 and 11 students (in 2020) are invited 
to find out more information by contacting Leisa Jones, Grace Lutheran College VET Department on [email protected].
For more on STEM programs at our local schools, try Why all kids need STEM skills and How to get kids enthusiastic about science (without the stress!)