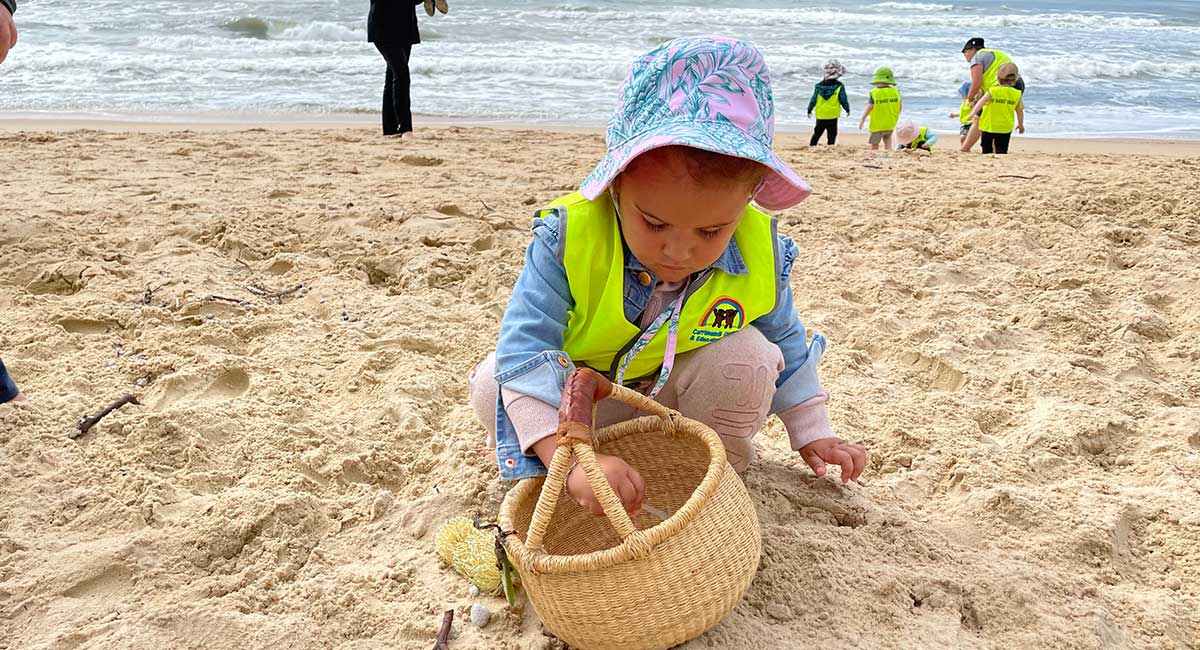 Education
We visit Currimundi Beach Kindy
We can't think of a better way for little ones to start their education journey than by having the beach as a classroom. So when we were invited to spend a morning with the Possum group from Currimundi Childcare and Education Centre and share in their beach kindy adventures, we couldn't wait to jump in and get sandy!
Currimundi Childcare and Education Centre has been caring for local children for the past 21 years. Being located just 250 metres from the beautiful Currimundi Beach, it was a natural evolution for this holistic centre to amalgamate a beach kindy into its program.
"It started with just a handful of children from kindergarten having an excursion to the local beach," explains Service Manager Adelle Grams.
"But it was always such a beautiful experience for the children, it gradually expanded to become a key part of our weekly routine."
And it really is a wonderful morning out.
Following a short walk along the footpath to the beach, the children have an Acknowlegdment of Country to pay their respects to the traditional owners of the land, then it's shoes off and down into the sand. There are many educators on hand to guide the children, yet they are also free to lead their own play.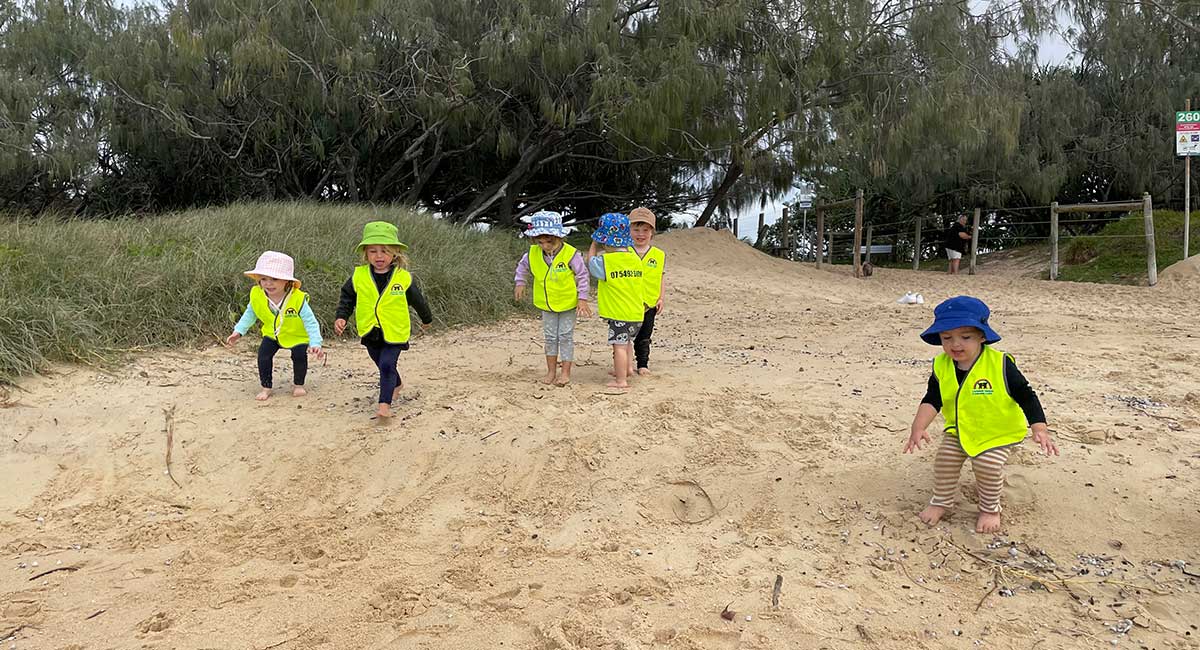 Children begin collecting shells in a basket, building a sculpture in the sand, or having running races at the shore.
"Each week is different," says Adelle.
"We like to let the children direct the play, and we are there to create learning opportunities within each activity. It might be counting rocks, writing in the sand, building motor skills, or learning about the environment."
The beach kindy program is incredibly well organised, without feeling overly structured (not an easy feat, so we were very impressed with the behind-the-scenes operations). From the children's Hi-Vis jackets to the educators' expert supervision, it is certainly a well-run activity. But most of all, it was fun… really fun.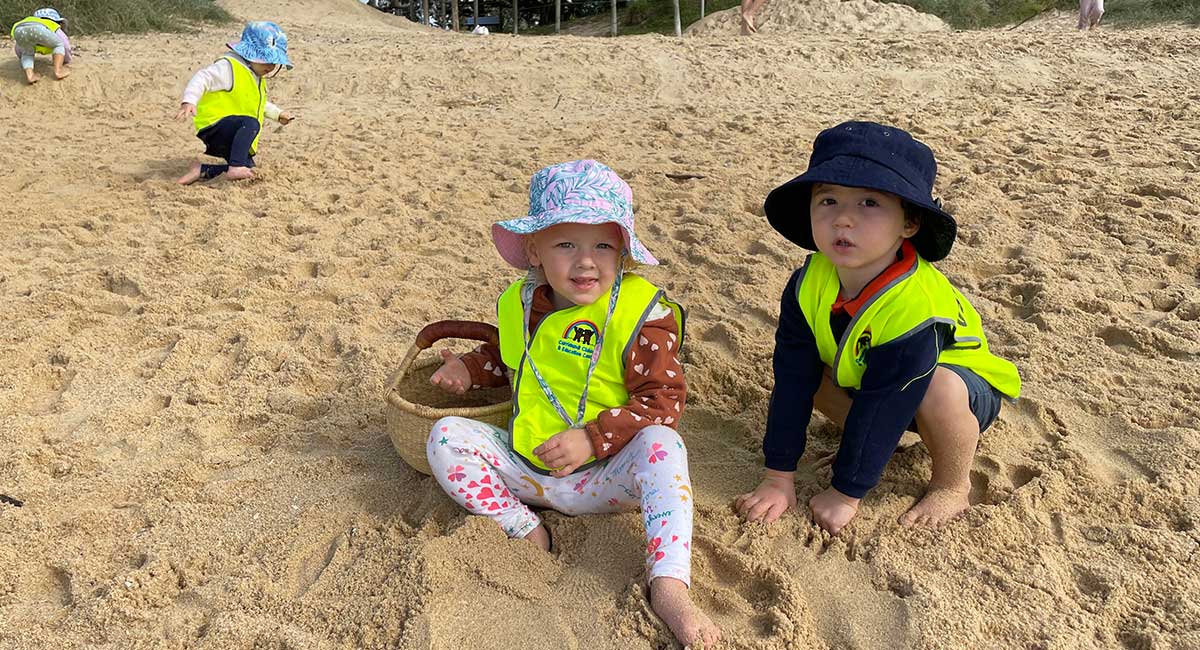 The children had a wonderful time at the beach kindy—simply being outdoors and exploring. And what better location is there for an early learning classroom than the beach?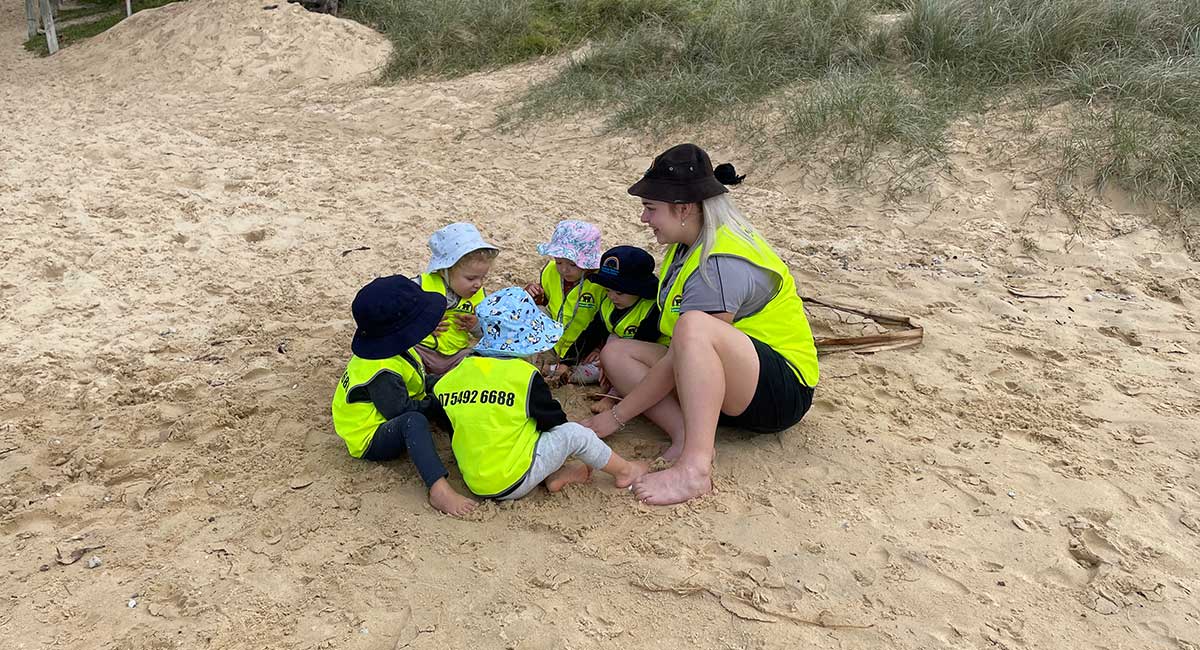 After plenty of fun in the sand, it is time for a story under the trees before walking back to the Currimundi centre.
"So much learning happens in the early years—learning to walk and talk, learning pre-writing skills, and investigating the world—I believe this is the best environment for children thrive in their early years," said Adelle.
"My focus is to provide an amazing, engaging environment, with consistent educators. With this we can provide our children with the best learning experiences, that stimulate their brain and imagination. We strive to ensure Currimundi Childcare and Education Centre is a place children want to come back to every day."
The Currimundi beach kindy is available to all age groups at Currimundi Childcare and Education Centre and is part of the regular program.
---
You may also like…
Raising bush babies at this leading Sunshine Coast Bush Kindy
The Sunshine Coast kindy program linking learning to the land
Written by
Angela Sutherland
After spending many years hustling stories on busy editorial desks around the world, Angela is now mum of two little ones and owner/editor at Kids on the Coast / Kids in the City. She is an atrocious cook and loves cutting shapes to 90s dance music.