Activities & Sports
Ausfunk Cheer & Dance 2022 Team Placements
Event:
Ausfunk Cheer & Dance 2022 Team Placements
Date:
06/12/2021 - 09/12/2021
Location:
31-33 Runway Drive, Marcoola, QLD, 4564
Ausfunk is more than a house for Cheerleading, Dance & Tumbling. They are a home for athletes to grow friendships and self confidence, develop skills in teamwork, accountability & trust.
Ausfunk is a 20 year family run business in which morals & respect are forth front. A combination of experienced owner direction, highly trained & respected coaches, streamlined administration systems and a non-for-profit committee that strengthens the financial needs of our Ausfunk athletes.
Ausfunk offers a variety of competitive and recreation class options including:
Cheerleading
Tumbling
Hip Hop
Lyrical
Jazz
Pom
Group Stunts
If you are interested in a competitive cheer or dance team for 2022, this then Team placements is the event for you!
Team placements is try outs for 2022 Ausfunk teams. If you are wanting to be on a competitive cheer or dance team in 2022 you need to come to team placements.  Team placements is not a time to come trial a class or style. If you are coming to team placements week you need to be serious about wanting to be in a cheer or dance team.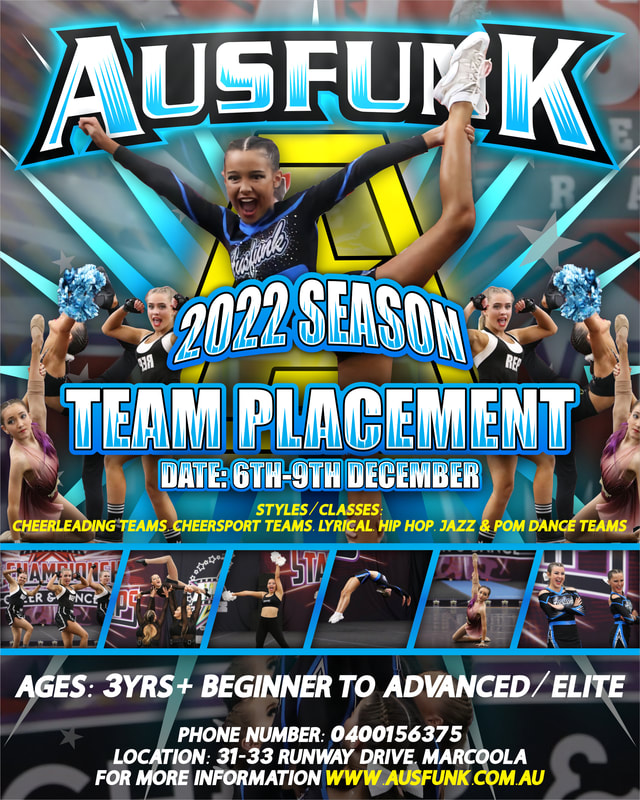 Written by
Tanya Nissen
Tanya is mum to two teenage girls and is the Production Manager for Kids on the Coast/ Kids in the City. She has experience working in the print & digital publishing industry for a number of years with skills in keeping the production schedule organised, social media and website design. When not being taxi-Mum to her girls, Tanya enjoys camping, reading, digital scrapbooking and boating.