Activities & Sports
Toddler Tumble & Dance Playgroup
Event:
Toddler Tumble & Dance Playgroup
Date:
16/02/2022 - 30/03/2022
Location:
Ausfunk Cheer & Dance, 31-33 Runway drive, Marcoola
Note:
Wednesdays 9:15 - 10am
Ausfunk Cheer & Dance is running its Toddler Tumble and Dance Playgroup at Marcoola.
If you've got a little one who likes to practise handstands, cartwheels or rolls, the weekly Toddler Tumble and Dance Playgroup is just for them.
The 45-minute sessions are an opportunity for your child to participate in relaxed, guided tumble and dance activities. It's a fantastic opportunity for them to burn some energy and learn new skills in a safe environment.
Parents and caregivers are encouraged to mingle and watch their little one progress with their tumbling and dance.
When: Wednesdays, 9:15am – 10am
Where: Ausfunk Cheer & Dance, 31-33 Runway Drive, Marcoola
Cost: $12, pay as you go
About Ausfunk Cheer & Dance
Ausfunk Cheer & Dance has been providing elite cheerleading, tumbling and dance training as well as recreational classes in cheer, dance and tumble for more than 20 years.
Based at Marcoola on the Sunshine Coast, Ausfunk wants to enrich the lives of children, from toddlers through to teens.
For more information about Ausfunk Cheer & Dance or the Toddlers Tumble and Dance Playgroup, contact Hayley Green on 0400 156 375.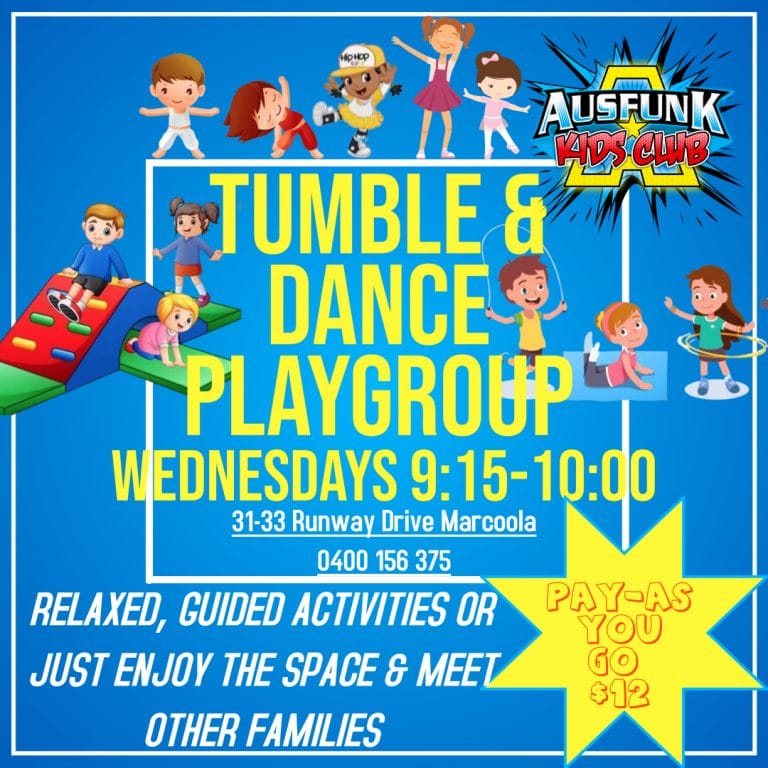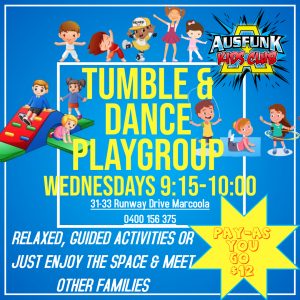 Written by
Tanya Nissen
Tanya is mum to two teenage girls and is the Production Manager for Kids on the Coast/ Kids in the City. She has experience working in the print & digital publishing industry for a number of years with skills in keeping the production schedule organised, social media and website design. When not being taxi-Mum to her girls, Tanya enjoys camping, reading, digital scrapbooking and boating.