Finding healthy treats that the kids love is always a challenge, especially if you are restricted by food allergies or intolerances. You want nutritious and healthy, yet also something they will devour!
Sound impossible?
We had the chance to test out the latest craze in healthy treats to hit the Sunshine Coast recently, and we couldn't wait to get sticky!
Founded in 2014 by Sunshine Coast parents Jamie and Natalie, the idea came following a family trip to the beach, when the couple realised there was a very real need to reinvent the classic Aussie ice block.
Built from the ground up and fuelled by a passion for quality ingredients and great flavours, Frozen Sunshine has grown over the last five years and you can now see their iconic signs and fridges popping up all over the region.
Their philosophy is simple – keeping that Aussie tradition alive with handcrafted ice blocks that are dairy free, gluten free, egg free, and nut free. Made with natural ingredients including all Australian fruit, real vanilla, Belgian chocolate and organic coconut milk, these ice blocks are perfect for vegans and people living with food allergies and intolerances.
Frozen Sunshine creator explained to us that the concept was born out of a love of food and family. "Eating a healthy balanced diet is important to us but we also want to be able to enjoy a treat with our kids every so often" Natalie said. "We have made it our mission to make Frozen Sunshine ice blocks as food allergy friendly as possible."
So… how do they taste?
The latest range of ice blocks from Frozen Sunshine is a collection of Aussie classics with a twist, and we got to try them all! Here's our taste test results:
Chocolate. A go-to flavour for any kid, the Frozen Sunshine chocolate ice block is yummy, sticky and the favourite of our littlest tester. Using the finest quality Belgian dark chocolate, melted and mixed through organic coconut milk, you can't go wrong!
Cookie Crumble. Vegan chocolate cookies crumbled into a creamy coconut base, with shavings of dark Belgian chocolate to make it even more delicious… this ice block is simply uh-mazing. Hands off kids, this was Mum's favourite.
Mango Swirl. Fruity and an iconic summer flavour, the Mango Swirl ice block is a combination of mango puree and organic coconut milk. Creamy yet refreshing, this was a tween favourite.
Old School Lemonade. Not too sweet, and with a little hint of sour, this good old-fashioned lemonade ice block is reminiscent of the quintessential Aussie childhood. Dad's favourite.
Strawberry. Nothing beats a strawberry ice block. This offering from Frozen Sunshine takes whole strawberries straight from the farm and blends them with organic coconut milk and real vanilla for a dairy-free version of Strawberries & Cream. A definite crowd pleaser and ideal for buying by the box.
Strawberry Lemonade. Fresh strawberries and lemon juice combined to create a refreshing fruity ice block. Perfect for a hot summer's day and utterly deee-lish.
Vanilla Bean. There isn't a person on this earth that doesn't like a vanilla ice block. This one takes a vanilla beans and blends with organic coconut milk for a sweet, coconutty treat. Mum and Dad didn't get chance to try this flavour as the kids polished it off too quickly. They said it was 'the best'!
Watermelon, Lime & Mint. This one was the last one remaining in the freezer, and the saying 'save the best until last' was certainly the case. Using whole watermelons, fresh lime juice and a sprinkling of chopped mint leaves, it's a delicious balance of fruity and refreshing. Another parent fav.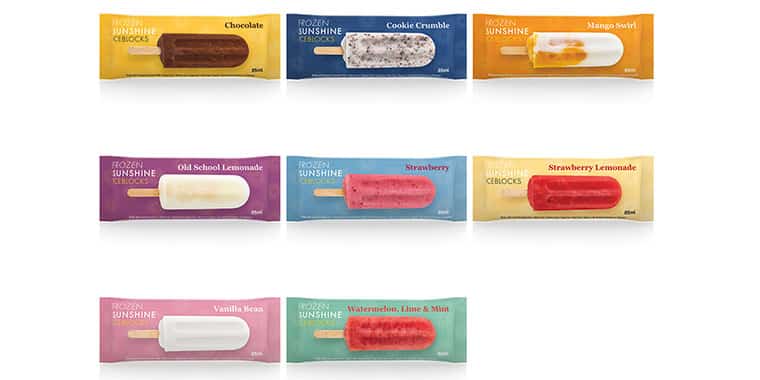 So is Frozen Sunshine the best ice block on the block?
There are several wins that put Frozen Sunshine firmly at the top of our treat list right now.
The ice blocks taste divine. All of them. Having two fussy (sweet-toothed) eaters who could inhale an entire bag of lollies yet pick out a pea at 20 paces, passing the taste test with them is no easy task.
Finding a treat we can all enjoy together is another huge win. As a family we always aim to eat the same food, and with so many great flavours available from Frozen Sunshine there is an ice block for everyone. The hardest part is choosing which one to have!
You can get them in a 4-pack to have in your freezer at home, or you can get them as singles from stacks of retailers across the region. So, it's the best of both worlds.
Knowing that every ice block is a healthy choice and without any of the nasties associated with summer treats, is probably the biggest win. Being dairy free, nut free, gluten free and egg free also put Frozen Sunshine to the top of the shopping list for birthday parties and play dates – knowing you have a totally safe treat for little guests without any worry of allergies.