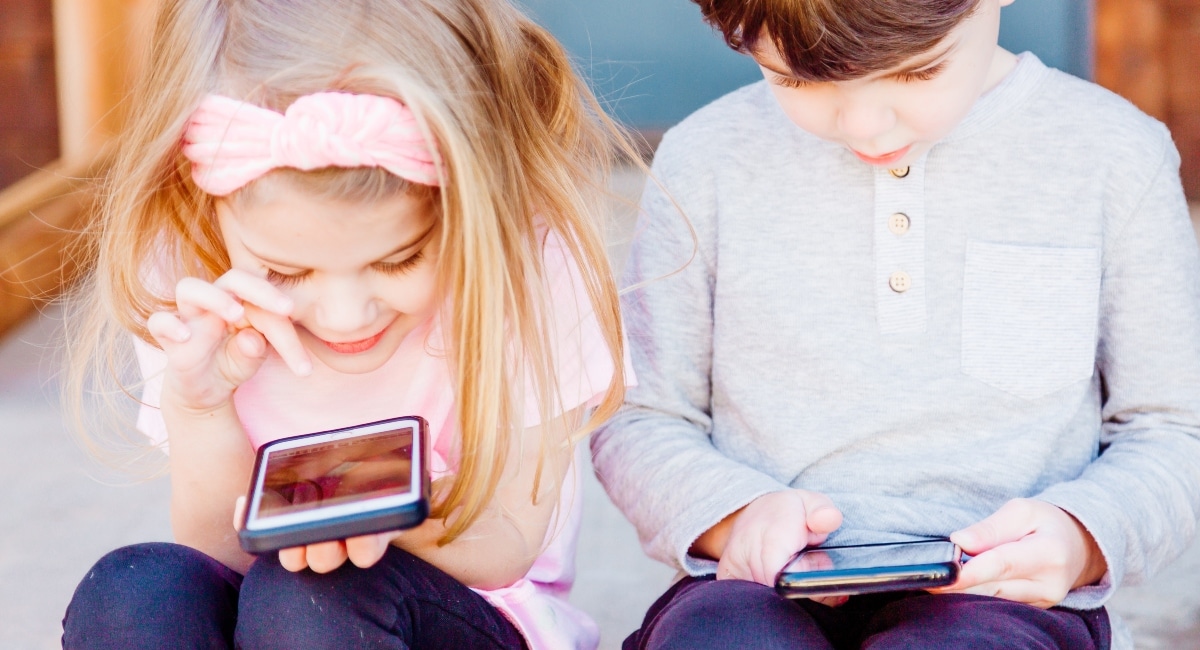 Kids & Parenting
The big debate: Should young kids have mobile phones?
While scrolling through my news feed in February, an article caught my attention. 'P!nk reveals why her kids won't have mobile phones' read the headline. Under normal circumstances I would keep scrolling, but I'd been discussing the topic with friends and so my thumb clicked for more.
Ignoring the possibility that somewhere something had been eavesdropping, this information about the singer-songwriter raised two interesting points. First, she's just like me! As a parent, at least, she feels the same stresses and challenges I do when it comes to raising children. Second, how young is too young to have a mobile phone?
It seems everywhere you look there is a child with a mobile phone. Regardless of whether or not they 'own' a mobile phone, many young children are adept with the technology.
A 2020 study by Childwise found most children own a mobile phone by the age of seven.
Smartphones have changed childhood
Playing outdoors, spending time with friends, reading books and hanging out with family is happening less frequently among children today. It seems the time they would spend on these activities has given way to Instagramming, Snapchatting and watching endless videos on YouTube.
Overall, children spend up to nearly 3.5 hours a day messaging, playing games and being online. And mobile phones are the device of choice to access the internet.
"There's a light side and a shadow side to technology in general for adults, as well," P!nk revealed to US Today's Carson Daly.
Research also reveals how addictive mobile phones are for some children. It can produce addictive brain responses similar to alcohol, drug and gambling addictions. One former Google product manager likened a smartphone to having a pokie machine in your child's back pocket "constantly persuading them to crave more".
Smartphones prove to be an unnecessary distraction
Between the ages of five and 13, children are establishing their academic success. These are the years when kids learn to effectively manage their time, assignments and homework.
Statistics show that in the past decade, children's reading skills have dropped. Some educators have blamed the decline on the increase in digital devices being used. Forty-eight per cent of Australian children aged six to 13 have access to mobile phones and by their teenage years, these children will spend up to 30 per cent of their waking hours online.
Studies have also shown that mobile phones can impact the quantity and quality of sleep in children and teens. This is because they anticipate text messages or social media posts from friends in the middle of the night. This sleep disturbance in childhood can have adverse effects on a child's health, including their diet, immunity, growth and mental health.
Some children need a mobile phone
One argument for getting your child a mobile phone is because it allows you to stay in touch with them at almost all times.
Twenty years ago, most kids would have had no qualms stepping into a phone booth and making a reverse charges phone call to a parent to let them know where they were or if they needed help. Today though, kids are hard-pressed to find a phone booth and so having a mobile phone for safety and practical purposes is essential.
An additional benefits to your child having a mobile phone includes:
teaching children about responsibility.
increased understanding of managing costs by keeping track of call, data and text use.
keeping the phone charged and safe.
being safe and respectful when making calls, sending messages or posting online.
adhering to family rules about mobile phone use.
How young is too young, though?
Neither of my children have mobile phones. They're aged under seven. It's not because I'm against children having phones, but because my husband and I don't feel our children need one. They live at home with us and rarely venture out on their own (and when they do it's with someone we know and trust, and those people have phones). They're also too young to walk to school or go to after-school activities alone.
When I asked around the office, it was a different story. Most of my colleagues have older children. One member said only her oldest child has a mobile phone and they got it when they turned 13 because they were "becoming more independent".
This aligns with what many experts recommend when it comes to giving your child their own phone – wait as long as you possibly can. While others believe a child's age or whether other children their age have a phone should not be primary considerations.
Do your children have their own mobile phone? At what age did you think it was necessary? What boundaries have you put in place?
---
You might also like…
5 Questions you should ask before getting your child a mobile phone
Make a mobile phone contract with your child they'll actually stick to
Written by
Calista Bruschi
When she's not moulding Play-Doh or dancing in the living room with her children, Calista Bruschi is an editor and writer. She has oodles of experience working on newspapers, magazines and websites. Calista likes to organise and be organised. She loves being a mum, Italian food, wine, sport and stationery. She hasn't sleep a full night in more than five years and is powered by coffee.