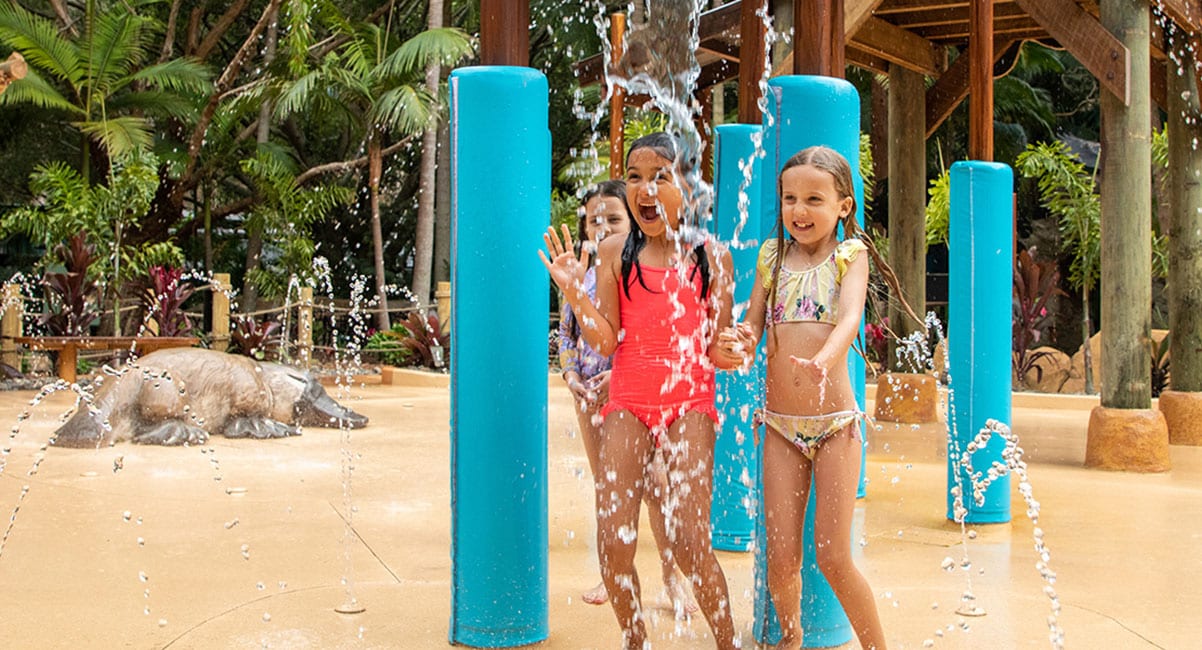 Attractions & Museums
Currumbin Wildlife Sanctuary - Wild Island Adventure Splash Zone
Taking the kids to Currumbin Wildlife Sanctuary is always a fun day out and with so much to do, one day never feels like enough. We were lucky enough to experience the Sanctuary's newest precinct – the Wild Island Adventure Splash Zone. I loved it and my kids loved it! With summer in full swing, you definitely have to remember to pack the kids' swimwear, towels, hats and sunscreen every visit.
Located near Wild Burgers, it's not too far of a walk from the entrance. When you enter the Wild Island precinct you are surrounded by beautiful sub-tropical flora and fauna with sculptures of Australian wildlife. It makes for beautiful photos. The Adventure Splash Zone is the first of its kind on the Southern Gold Coast and is a great place to cool off during your visit to the Sanctuary.
The water play area offers a range of timed water jets, streams and waterfalls to run through. My kids could've easily spent the whole day there if I let them! The Wild Island Playground, within the precinct, offers plenty for kids to climb and explore including adventure play, spiders web and a flying fox.
There's plenty of shaded areas where you can relax. I was more than happy to sit and watch my kids splash around. Wild Burgers is nearby so you can grab some lunch and eat in one of the extended picnic areas.
Once the kids are finished playing in the Splash Zone, there are two big change rooms within the Wild Island precinct to dry off and get dressed in. If you have young children and need to change a nappy or feed your baby or feel your child just needs a bit of time to chill out away from the crowds, there is are new centralized bathrooms and a 5-star Parent's Room. The new bathrooms are connected by the Wild Burgers dining outlet and the new Wild Island Adventure Splash Zone – everything is a quick walk away.
Although my kids are past the toddler stage, the new Parents Room is definitely a welcomed addition for families with babies or toddlers. It has two private areas for baby feeding, a play area for toddlers, three baby change tables, and a kitchenette for warming up baby bottles and food. The entry into the space is through an automatic sliding door so if you have your hands full you don't have to juggle kids, a pram and everything else!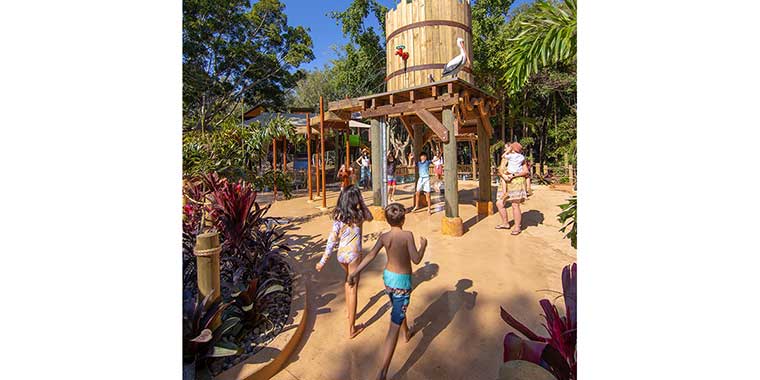 My youngsters Kaius and Vienna were two of the first to experience Currumbin Wildlife Sanctuary's newest addition, Wild Island Adventure Splash Zone.
Vienna – aged 7
I went into the new Wild Island Adventure Splash Zone and it was amazing! I had so much fun running in and out of all the sprinklers and waterfalls. I love the water! There's a big bucket which tips water all over you and it's so cool! It's not like a beach, so you don't get all sandy. I also played in the playground on the slides and spiders web but my favourite was the flying fox. I had so many turns on it. When I finished playing in the playground I had a drink from the bubblers and went back into the Splash Zone – it was the best day ever! I can't wait to go back!
Kaius – aged 10
I was one of the first kids on the Gold Coast to try out the Wild Island Adventure Splash Zone. There's no pools, just lots of sprinklers and waterfalls so you can run around as much as you want. The floor is grippy so you don't slip over and there are big padded poles for protection in case you run into them. The huge tipping bucket is the best, especially if you run under it at just the right time! I played in the Wild Island playground too and I climbed the spiders web all the way to the top. I had lots of turns on the flying fox because it is so much fun! Everyone loves the flying fox so you have to be respectful and line up so everyone gets a turn – oh and stay off the path so you don't get hit by someone flying past. There are a lot of benches around the Splash Zone so you have a quick break from the water. It was the best fun – I can't wait to go back!
The Wild Island precinct offers wheelchair, pram and walker accessibility all around.
Access to Wild Island Adventure Splash Zone is available with the price of your ticket or membership. For updates and tickets go to www.CurrumbinSanctuary.com.au
For more fun things for families on the Gold Coast, try Do something different at Holoverse or Dreamworld for families – a local's guide