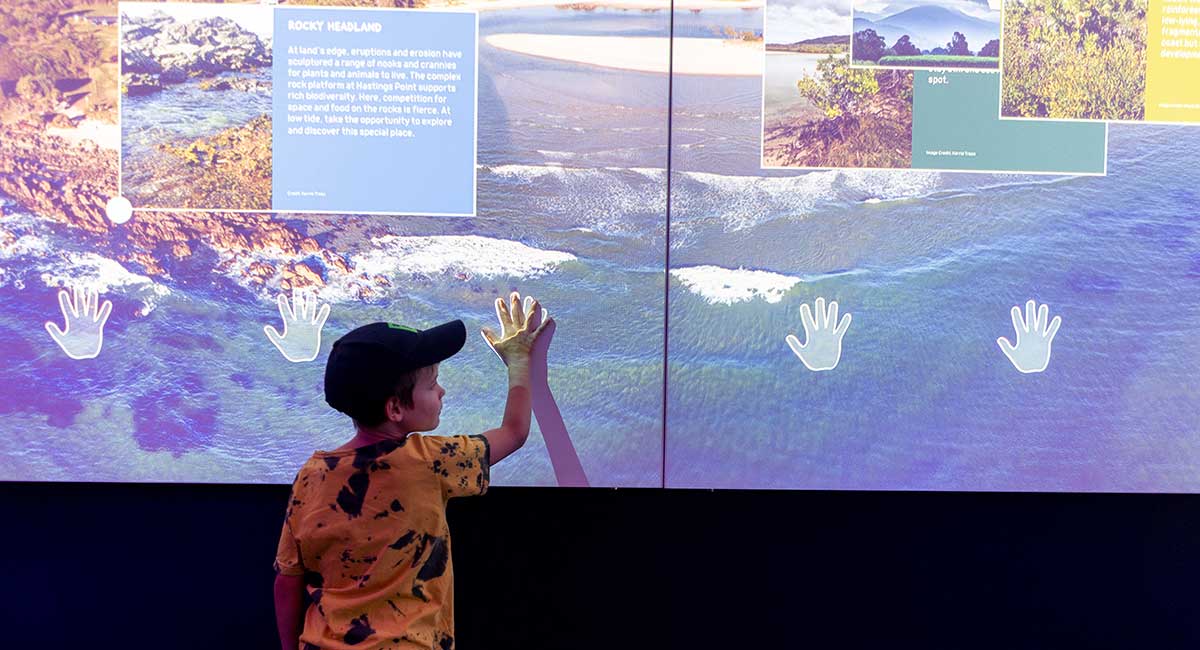 Activities
Family friendly Marine Discovery Centre re-opens
North Star Holiday Resort at Hastings Point has reopened its Marine Discovery Centre following a million-dollar transformation.
A showcase of world-class marine and coastal science displays, state-of-the-art light and sound technology and interactive digital terminals, the upgraded Marine Discovery Centre is designed to inspire and educate, and help people of all ages to understand and care for the aquatic environment. Located above the new adult leisure centre at North Star Holiday Resort, The centre also has a purpose-built space for lectures, seminars, social and business events, and school trips.
Since the original centre opened in 2008, thousands of school groups from across Southeast Queensland and New South Wales, along with holidaymakers at North Star Holiday Resort, have visited the centre to learn about the importance of protecting the marine environment. And with the refurbishment complete, the centre is now set to continue to be a leading destination for marine education for many years to come. 
The history of the North Star Holiday Resort Marine Discovery Centre
The Marine Discovery Centre's story dates back 60 years, when Marine Biologist Ted Brambleby first began collecting marine specimens. The passionate environmentalist first shared his displays from the boot of his car in the '60s, driving coastal roads and stopping to educate beachgoers, scuba divers, snorkellers and like-minded ocean lovers along the way.
In 1999, Ted joined forces with teacher and business partner Kerrie Trees and created the unique opportunity to host camps and day visits for students, teachers, community groups and holidaymakers at Hastings Point Caravan Park. 
In 2008, proprietors of North Star, Ian and Diana Beadel, allocated space in their resort's 'Seascape Building' where Ted and Kerrie could set up their marine specimens and displays.
The Marine Discovery Centre refurbished
Fast forward to 2021 and Ian and Diana Beadel have funded the latest refurbishment at a cost of $1M to ensure the longevity of this unique environmental learning facility. 
Ian says he sees this investment as paramount to the continuation of fostering respect and knowledge of the marine environment amongst younger generations.
"Many aren't aware that it is one of the largest, privately funded Marine Education facilities in Australia, a valuable community asset that must be fiercely protected. It's one of a kind, and this latest redevelopment is the next phase of our long-term strategy to ensure its future," says Ian.
Having been an integral part of the education programs at the Marine Discovery Centre for over 12 years, Ted's son, Rhett, is now busy restarting their popular school holiday camp program and weekly discovery sessions. 
"Prior to COVID we ran a very busy school program, where schools from across Southeast Queensland would come for a one- or two-night camp to utilise both the marine centre and explore the unique rocky shores that we are so lucky to have at Hastings Point," said Rhett. "At low tide, it's an incredible place for kids to explore. Looking in crevices and pools and finding all sorts of creatures."
"Kids can see octopus and wobbygongs, and hold sea cucumbers. They can experience the huge biodiversity around them and see marine life in action."
"We found that combining theoretical knowledge done at the centre with field work at the rocky shores proved to be a huge success, so we can't wait to welcome school groups once more to our new Marine Discovery Centre, and continue that education."
Rhett also holds weekly discovery sessions at the Marine Discovery Centre, for families to visit and explore the centre.
"We've got microscopes so the kids can explore micro communities, and look at some of the creatures up close, touch tanks for kids to see marine life up close. These sessions are already proving to be a much-loved part of a families' holiday activities!"
If you stay at North Star Holiday Resort during the school holidays Rhett also runs free guided walks to the rocky shores for resort guests. 
"Its quite easy in our modern world for kids to never really venture into an eco system. They might have gone to the park, watched the Octonauts on TV, but to actually hand them a sea urchin to hold, and see that joy of holding a real creature. It's always an incredible moment."
Marine Discovery Centre Educator and passionate environmentalist, Kerrie Trees, says it is up to every person on the planet to be the voice for micro and macro fauna and flora that have no voice. 
"Through this centre, we can continue to encourage the young and the old, schools, communities and governments to take up the challenge and accept responsibility for our environment. 
"We aim to teach people, especially younger generations, to have a voice for the marine environment and be proud to use it," said Kerrie. 
The launch of the new Marine Discovery Centre coincided with the announcement that North Star had been awarded the highly regarded Eco-Tourism Australia certification, which is internationally recognised through the Global Sustainable Tourism Council. 
For more information about the Marine Discovery Centre opening times or student and group visits, go to www.marinediscovery.com.au
Written by
Kids on the Coast/Kids in the City