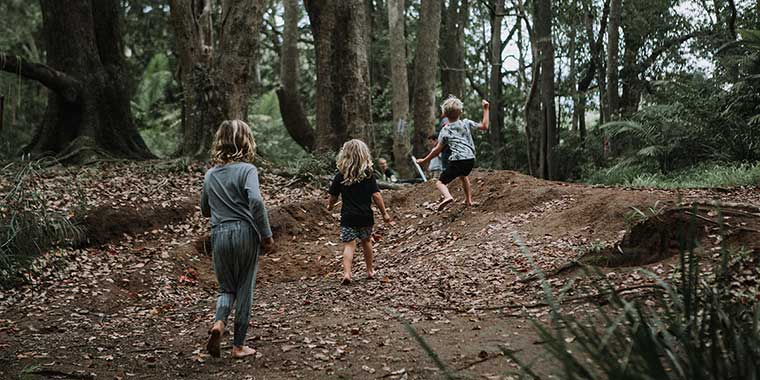 Featured
Horizon Festival 2019
Whether you're 2 or 52, Horizon Festival 2019 is packed with family-friendly events. So, get set for 10 days of arts-fuelled fun!
For little ones
Festival Central Kids Take Over
Sat 24 & Sat 31 Aug, 10am–3pm, Festival Central, Maroochydore City Centre
Each Saturday, Festival Central will be taken over by little people and their families with workshops and activities including clay making, musical instruments and family dance parties, Horizon Festival 2019 Kids' line-up of free activities is the perfect way to spend the weekend as a family.
Into the Wild with Wildlings Forest School
Get outdoors and let your little wildling's imaginations run free. Create a cubby in an enchanted forest, join a nature playgroup, make crowns and fishing wands. And on Father's Day build a raft, float down Petrie Creek then enjoy a picnic in the forest space. Various dates and locations.
For bigger kids (7+)
Loose Ends
Sat 24 Aug, 10.30am, Venue114 | GA $20 / Family $68 / Kids under 2 on the knee free
Journey to an eccentric place where gadgets are poetic, puppets naughty, machines untamed and circus tricks pop up when you're least expecting it!
Loose Ends is the story of a man who thinks he can organise all his life in boxes, and has a knack for getting into mischief.
Revolve
Sat 31 Aug & Sun 1 Sep, 11am & 3pm, Harmony, Palmview | Free
Revolve brings together 12 of Queensland's youngest circus stars, experienced artists and a live DJ to create a show that's bursting at the seams with energy and fun. Wheels, bikes, roller skates, unicycles, and even a tractor tyre are jammed onto the stage to create a whirling cacophony of wheeling wonder.
For teens
POINT
Fri 30 Aug, 5–10pm, The Events Centre Caloundra | $35
The ultimate festival party for teens boasting an all-star line-up of the country's most exciting emerging and established artists curated by QMusic, plus multi-art projections and installations.
For the whole family
Mountain
Fri 23–Sun 25 Aug, 6.30pm and 8pm, Festival Central, Maroochydore City Centre | Free
A stunning performance that combines aerial theatre with cutting edge interactive technology. Two shows each night will light up Festival Central when four performers seamlessly meld acrobatics, dance and aerials to create a captivating spectacle. After the show, you're invited to play with the interactive projection system.
Horizon Sounds
Sat 31 Aug, 6.30–9.30pm | Festival Central, Maroochydore City Centre | Free
Kick back at Festival Central and enjoy a stellar line-up of free live music, with a packed program of established Queensland bands and musicians, as well as some incredible up-and-coming local talent. Paired with a delicious meal and tasty brew, this is the perfect night out for any music lover.
Sat 24 Aug, 5pm, Eumundi School of Arts Hall | From $15
Eumundi School of Rock presents 20 young rockers from the class of 2019. This concert is the culmination of all their hard work and a chance to see five-time ARIA winning and seven-time platinum selling school founder, Katie Noonan, alongside local band Mufassa and The Pride.
Snake Sessions
Tue 27–Fri 30 Aug, 10am–4.30pm | Performance Sat 31 Aug, 2–5pm | Alexandra Headlands Skate Park | Free
For the skaters in your family, Sydney company, Branch Nebula, brings their breathtaking, anarchic street-style performance to the Alex Heads skate park. Branch Nebula's team will infiltrate the park for a whole week, jamming moves and tricks with the locals and closing with a spectacular improvised performance.
For Mum
In the Gardens
In the serene surroundings of the Maroochy Regional Bushland Botanic Garden, try your hand at Life Drawing in the Gardens (31 Aug). You can also collect leaves, flowers, bark and moss and turn them into Botanicals Eco-Resin Jewellery (27 Aug & 1 Sep) making your very own botanical necklace and bangle.
At the Flicks
Horizon Festival 2019 has a phenomenal line-up of documentary films in 2019. So get your girlfriends together and enjoy a night out at the movies! Be inspired by #FEMALE PLEASURE (Aug 27) – five cultures, five women, one story. #FEMALE PLEASURE portrays five courageous, smart and self-determined women, breaking the silence imposed by their archaic-patriarch societies and religious communities. The film will be followed by a panel discussion, Women to the Front.
For Dad
From comedy to punk rock, Horizon has the Dad's covered too. Sit back, grab a beer and enjoy a one-man interactive storytelling performance The Cold Record. The story of a 12-year-old boy who tries to set the record for the most days leaving school sick and, in the process, falls in love with the school nurse and learns to appreciate punk rock.
Stand-up comedy king, Dave Hughes, hasn't had a haircut for a year. Is it a crisis, is he going through menopause, what does his wife think? Don't miss this side-splitting night of laughs and find out why on 31 August at The Shed at Aussie World.
Main image: Lane Tribes Images
---
RELATED:
Augmented reality public art for kids on the Sunshine Coast
7 best places for a family picnic on the Sunshine Coast
A Forest in My Pocket at Horizon Festival 2020