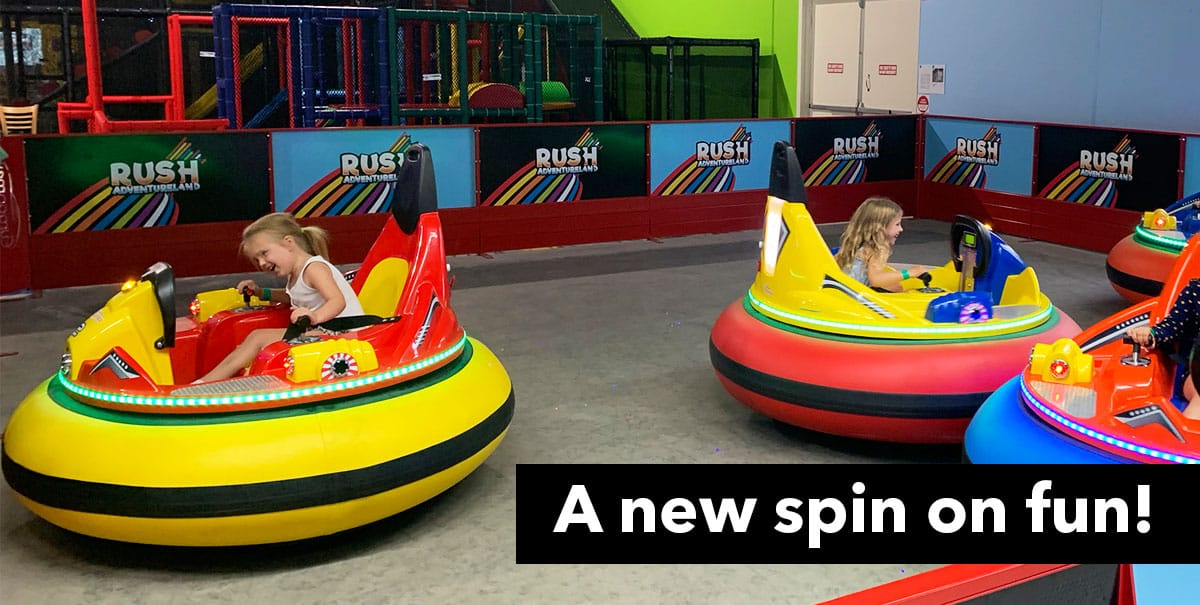 Activities
Kids rush indoors for a new spin on fun at Maroochydore
It's the largest indoor family entertainment and adventure centre on the Sunshine Coast, and kids are enjoying a new spin on fun at Rush Adventureland. It's the perfect place to beat the heat, the rain AND boredom!
Located at the Sunshine Plaza Shopping Centre directly opposite Woolworths, this fab adventure centre offers a wide range of activities for kids aged one to 15 years old. Kids will be running, climbing and sliding their way around the huge multi-level soft play indoor playground. There's fun to be had at every turn.
Rush for toddlers
Rush Adventureland caters to everyone's needs and interests. There's a specialised Toddler Zone for those aged one to three years, and it's got to be one of the largest we've ever seen. There's a brightly coloured playground and plenty of toddler friendly equipment and games.
The Toddler Zone is located right near the café, so parents can enjoy a coffee while still keeping a close eye on their little ones.
Rush for kids aged 4+
Children aged four years and older will enjoy running, jumping, climbing and sliding their way around the three level soft play indoor playground. Kids will be able to run up the ramps, practise their balance skills and slide their way to fun. Those brave enough will head down the drop slide, a 3-metre tall slide with a near vertical initial exhilarating drop.
If you've got a little ninja on your hands, test their skill on the specially designed ninja course. Kids will need to demonstrate balance, jumping, sliding and zooming skills, as well as stealth. This is a great course for developing hand-eye coordination and gross motor skills. It's also a great way for children to boost their confidence while having heaps of fun.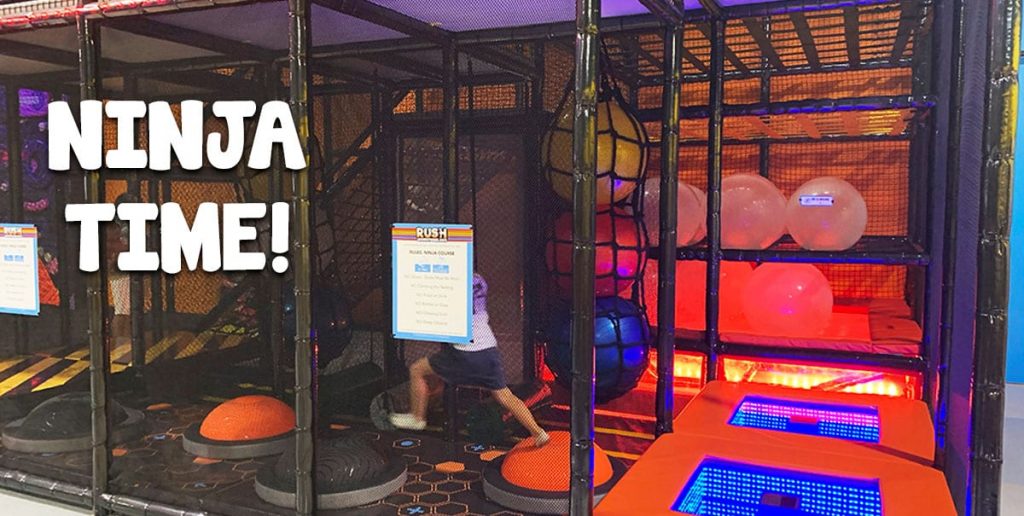 Other attractions include a climbing arena, with nine different climbing challenges of varying skill levels and a high ropes challenge.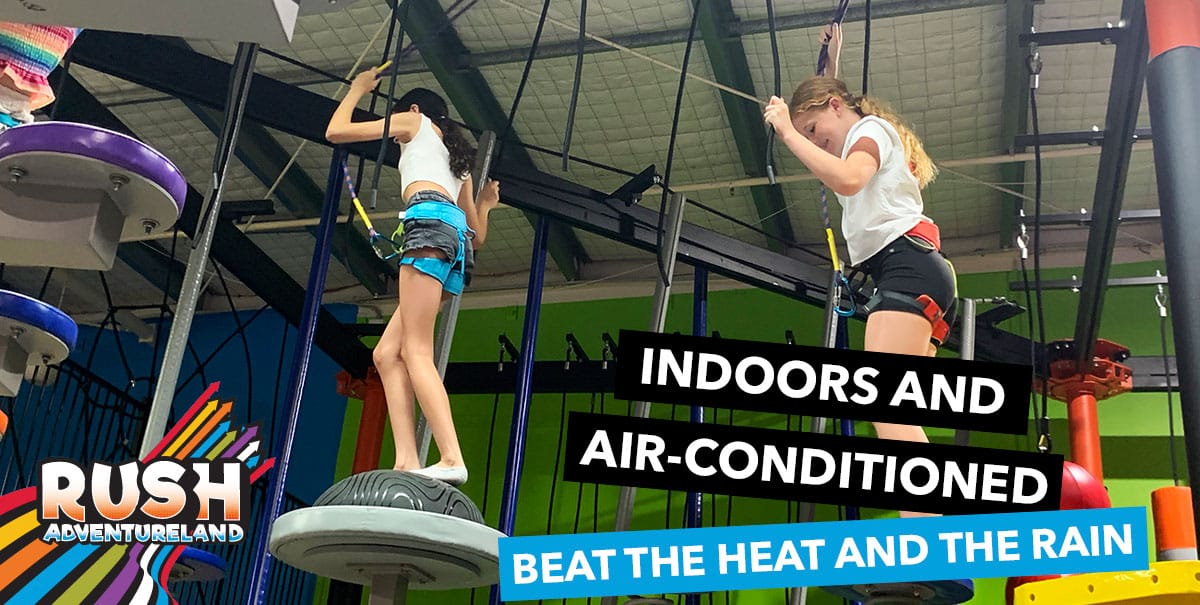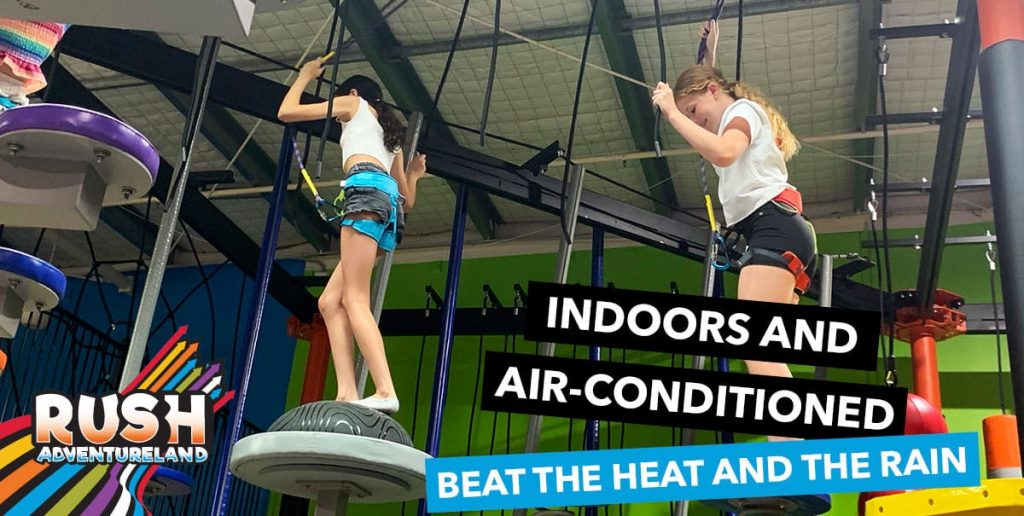 Rush Coaster
The Rush Coaster allows kids from ages six and older to fly high. A first of its kind in Australia, the Coaster has children rushing around the roof space high above the other attractions.
Bumpy rides
The newest spin on fun are the Hyper Bumper Cars at Rush Adventureland. They feature an infrared shooting system, so you can aim at other riders and watch their bumper car spin around in circles if you hit your target. Kids can ride on their own or with a friend.
Those aged one to five years can also get on for a bumpy ride, but they must be accompanied by someone aged 12 years or older.
Rush for children with special needs
Rush Adventureland aims to be all inclusive. It has an immersive sensory room specifically designed for kids with autism and for those with special needs.
The sensory room has a soft play playground as well as a range of activities for both physical and sensory engagement. You'll find interactive projectors beaming onto the floor and walls. These react to even the smallest movements.
There are fish that swim up and appear to nibble on your toes, falling leaves that scatter as you run across them, and bubbles that burst when you jump on them.
What's it cost?
There are fun passes for as little as $10 up to $45, which gives you access to unlimited play time in the chosen zone. You can also purchase individual tickets for the Rush Coaster, Hyper Bumper Cars and Virtual Reality.
Rush for a party
The adventure centre is definitely one place on the Sunshine Coast you'll want to have a party. Rush Adventureland caters to children from ages one to 15 and there are party packages to suit.
Little ones and younger children will have fun choosing a theme, from dinosaurs to mermaids, rainbows to superheroes. There are plenty of inclusions, and you can also order party platters for children and adults.
Rush Adventureland is certainly a destination to wear out the kids. For more information, visit the website.
Written by
kidsonthecoast