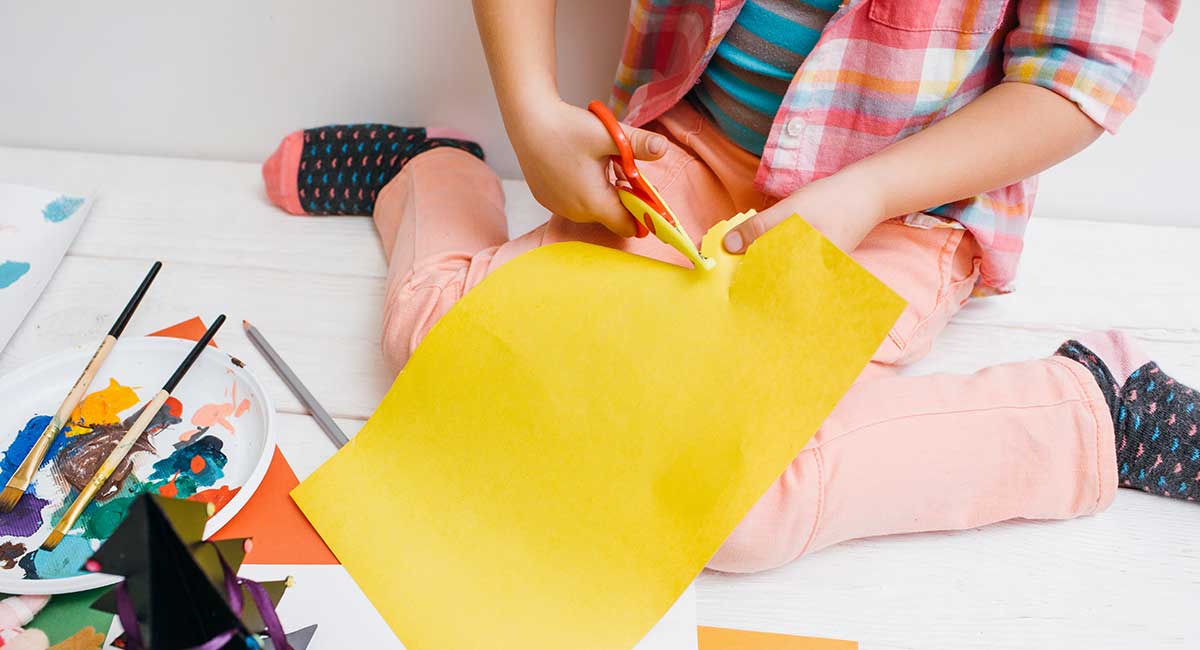 Craft & Games
Everyday creativity for kids - even when the inspiration runs out
Often when we think of getting creative with the kids we picture onerous activities with a mess of paints and a tangle of craft supplies. If the word 'creativity' has you running for the hills, fear not! It doesn't have to be that way. The most creative fun for kids doesn't require tedious planning or a lot of special supplies.
Karen Gawen from Sunshine Coast Libraries says we can learn a lot about creativity from our kids.
"The way kids explore the world is innately creative. By giving them access to even the most basic of materials, parents can open up a whole world of creative play for their kids," Ms Gawen says.
"The library's First 5 Forever program is all about making learning opportunities fun during everyday life, so a good place to start is with your daily routines."
She says there are simple ways you can make everyday routines an opportunity to get creative!
Creativity at bath time
Bath time is always a fun time for kids. A great way to allow them to get creative is to let them loose with some shaving cream. Let them draw pictures and shapes on the tiles and shower screen and amuse themselves with what they can create. They can even practice writing their name and getting familiar with their letters, making it a great early literacy activity.
Activities at story time
Story time can form the basis for lots of creative activities. When you've read a story, ask your child to make something or solve something from the story.
"A great example of this that we use at the library is with the book How to Catch a Star by Oliver Jeffers. With a piece of paper and a pen we ask the toddlers to design and draw their own star catcher. It's seriously amazing what they come up with!" Karen Gawen says.
Creativity while you're cooking
Cooking is always fun for kids. A simple way to allow kids to get creative in the kitchen is to pre-bake some cupcakes or cookies and prepare some icing of different colours along with sprinkles and let them make their own delicious creations.
Get creative at the park
Playing on the play equipment is fun, but often kids get more interested in picking up sticks, twigs, flowers and leaves. Harness this curiosity by going on a scavenger hunt together and then create some art or a story book from the treasures you find. This is sure to spark some interesting conversations as you get creative together.
Creativity outside
Free time outside is enjoyable for both kids and parents. Give your child a bucket of water and a paint brush and let them 'paint the fence' while you enjoy a cuppa and watch them have fun.
Quiet time creatives
Quiet time can sometimes be a pipe dream with young kids at home. However, a good way to encourage some quiet creativity is by having a craft box of recycled materials for the kids to play and create with.
"Your craft box can include anything from left over egg cartons, cereal boxes, magazines, junk mail and wrappers," Ms Gawen says.
"I grew up with a 'Playschool Room', well that's what my sister and I called the spare room filled with all kinds of stuff! Mum used to send us in there when we were bored and we'd be entertained for hours and she always ended up in there with us helping, talking and laughing. My sister came to my office years ago, saw all the craft stuff we have and exclaimed, 'Are you kidding? You've grown up and got yourself a playschool room for a job!"
Library time
Escaping to the library is always a fun activity. Every holiday, Sunshine Coast Libraries has Create Stations allowing kids the chance to make whatever takes their fancy.
"Sometimes we give it a theme, but mostly it's just a few tables with loads of craft materials, boxes, glue and scissors and we let them go crazy," Ms Gawen says. "No templates are provided so they have to use their imagination."
Night time creativity
If all this creativity has rubbed off, take some inspiration from the page Dinovember. Refe and Susan Tuma started staging their kids' toy dinosaurs every night when the kids were in bed to convince their children that their plastic dinosaurs come alive while they sleep! This sparked a worldwide phenomenon and they've now written a number of books.
It's a good reminder that creativity doesn't just have to be for the kids!
For details on the First 5 Forever program, visit www.first5forever.org.au
---
You may also like…
Early literacy games you can play anytime and anywhere
Sensory play and its importance in early learning
Build your child's love of reading without spending a fortune on books
Written by
Angela Sutherland
After spending many years hustling stories on busy editorial desks around the world, Angela is now mum of two little ones and owner/editor at Kids on the Coast / Kids in the City. She is an atrocious cook and loves cutting shapes to 90s dance music.