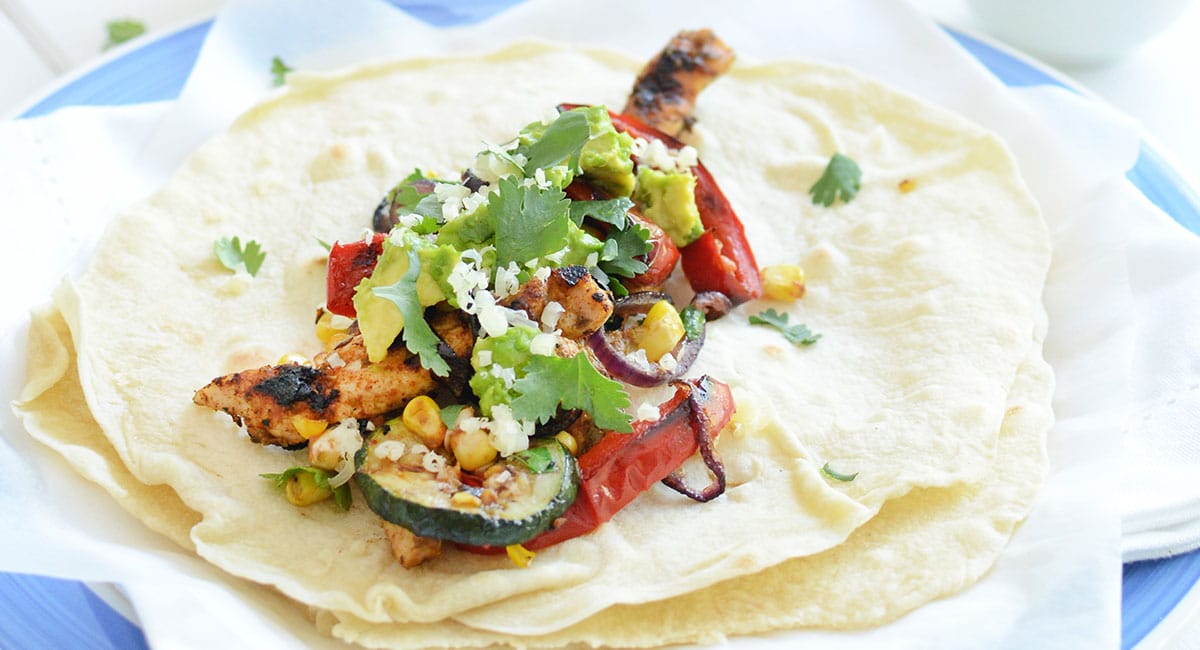 Read
Grilled vegetable and chicken fajitas
Having a fussy eater in the house can quickly turn dinner time into drama time. You want to make sure everyone has a healthy meal but finding something everyone will eat and avoiding cooking those pesky separate meals is not an easy task.
These vegetable and chicken fajitas are ideal for families with fussy eaters. You can choose what vegetables and meats you use, as well as adapt spices to suit the age and stage of your children. The bonus? You're still only making one meal for everyone!
The simple act of everyone enjoying and sharing the same meal is a great step towards avoiding fussy eating. It's also great for transitioning babies and toddlers to family meals. You can tightly roll these fajitas and place on a grill to toast, which might be easier for the little ones to eat.
These vegetable and chicken fajitas are wonderfully nutritious and well-balanced. They provide protein, carbohydrates, fibre, a wide range of essential vitamins and minerals and a moderate amount of healthy fats. They're super fun to build yourself, too!
What's not to love?!
Prep time 15 minutes (if you don't make the tortillas from scratch)
Cooking time 15 minutes
Serves 8
Ingredients
FOR THE TORTILLAS
2 cups flour + extra for dusting
1 tsp salt
1/4 tsp baking powder
1/4 cup butter, cut into small pieces
2/3 cup warm water
FOR THE CHICKEN FAJITAS
500g chicken breast or thigh, cut into strips
2 limes, use the juice and grate zest
1/2 tbsp caster sugar
1/2 tsp paprika
2 tbsp dried oregano
1 tsp cinnamon
3 tbsp olive oil, divided into 2 and 1
1 capsicum, sliced, seeds removed
1 corn on the cob, kernels removed
1/2 red onion, finely sliced
1 zucchini, sliced into rounds
1/4 cup parsley, roughly chopped
1 avocado, flesh removed and diced
1/4 cup coriander
Grated cheese to top
Method
TO MAKE THE TORTILLAS
In a medium bowl, combine sifted flour, salt and baking powder. Use a food processor to add butter and process until the mixture resembles a fine breadcrumb consistency. Transfer to a bowl.
Stir in warm water and stir with a fork until a rough dough forms. Turn dough onto a floured surface and use your hands to knead until smooth (4 or 5 minutes). The dough is ready when it is not too sticky.
Separate dough into 8 equal pieces and roll each piece into a ball. Cover with plastic cling wrap and leave to rest for 30 minutes to 1 hour.
When ready to cook the tortillas, heat a large saucepan (or preferably a skillet) over medium heat until hot. Flour surface and roll the dough balls (one at a time) into a thin round tortilla shape. The dough should be super thin, so you can almost see the bench top through it. If this is proving too hard, try and roll the dough between some baking paper.
Peel dough off bench and carefully place it in the hot skillet. Cook until the tortilla bubbles and puffs and the bottom browns in spots.
Turn and cook the other side. Change the heat of your skillet accordingly (you want brown spots, but no burning). Transfer to a plate and cover with foil to keep warm. Repeat with the remaining dough, stacking and covering each tortilla as it's cooked.
TO MAKE THE FAJITAS
Chicken marinade: Slice chicken breasts into 2cm strips and place in a large bowl. Add lime juice and zest, sugar, oregano, paprika, cinnamon and oil. Toss to coat the chicken, cover and place in the fridge to marinate. Once marinated, turn on the grill or heat frying pan. Add chicken and cook for a few minutes or until cooked through. Remove and set aside.
Grilled vegetables: Chop vegetables and coat in olive oil. Heat grill or frying pan. Add vegetables. Cook for 5-7 minutes or until soft. Remove and set aside.
Guacamole: Combine avocado and coriander.
To serve, spread a little guacamole over a warm tortilla. Top with some chicken strips and a spoonful of the grilled vegetable mix. Sprinkle with grated cheese and fold the tortilla over the filling.
Nutritional Information (per serving)
No nutritional information available.
---
Extracted from One Handed Cooks by Allie Gaunt & Jessica Beaton with photography by Sarah Buckle, Viking, RRP $39.99. One Handed Cooks champions teaching children to enjoy a wide variety of foods through a balanced diet. The latest flavoursome collection includes recipes for babies through to school age, from homemade teething rusks and baby led weaning to family meals and snacks.
---
You might also like…
Quick chicken casserole
Creamy and cheesy pasta bake with bacon and chicken
Quick and easy chicken and zucchini patties
Written by
Kids on the Coast/Kids in the City