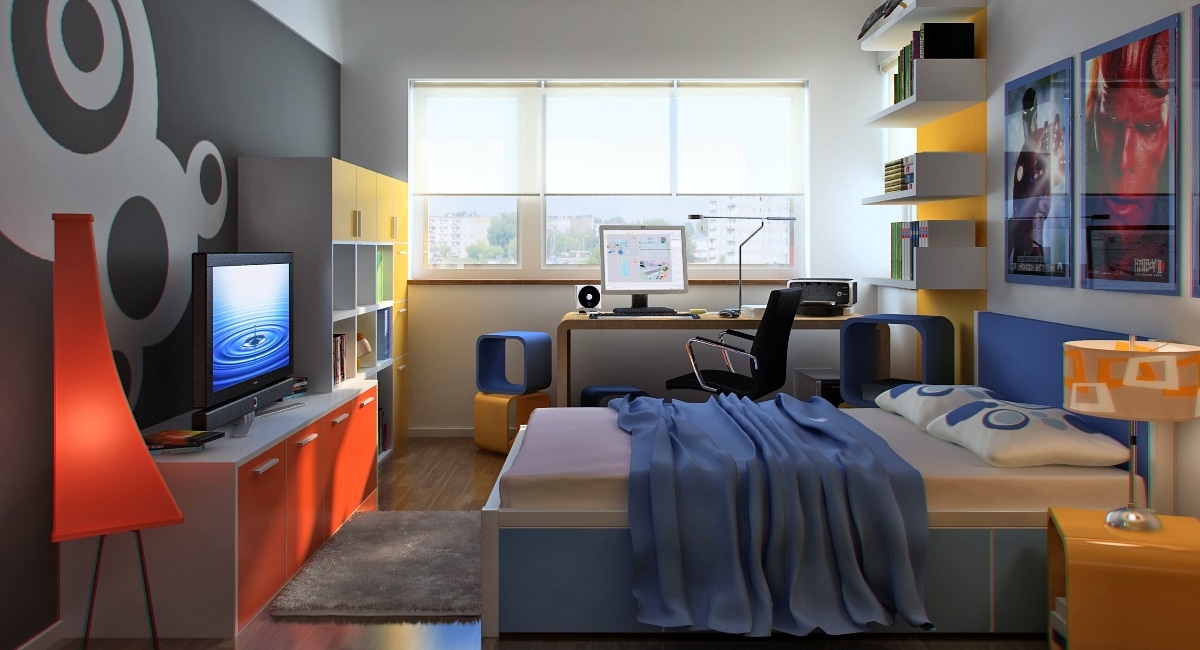 Home & Health
18 Mum-rated storage ideas to keep kids' bedrooms clutter-free
It can be difficult to keep your kid's bedroom tidy and clutter-free. Hands up if you can't even see the floor sometimes?! If you're also short on space to store everything, the craft supplies, stuffed toys and teeny-tiny Barbie shoes often seem like they could take over the world.
To help you rediscover that bedroom floor, here are some easy storage ideas that will keep your kids' bedrooms organised and save those stubbed toes! You might even find the kids will be eager to help keep their zone mess-free if you get them involved in these clever solutions.
Start by decluttering
Before you can tackle the storage spaces, you might want to declutter. If the idea of this causes you anxiety, don't try and do it in a day. Take it step by step.
If you're 'wiping the slate clean' you'll need bags. Fill them and donate to a family member or friend with younger children or a charity, like Baby Give Back or Vinnies. Use the Four Box Method. Get four boxes and label them 'Trash', 'Giveaway', 'Keep' and 'Relocate'.
Write yourself a 'clean up checklist'. This will make it easier to know what you want to do and how you're going to do it. Photograph the spaces; knowing how something looks before you declutter might keep you motivated. Look for inspiration online, if you need it.
Clutter-free cupboards
"My children have cupboards, rather than sliders, for their clothes," says mum-of-two Olympia. For that reason, she finds closet door racks and containers for bedroom organisation handy.
"They create so much useful storage," she says.
Closet racks can also be used to create shelving. Use them to store your kids' favourite books.
View this post on Instagram
You can also use closet door hooks and totes for storage. Fill them up with stuffed toys, blocks and even LEGO, getting them off the floor after play.
Another cupboard storage hack comes from mum-of-four, Ellen.
"Cube shelves and baskets allow us to keep the clutter off the floor," she says. She uses them for shoes and socks, as well as toys and knick-knacks.
Bed storage that creates space
Book shelves, containers and even beds with storage underneath make for a clutter-free space. As a mum to a four-year-old train enthusiast, Maree came across an incredible idea to turn the space under her boy's bed into a train station.
"His bed didn't have any storage, so I purchased the under-bed storage with casters and made it for him," she says.
View this post on Instagram
Big wardrobes are great for containing clutter, but when you don't have that luxury, consider furniture. A bed with shelving and cupboards can be great for storing books and toys. It's simple and effective!
View this post on Instagram
Does your Little One still enjoy dressing up? Does their bedroom floor resemble the dressing room of a Christmas pantomime? Maybe they have a collection of dress-up costumes stuffed into a plastic tub or drawer, making it difficult to easily identify certain items. Mum to three girls, Jamie, says her husband made a costume rack (like the one below) to hang the kids' dress-ups on.
"It keeps things clutter-free," Jamie says.
View this post on Instagram
Keeping it clutter-free as kids get older
Because kids' interests develop rapidly, you want to allow some flexibility in the storage plan. Consider your child's future needs. Desks, book cases and shelf storage all all perfect for freeing your child's bedroom of clutter. There are plenty of shelving units that allow you to utilise the corner area of your child's bedroom.
Wall shelves are another way to display your child's favourite books (or the books they're reading right now!) or photos. A reading nook can become a cosy and clutter-free space in your child's bedroom.
View this post on Instagram
"We know there will be a time when our son needs a desk to study at," mum-of-one, Alice, says.
Alice has created a desk nook in her son's bedroom. Adding bins and baskets makes the space more useful.
"Right now, containers help keep toys separated, but they will also be useful for when he has more school work or his interests change."
View this post on Instagram
For maximum storage — if it's needed — tall shelves and toy chests do the trick!
"The tall shelves allow me to put away stuff I don't want the kids touching," Jennifer says. The mother-of-two has a tall shelf against and empty wall in each of her children's bedrooms. They are in easy reach of the kids and having those items of interest to them at eye height makes the storage far more functional.
"My goal isn't to follow my kids around picking up their clutter every day," she says. "I want them to do it on their own, I'm just encouraging them by giving them the right tools."
What have you done to make your kids' bedrooms clutter-free?
Written by
Calista Bruschi
When she's not moulding Play-Doh or dancing in the living room with her children, Calista Bruschi is an editor and writer. She has oodles of experience working on newspapers, magazines and websites. Calista likes to organise and be organised. She loves being a mum, Italian food, wine, sport and stationery. She hasn't sleep a full night in more than five years and is powered by coffee.