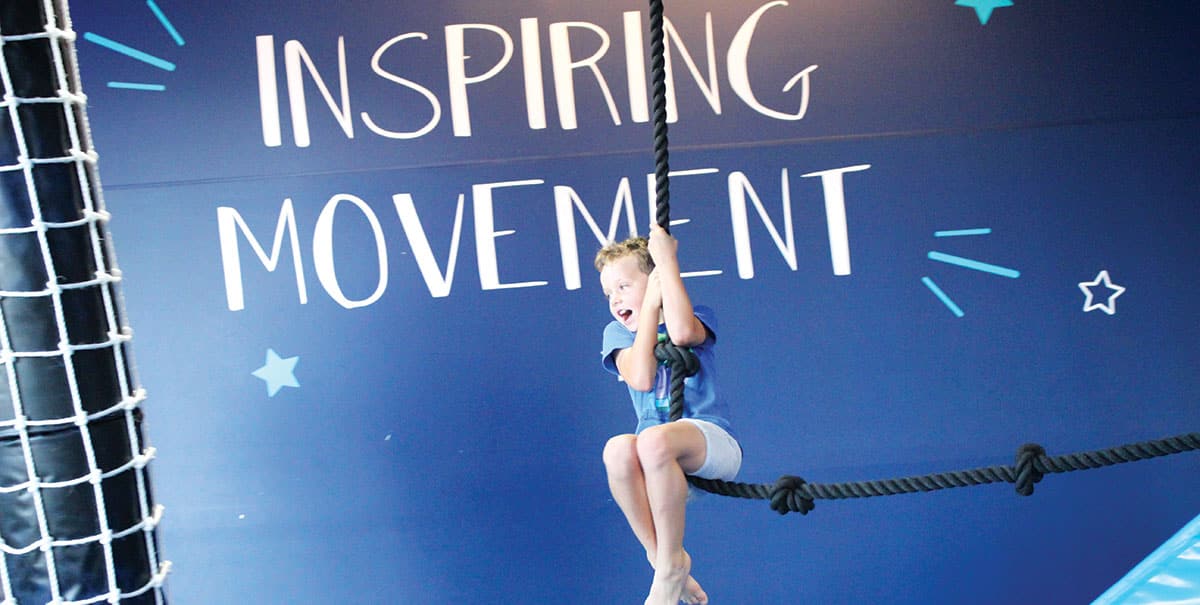 Home & Health
Instilling a love for fitness in kids
Did you know that eight out of ten Aussie kids aren't getting the recommended amount of physical activity each day?
At a time of critical development and growth, many children are learning that mobile devices are fun and physical activity is something that they only participate in when they have to.
So, how do we turn that around and instil a love for fitness in kids from an early age?
At the core of a developing a lifelong love for anything, the activity has to be fun and something that they look forward to. (After all, when have you ever stuck at anything that you don't enjoy?)
"A love for fitness comes from having fun," says Jules Nagy from My First Gym Maroochydore. "This connection between fitness and fun can start from a very early age, and is something that will positively influence kids' choices for their whole lives."
With this in mind, My First Gym Maroochydore has built their whole program around ensuring kids are having fun while exercising and trying new things. Their unique approach to kids' fitness has already led to hundreds of Sunshine Coast kids putting down their devices and finding a new love for being fit and active.
"Most kids don't know what they want to do at the start. Therefore, we provide a huge choice of classes all under one roof, so kids don't need to specialise too early," says Jules. "They can come to a different class each week and try them all—our membership program means you can come to Martial Arts on Monday, Yoga on Wednesday, Dance or Parkour on Thursday!"
This also perfectly caters for those families with several kids who like different things.
"Having three arenas means we can run a range of classes and ages at once," said Jules. "This sibling-centric timetable, free play space, and drop and run facilities make it easy for families to incorporate My First Gym into their lives and busy schedules."
Putting the fun back in fitness
This choice and flexibility takes away the pressure of choosing a specialised sport early, so kids really can just go along and have fun.
"Once kids do discover that thing they love, they may start to stick with regular classes," says Jules. "But that's because they've had the chance to try everything, so they truly know they are doing something they love. If at any point they fancy trying something new for a week or two, they can easily switch to something else! This flexibility is great for the kids, as it keeps the focus on having fun, getting involved, and being active."
Fitness for all ages
Kids can go to My First Gym from as early as 7 months and can continue through to 15 years.
"At 7 months, we are working on fine and gross motor skills, listening to instructions and getting accustomed to a social group with our Baby Explorer and Walking Wallabies classes," explains Jules. "Then our Dingo Pups class (ages 3-5) is more focused on getting school ready."
The MFG general activity programs run for kids right through to 15 years old. Each level is age-appropriately designed to develop children's athletic skills and components of fitness, and to make them passionate about movement and exercise. Specialist classes available include: Boxing, Yoga Gymnastics, Parkour, Dance, Ninja Warrior, Cheer, Playgroup, and Martial Arts.
"We also run school holiday camps, which include activities such as Parkour, an escape room and heaps more fun and action for the kids."
Find out more about My First Gym Maroochydore at www.myfirstgym.com.au/maroochydore.
---
You may also like…
Fitness activities for non-sporty kids
What's the best sport for preschoolers?
Kicking off a love for sport in kids
Written by
Angela Sutherland
After spending many years hustling stories on busy editorial desks around the world, Angela is now mum of two little ones and owner/editor at Kids on the Coast / Kids in the City. She is an atrocious cook and loves cutting shapes to 90s dance music.