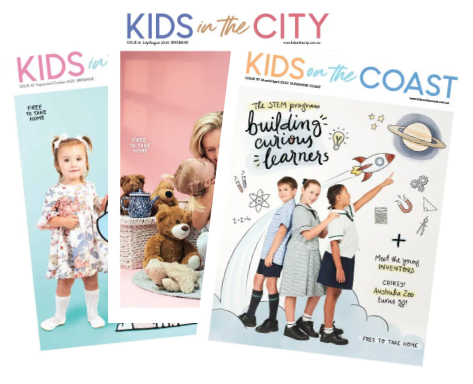 Home & Health
The mama behind the Sunny Coast Baby & Kids Market
We sit down to chat with mama behind the Sunny Coast Baby & Kids Market about motherhood, the juggle, and why pre-loved markets rock!
What range of stalls come to the Baby & Kids Market?
We have all sorts of stalls! Families having a clean out of their no longer needed baby and children's clothes, shoes, cots, prams, high chairs, baby baths, port-a-cots, toys. Many items are gently used or some are even in as-new condition. We also have local handmade businesses who make children's clothing, baby bibs and burp cloths. Local businesses aimed at mums and children like to come along too, such as childcare centres, kids' sports programs, swim schools, tutoring companies, massagists, chiropractors, the list is endless. I love having an outlet for the local small businesses to come along and showcase their products.
Why do you think people still love markets, even with the growth of online sales?
The markets have gone through various stages – they started out with an amazing following, then declined a little due to more online selling. But I've put a lot of effort into promotion and marketing, and in the last three years I have seen a steady increase in stall and numbers. At the end of the day I think people still like to come along and see what they are going to buy. And pre-loved items are the best! New families get items at a great price and further use out of products that are no longer needed; growing families can clear out everything in one go… it's a win-win for everyone! Plus, having everything all under one roof makes it super-easy, and 
a fun morning out for the family!

How many kids do you have?
I have three children, Years 9, 7 and 1 and a gorgeous dog. We are a super-busy family with my husband working long hours and travelling frequently for work. We manage soccer, rugby league, cricket, cheerleading and some days I think I live in my car! Luckily most of my work is aimed at mums so the best times to be active on social media is late at night (which suits me!) or during the day when kids are at school. We are also lucky to have the support of grandparents nearby.
How would your kids describe you?
My kids would probably say I am too strict! 
I run a tight ship. Everything has its place and when things get out of place, I have a meltdown! I am a super-organised person, that's the only way I can function with a busy household and a business. On a market week my phone is glued to my hand and I am constantly saying to my kids just wait a minute! The week after a market I like to have some downtime and try to stay off social media for a few days. Its relentless nowadays, with people being able to contact you through so many forms of media. 
You have to stay on top of it all.

What's your favourite thing about being a mum?
I love that I always having someone to do things with. Kids have boundless energy and are always up for a trip to the beach or a walk with the dog.
What's your least favourite thing about being a mum?
Always having to be on shift! The relentless washing, what's for dinner, it never ends. Even when on a holiday you still have to worry about the washing or where to eat! The constant thinking about everyone else.
What's your favourite way to spend a day with the family?
I love Happy Valley. The boys can surf, our dog can come along and walk on the beach, my daughter can play at the park, I can grab a coffee. Everyone's happy. I am a big believer in multi-tasking!
And you have recently started a preloved Boho market at Birtinya! 
How exciting!
Yes! The Bohemian Fashion Market is a new concept which was suggested by Stockland Birtinya and I ran with the idea. We held a ladies market at Stockland Birtinya recently which was a success. I have since been inundated with enquiries from local creatives to come along to this market. We will have second-hand fashion stalls with stallholders selling pre-loved boho-inspired clothing – think beachy floaty dresses, tops, kimonos, jeans. We will also have lots of local businesses selling macramé, leather clutches, bags, jewellery, candles, leather shoes, dreamcatchers. This market will be aimed at everyone – not just babies and kids – décor items, clothing, leather goods. The market is situated near Aldi in an indoor location near the children's playground. There will be live music on the day, and there's lots of coffee shops and food outlets. Families will be able to check out the Coast's newest shopping centre as well!
How do you manage the juggle – running 
a business 
with family?
Some days are better than others! I am super organised which helps. Two luxuries I allow myself are a fortnightly cleaner and we use Hello Fresh home food delivery for three nights of the week.
What's next for you and 
the markets?
I have lots of ideas in the pipeline. Themed pop-up markets for the ladies markets are on the agenda and a possible new location for the Baby & Kids Markets.
Written by
kidsonthecoast