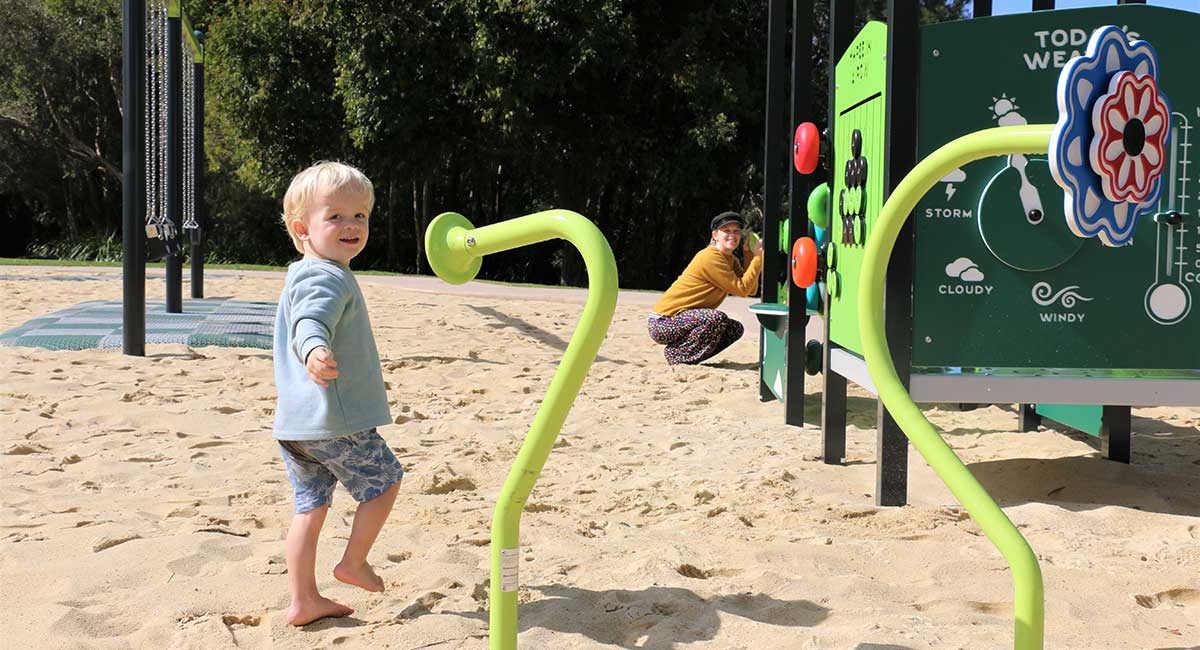 News
Little legs run wild for new Sippy Downs park
Sunshine Coast Council, in partnership with the Queensland Government, has delivered Stage One of the Albany Lakes Park Landscape Concept Plan.
Sunshine Coast Council Mayor Mark Jamieson said the $380,000 playground provided a great new facility for the Sippy Downs community.
"I'm pleased to see the community enjoying the new playground which provides an exciting new location where children can play," Mayor Jamieson said.
"Recreation parks are an integral part of our Sunshine Coast communities.
"They connect us to nature and provide opportunities to connect our communities with the outdoors and to enjoy spaces that encourage a more active, healthy lifestyle."
The park caters for prep to late primary school-aged children with a range of play equipment to encourage fun, adventure and sensory experiences.
The playground's design links to open space and lakeside areas, with new pathways and has spaces for the community to sit, relax or enjoy a picnic.
Division 6 Councillor Christian Dickson said this was another great park improvement adding to our green spaces across our region.
"I'm excited to be able to deliver another valuable playground for our community," Cr Dickson said.
"The new Albany Lakes Park playground has allowed for a much larger play space and improved accessibility.
"This project has been a long time coming which is why I'm really pleased to see it come to fruition.
"Extensive community input helped to shape the Sippy Downs Parks Master Plan which showed overwhelming support for a new playground and better car parking at Albany Lakes Park.
"By 2018 we had endorsed the master plan and implemented the community's values and visions into delivering Stage 1 – and I'm looking forward to announcing the start of Stage 2 works in the near future."
The Queensland Government has committed a further $600,000 under the South East Queensland Community Stimulus Package for Stage 2 upgrades.
The significant funding injection will support construction of large shade sails which is expected to be delivered later this year. The remainder of Stage 2 works, which include a larger multi-play tower, fencing, additional picnic settings, barbecue, shade trees and drinking fountain, will be constructed in the later part of the 2021/22 financial year.
Council will also upgrade the carpark at Albany Street to provide a turning area and accessible car parking, plus connecting pathways to the proposed playground.
For a full list of local parks and playgrounds visit Council's Beaches and Parks Directory.
---
You may also like…
Great bushwalks for kids on the Sunshine Coast
Climbing Mount Coolum with kids
Sunshine Coast's best bike rides for families
Written by
Angela Sutherland
After spending many years hustling stories on busy editorial desks around the world, Angela is now mum of two little ones and owner/editor at Kids on the Coast / Kids in the City. She is an atrocious cook and loves cutting shapes to 90s dance music.