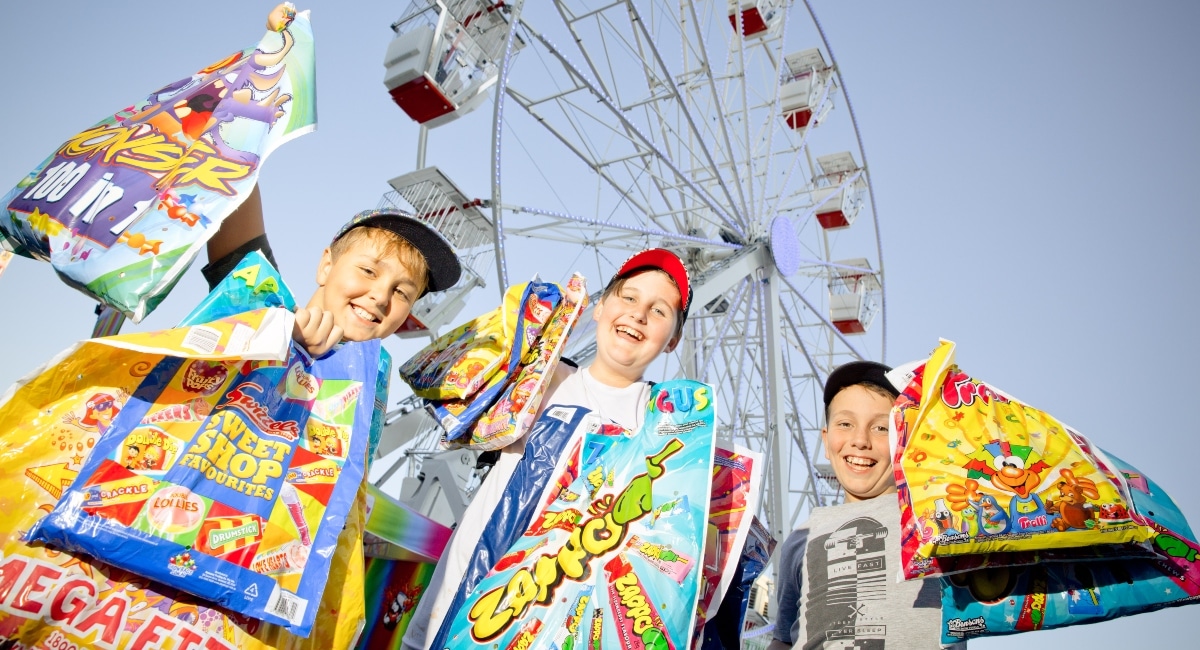 News
Brisbane Ekka Showbags: Where you'll get the best value
The annual Brisbane Ekka is just around the corner. The return of the historic Royal Queensland Agricultural Show (affectionately known as Ekka) also means showbags galore!
You'll have more than 400 showbags to choose from at this year's event, including 30 new bags. With prices ranging from $2 to $125, there's sure to be something for everyone.
That includes showbags such as Bluey, Jurassic World Camp Cretaceous, Sour Patch Kids, My Little Pony and Game of Thrones. Classic favourites are also returning. You can score yourself a Bertie Beetle showbag for just $3 while a distinctively retro version of the tremendously popular chocolate can be picked up for $18.
But which Ekka showbags are worth their money? Consumer researchers from Finder have come to the rescue.
Head of consumer research, Graham Cook recommends the best Ekka showbags for kids are Avengers ($28) and Star Wars ($28).
"Those offer three times more value of the cost of the bag," Mr Cook told 9News recently.
The Avengers showbag has a slideshow torch, 3-pack of gliders and disc shooter. You'll also get your choice of a Captain America dress-up with vest, gloves and mask, an Ironman dress-up with vest gloves and mask or a Thor dress-up with vest, hammer and helmet. It all comes in a handy Avengers carry bag.
There are three Star Wars showbags at this year's Ekka: the Empire Strikes Back, The Child and The Mandalorian. The goodies inside include PS drink bottles, beach towels, trucker caps, socks, coffee mugs, t-shirts and keyrings. Each has its own unique laminated bag.
Perhaps one of the best value Ekka showbags is the Rural Aid showbag for $17. There is more than $199 worth of value inside the bag, including a discount voucher for meal delivery service Dinnerly, a 2-for-1 voucher for Sea Life Sunshine Coast and discount offers for Domino's and Petcircle. You'll also be doing something good for our Aussie farmers when you purchase this showbag, with a portion of the sale going to Rural Aid.
Ekka showbags for the cost-conscious
If you're on a budget, there are at least 30 Ekka showbags that can be purchased for $5 or less. They include the Rainbow Freeze showbag for $2, Wizz Fizz for $4 and Mega Gummi for $5 each.
The Cadbury showbags offer great value. A single bag is $5. Choose from Caramello Koala, Cherry Ripe, Crunchie, Curlywurly, Dairy Milk, Flake, Freddo, Furry Friends, Picnic, Turkish Delight and Twirl. Buy three Cadbury showbags and it'll only cost you $12.
If money is no object, the Lindt Box of Blocks is the most expensive of the Ekka showbags. For $125 you'll receive more than 35 blocks of chocolate from 38g to 300g.
Getting your Ekka showbag has never been easier
Head to the official Ekka website and purchase your showbags online. By signing up to MyEkka you'll be able to create your own itinerary of events, rides and showbags!
You can also purchase the Ekka showbags at Showbags.com.au. You'll find all your favourite novelty and branded showbags here, including Brisbane's favourite television dog, Bluey. For lifestyle, beauty, confectionery, entertainment and fashion brands, head to the Showbag Shop.
You'll also find a range of Ekka showbags in select supermarkets. Coles, IGA and Woolworths all have limited stock available, so it's best to ask at your local supermarket to see what's available and when.
Of course, you can browse online and still decide to head to the Showbag Pavilion to make your final purchase. However, you choose to buy your Ekka showbags, compare the various costs. For example, an NRL showbag purchased at the Ekka (online store) will cost you $30, but is $2 more expensive if you buy elsewhere online.
The Royal Queensland Show will take place at the Brisbane Showgrounds. All the action commences on Saturday, August 6 and goes until Friday, August 12.
Written by
Calista Bruschi
When she's not moulding Play-Doh or dancing in the living room with her children, Calista Bruschi is an editor and writer. She has oodles of experience working on newspapers, magazines and websites. Calista likes to organise and be organised. She loves being a mum, Italian food, wine, sport and stationery. She hasn't sleep a full night in more than five years and is powered by coffee.