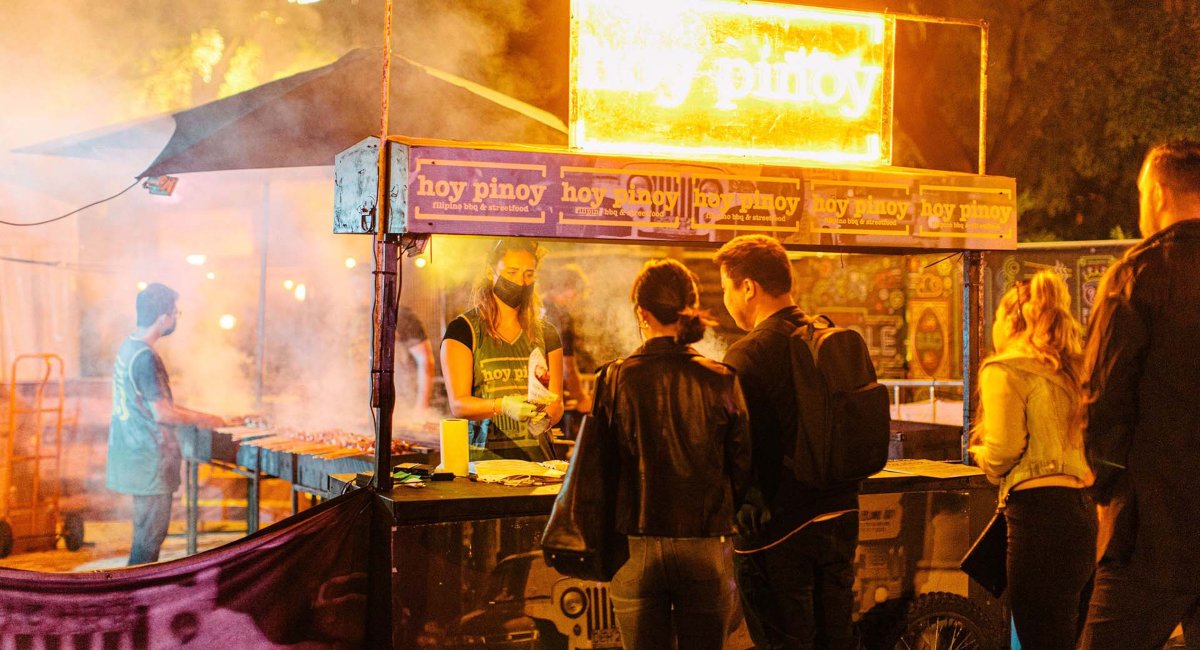 News
Brisbane Night Noodle Markets return... Finally!
For the first time since 2019 the Brisbane Night Noodle Markets are back! This culinary favourite is set to be tastier than ever with street market stalls slinging all kinds of deliciousness.
Dishing up hawker-style food and plenty of edible items on sticks, the Night Noodle Markets are incredibly popular on Brisbane's foodie calendar. However, that thing known as the coronavirus global pandemic has forced it to cancel for the past couple of years.
That all changes on Wednesday, June 15. Finally!
For 12 nights only!
Grab your winter warmers and be sure to wear your comfiest pants, because the Brisbane Night Noodle Market is here for 12 nights only! That's right, you'll fill your hungry tummy from Wednesday, June 15 to Sunday, June 26.
This year's event will serve up its delicious dishes in a new home: the City Botanic Gardens. Moving over from South Bank, the Gardens are transforming into an open air Asian street food festival.
You can also expect live entertainment and lion dances to go with the pop-ups and stalls. Oh, and not only is the event family friendly, but you can bring your pets too.
Food, get in mah belly
If just thinking about this event is working up your appetite, get ready to indulge in the tastes of 16 culinary stallholders. Feast on everything from things on sticks, bowls of noodles, bao and extravagant desserts.
Among the food line-up are favourites like Hoy Pinoy, Bangkok Street Food, Flying Noodles and Gelato Messina.
A big drawcard to the Brisbane Night Noodle Markets is Demochi Donuts. This Sydney favourite is renowned for its mochi doughnuts, which will be served in original honey glaze and cinnamon flavours.
View this post on Instagram
Other national stallholders include May's Malaysian, Wonderbao, Calabang, Roll Up and Twistto. Think fried radish cakes, Korean fried chicken gua bao, calamari, peking duck rolls and twisty potatoes on the menu.
Vegan, vegetarian, gluten-free and Halal options are also available.
The Brisbane Night Noodle Markets will be open from 5pm-9pm Sunday to Wednesday, 5pm-10pm Thursday and Friday, and 4pm-10pm on Saturdays. You'll have plenty of chances to stop in.
While entry is free, you will need to register for your ticket. Do this via the Night Noodle Markets website.
---
You might also like…
A Pixar-themed mini-golf course is popping up in Brisbane this winter
Inaugural Big City Lights festival to illuminate the Gold Coast in July
Written by
Calista Bruschi
When she's not moulding Play-Doh or dancing in the living room with her children, Calista Bruschi is an editor and writer. She has oodles of experience working on newspapers, magazines and websites. Calista likes to organise and be organised. She loves being a mum, Italian food, wine, sport and stationery. She hasn't sleep a full night in more than five years and is powered by coffee.