News
Inaugural Big City Lights festival to illuminate the Gold Coast in July
The Gold Coast will become a mesmerising and illuminated hot spot in July. The inaugural Big City Lights festival takes centre stage from Thursday, July 7 to Sunday, July 10. The Southport CBD will be transformed with light, colour and creativity all part of this immersive audio-visual display.
Experience large-scale digital works and projections in surprising locations, as anything that can turned into an artwork is going to be! An eclectic line-up of live music performances ensures Big City Lights delivers a unique soundscape celebrating the Gold Coast's vibrant nightlife and live music scene.
What can you expect from Big City Lights
This epic free arts festival will feature five incredible 'art zones'. Rooftops, building facades, alleyways, car parks and shopfronts in Southport come alive with colourful creations.
Southport's most iconic venues, such as Mr P.P's Deli & Rooftop, Vinnie's Dive Bar and Last Night On Earth will also host key installations and vibrant line-ups of live music.
Creativity and technology combine with the festival artists working in the fields of light, installation, architecture and digital design. Among the talents spearheading this festival are Queensland artists Peter Thiedeke, Claudio Kirac, Kirsten Baade and Ikonix.
Highly skilled creator, Kirsten Baade will present 'Big City Eyes' along Scarborough Street. Originally commissioned for BIGSOUND Music Festival, all eyes will be on you as Baade's cluster of glowing neon eyes peer out, watching your every move. Playful and cartoonish in style, some will blink, some will wink — how long can you maintain eye contact?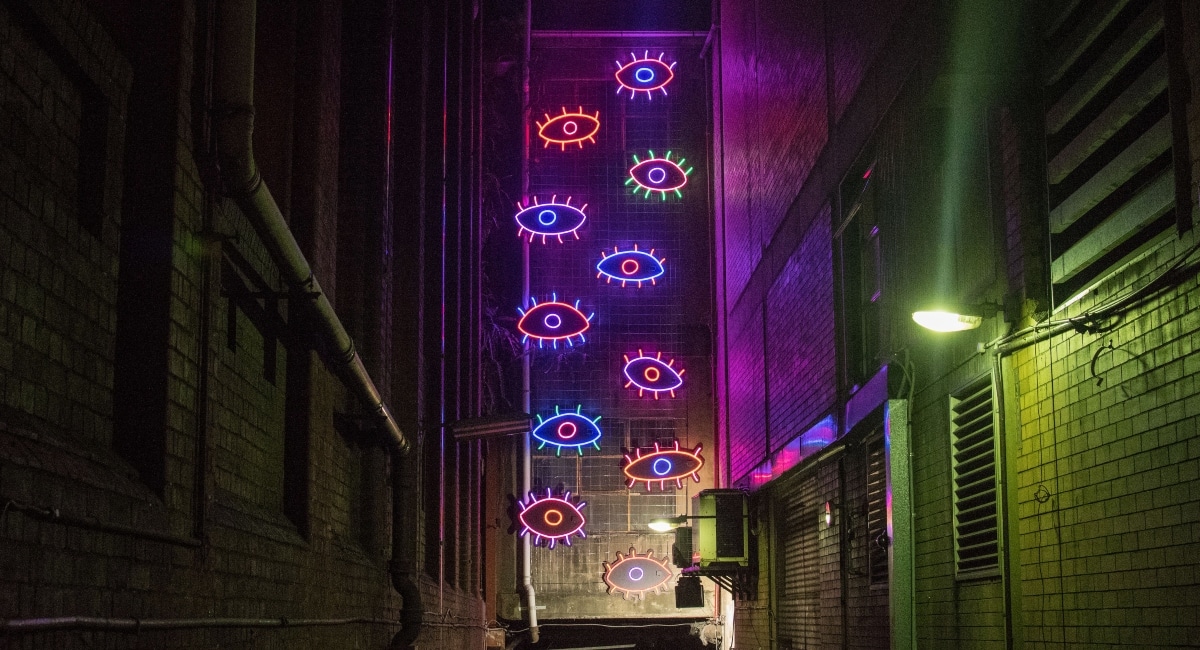 Big City Lights is delivered by Placemakers* Gold Coast,  best known for the Gold Coast's flagship annual arts festival, Bleach. Big City Lights will showcase the Gold Coast as a major cultural tourism destination, both nationally and internationally. It will transform Southport in mesmerising ways.
The finer details
What: Big City Lights Festival
Where: Southport Precinct, Gold Coast
When: Thursday, July 7 to Sunday, July 10
More details are available at the website.
Written by
Calista Bruschi
When she's not moulding Play-Doh or dancing in the living room with her children, Calista Bruschi is an editor and writer. She has oodles of experience working on newspapers, magazines and websites. Calista likes to organise and be organised. She loves being a mum, Italian food, wine, sport and stationery. She hasn't sleep a full night in more than five years and is powered by coffee.