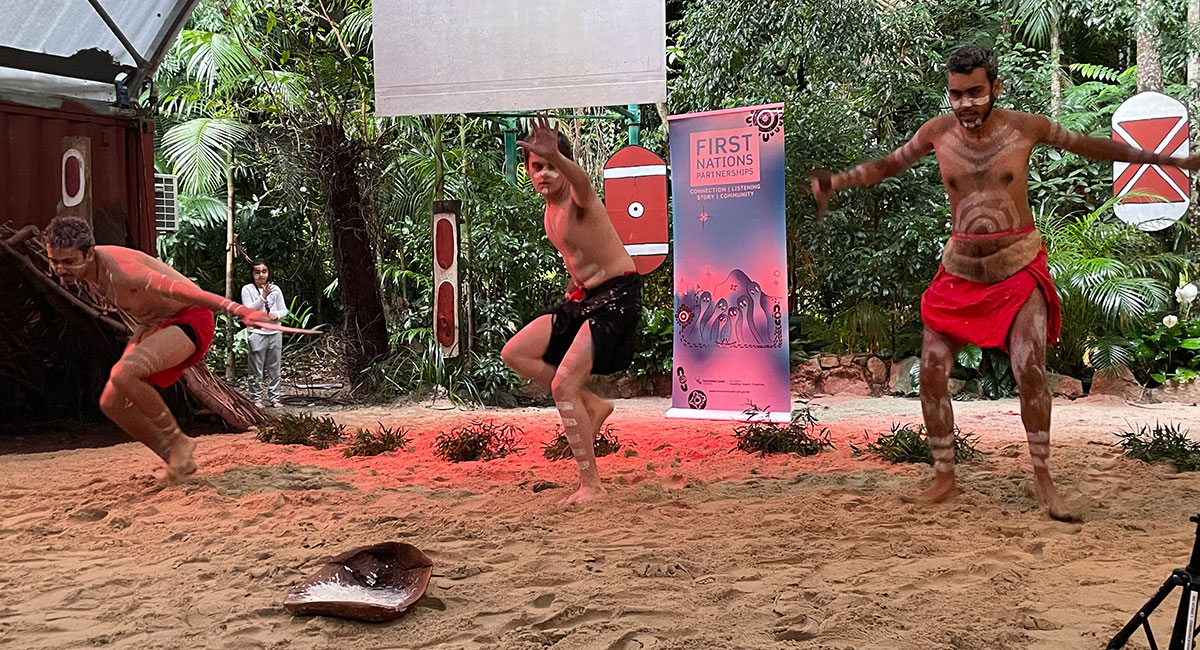 News
Get involved in National Reconciliation Week with these Sunshine Coast events
National Reconciliation Week commences Friday, May 27 and runs until Friday, June 3. It's an opportunity for all Australians to learn about our shared histories, cultures and achievements, as well as an exploration of how we can contribute to achieving reconciliation.
This year's National Reconciliation Week theme is 'Be Brave. Make Change'. It's a challenge to all Australians to be brave in tackling the unfinished business of reconciliation so we can make change for the benefit of all Australians.
There are many events happening on the Sunshine Coast to commemorate this important week.
Sunshine Coast National Reconciliation Week events
Online Library Resources
Thursday, May 26 to Friday, June 3
Sunshine Coast Council Libraries will host a range of activities and provide resources across the week.
For more information, visit library.sunshinecoast.qld.gov.au/NRW
Constitutional Recognition Voice, Treaty, Truth and Justice Seminar
Friday, May 27
Hope Dreaming Indigenous Corporation in partnership with Sunshine Coast Council, the University of the Sunshine Coast and Eumundi CWA is hosting two seminars to discuss and reflect on the importance of a constitutionally enshrined First Nations voice. Human rights, reconciliation, and peace has been continual for millennia, amidst the civil uprising for equitable rights and conscientious practices for justice by world leaders for peace and displaced people, continual cries for civil liberties.
Seminar One
11am-1pm
University of the Sunshine Coast, 90 Sippy Downs Drive, Sippy Downs.
Registration is essential.
Seminar Two
3pm-5pm
Eumundi CWA Community Hall, 78 Memorial Drive, Eumundi
Registration is essential.
Nambour Forecourt Live! for National Reconciliation Week
Friday, May 27 at 3:30pm
Peace Run Records will host Nambour Forecourt Live! For National Reconciliation Week. Come along for cultural activities, food vans and live music.
Where: Nambour Library Forecourt, Corner of Currie and Bury Streets, Nambour.
Talking Treaty and Reconciliation with Dr Jackie Huggins
Sunday, May 29, 2pm-4pm
Sunshine Coast Reconciliation Group Inc will host Dr Jackie Huggins AM, Bidjara and Birri-Guba woman, author and historian, who will explain the Queensland Treaty process. She will also discuss the importance of reconciliation and will have her books on indigenous women, history and feminism for sale.
Where: University of the Sunshine Coast, 90 Sippy Downs Drive, Sippy Downs
Find out more or book your tickets.
Wash My Soul in the River's Flow
Monday, May 30 at 7pm
Sunshine Coast Council in collaboration with Caloundra Film Festival presents Wash My Soul in the River's Flow as part of National Reconciliation Week. This feature documentary is about the lives and love story of Ruby Hunter and Archie Roach, as told in their own songs and spoken word stories in the 2004 concert Kura Tungar — Songs from the River.
Where: Caloundra Cinema, 11 Bulcock Street, Caloundra.
Visit the Sunshine Coast Film Festival website for more information.
Aunty Betty Memorial Reconciliation Walk
Tuesday, May 31, 10am-12pm
Join the Sunshine Coast Reconciliation Group Inc (SCRGI) to celebrate the life and work of patron Aunty Betty McMahon. Traditional Custodian Aunty Bridgette Chilli will welcome us to her Country and perform a smoking ceremony. She will also share historical culture of the area during a 1.5-kilometre wheelchair-accessible circuit. Food and drink will be available from SCRGI sponsors and Saltwater Eco Tours.
Where: Point Park, Mooloolaba
'Mimburi Ninyangurra' Exhibition + Artist Talks
Saturday, April 23 to Saturday, July 2
Jinibara Culture man BJ Murphy presents his first solo exhibition, with a series of sculptural installations and a song man performance in this not-to-be missed exhibition at Munnimbah-dja Welcome Place in Maleny. Through this work BJ Murphy invites you into his ninyangurra, where you can immerse yourself in the lived experiences of a Jinibara man returning to country. Every piece in Mimburi Ninyangurra  is made with locally collected ochres, seeds and feathers, relating to and singing up Jinibara Country.
The Munnimbah-dja Welcome Place is open from 9am to 4pm each Thursday to Saturday.
Where: 20 Coral Street, Maleny
History Talks
Thursday, May 26, 9:30am-11:30am
Hear what the Nambour Heritage Library historians-in-residence uncovered during their research into the region's First Nations and sports history. Dr Ray Kerkhove and Kate Kirby have been studying council's heritage collections, but they also met with community, to expand their research. What did they discover? Join them to find out.
Where: Nambour Heritage Library, Corner of Currie and Bury Streets, Nambour
Twilight Sister's Reconciliation Dinner and Campfire Yarns
Saturday, June 4, 3pm-8pm
Join the Nungeena Aboriginal Corporation for a Bushtukka buffet, children's entertainment and campfire yarns under the stars. Two-course bushtukka meal under the stars gazing across to Mt Beerwah, mother mountain of the Glasshouse Mountains. Share in fun company with tunes and singalong around the campfire a children's magic show, storytelling, mocktails, and more!
This is a weather dependent event.
Where: Nungeena Restaurant (through the second gate), 60 Streek Road, Glass House Mountains
For more information or to book your tickets.
Suncorp Super Netball Indigenous Round
Sunday, June 5 at 2:30pm
USC Stadium has become a fortress for visiting Suncorp Super Netball teams and Sunshine Coast Lightning wants you loud and proud as they come up against the Collingwood Magpies  for First Nations Round.
Where: USC Stadium, 32 Olympic Way, Sippy Downs.
You can find out more about National Reconciliation Week at the Sunshine Coast Council website. For more Queensland events, visit the National Reconciliation Week events website.
---
You might also like…
Sunshine Coast Libraries celebrates the First Nations 
Sunshine Coast school girls inspiring next generation of Indigenous leaders
The place we call 'home': Raising kids that care for Country
Written by
Angela Sutherland
After spending many years hustling stories on busy editorial desks around the world, Angela is now mum of two little ones and owner/editor at Kids on the Coast / Kids in the City. She is an atrocious cook and loves cutting shapes to 90s dance music.