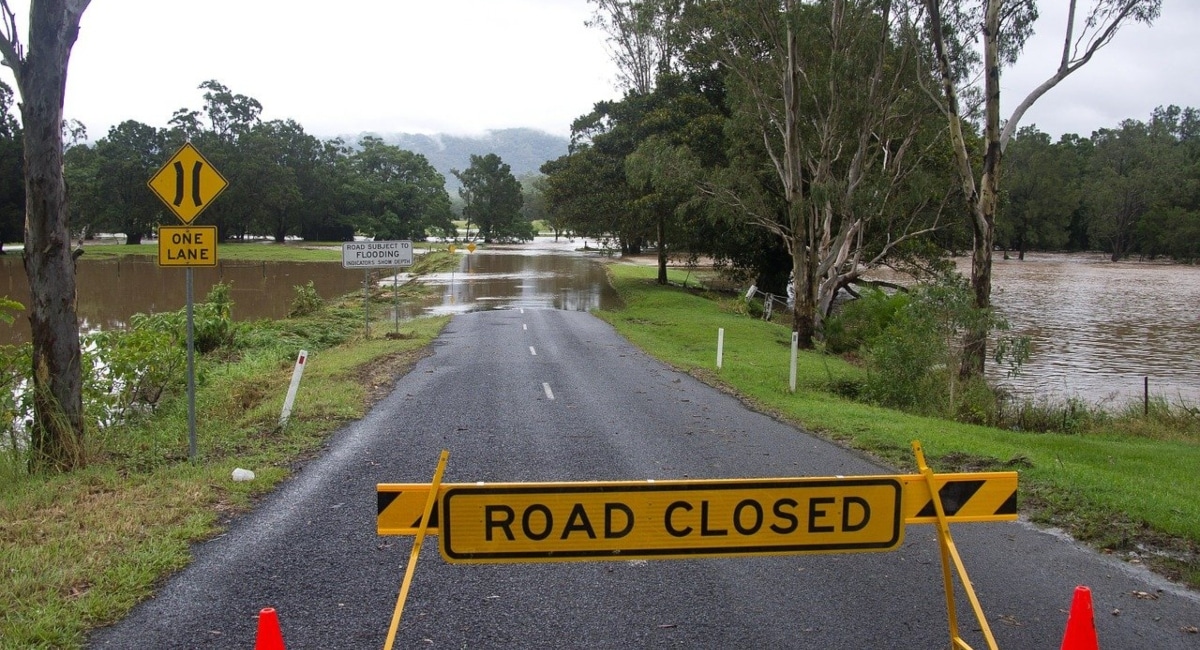 News
Stay safe: Wild weather continues to lash south-east Queensland
Wild weather across south-east Queensland has caused chaos. After days of torrential rain, roads are closed across the region, houses and properties are submerged and evacuations are under way. The rain event has led to the deaths of six people.
The Bureau of Meteorology says things are likely to intensify over Brisbane and the Gold Coast on Sunday, February 27. While Energex announced more than 21,000 properties were without power. In some areas it won't be able to access and restore power supply until the waters recede.
Across the Gold Coast and Sunshine Coast, beaches are closed. The weather and surf conditions are too dangerous.
Brisbane suburbs flooded
The rain combined with a high tide at the mouth of the Brisbane River have almost 100 Brisbane suburbs in danger of flooding.
The Brisbane CBD, Auchenflower, Hawthorne, Kelvin Grove and Hamilton faced immediate inundation with the high tide reaching its peak at 7:30am. Council modelling shows the areas of Bulimba, Milton, New Farm, Newstead, Windsor and Yeronga are also likely to be affected by flood waters.
A full list of affected suburbs can be found here.
Brisbane Lord Mayor Adrian Schrinner says households in low-lying areas should be prepared.
"Stock up on sandbags at our depots, ensure you have essentials and know when it is time to leave," Schrinner says.
View this post on Instagram
Wild weather at the Sunshine Coast
The Sunshine Coast and Noosa face further flooding. More than 266 roads have been closed. Residents are on high alert with flood levels expected to reach record highs.
Intense rainfall continues to lash south-east Queensland and residents are advised to stay home.
The region from Noosa to Caloundra and the Sunshine Coast Hinterland are experiencing major flooding. The BOM expects further river rises, which could see peaks at or higher than the region's last major flood event in 1992.
The downpours of the past 48 hours have wreaked havoc on the Sunshine Coast and Gympie areas. Flooding and landslips have closed roads and cut off communities. There have been more than 200 calls for help in the 24 hours between Friday, February 25 and Saturday, February 26. The majority of calls have been in relation to flooding and leaking roofs.
Major flooding has occurred at Palmview, Cooran, Dagun Pocket, Woodford, Tewantin, Yandina Creem, Maroochydore and Coochin Creek. Residents of Picnic Point and Dunethin Rock are advised to keep up to date with flood warnings as these are areas of concern.
Sunshine Coast Mayor Mark Jamieson has urged people to stay home, and to stay off the roads.
"We've already seen the severity of what this weather can do, so please, if it's flooded, forget it," he says.
The Noosa River has breached its banks, causing severe flooding in the area. Travel in and out of Noosa and the Sunshine Coast is difficult. The Bruce Highway is flooded.
View this post on Instagram
Gympie under evacuation order
An evacuation order is in place for the area of Gympie in Queensland's south east, which has been labelled a disaster declaration area as life-threatening floods continue battering parts of the state.
Speaking to the media, Queensland Premier Annastacia Palaszczuk says approximately 55 people are in the Gympie evacuation centre with a total of 1040 across the state.
"We haven't really experienced this much rain in such a short period of time before. It is literally a rain bomb sitting over the entire SEQ [south-east Queensland]," Palaszczuk says.
"There is a lot of rain out there. Our creeks and rivers are saturated, and they are all pouring into our major river system."
Evacuation centres reached capacity overnight and the Gympie Council is investigating other ways to assist affected people.
Gold Coast residents brace
A severe weather warning remains in place for the Gold Coast, with heavy rain threatening the city. Already, residents in the Gold Coast Hinterland and Scenic Rim regions have been affected by the wild weather.
The rainfall, which has been dumping on the south-east, has largely avoided the Gold Coast region. However, the rain band is set to creep south and the BOM is warning residents to brace themselves.
It says the Gold Coast will start to be impacted more on Sunday, February 27, with rain and possible storms forecast. Heavy falls could lead to flash flooding in some areas.
A flood watch is in place for Gold Coast rivers and creeks. All Gold Coast beaches will remain closed.
More rain ahead
Palaszczuk says the wild weather is moving south. However, the BOM says intense rainfall and thunderstorms will still inundate the regions.
⚠️🌧️Warning continues for heavy to locally intense rainfall for #SEQ. All of #Brisbane, #GoldCoast and #Ipswich still at risk today. Eased conditions for #WideBay and northern #SunshineCoast. Flood hazards will persist after rainfall has eased. https://t.co/GkCRLjuHZg @QldFES pic.twitter.com/O1iOt5eiKp

— Bureau of Meteorology, Queensland (@BOM_Qld) February 27, 2022
Severe thunderstorm warnings are in place for areas such as Gympie, Kin Kin, Tin Can Bay, Redcliffe and Moreton Bay. Multiple emergency alerts are also in place in Logan, Ipswich, Cooby Creek, Beachmere, and Noosa.
The Cooby Dam in Cooby Creek has started to spill with properties in the area set to be hit with floodwaters.
Ipswich residents in low-lying areas are advised to evacuate and not enter floodwaters as flooding threatens to hit more parts of the area.
Written by
Calista Bruschi
When she's not moulding Play-Doh or dancing in the living room with her children, Calista Bruschi is an editor and writer. She has oodles of experience working on newspapers, magazines and websites. Calista likes to organise and be organised. She loves being a mum, Italian food, wine, sport and stationery. She hasn't sleep a full night in more than five years and is powered by coffee.