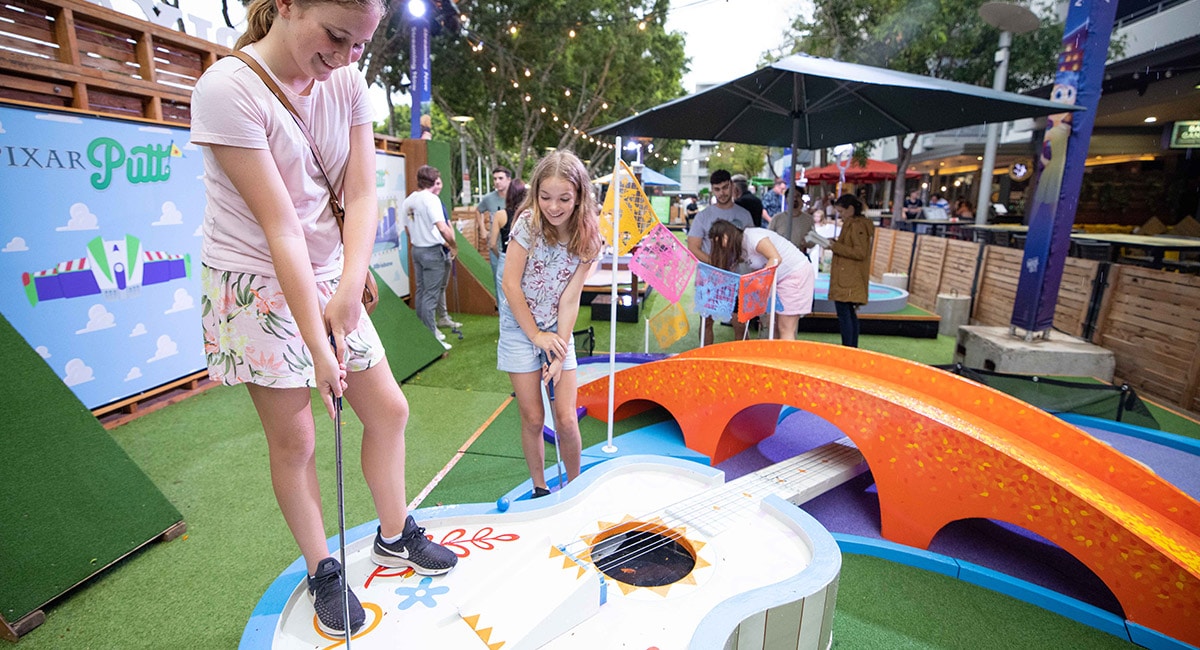 News
9 Fun things on this weekend for families and kids in Brisbane
The weeks are zipping by, which means we're celebrating another weekend. From Friday, June 17through to Sunday, June 19 there's so much you can do. We've pulled together our top family and kid-friendly events and activities across Brisbane this weekend.
Putt your way through a Disney-themed course
Australia's much loved open-air mini-golf sensation, Pixar Putt, launches in Brisbane from Friday, June 17. The course is made up of interactive putt-putt holes inspired by the stories, characters, and icons from some of Pixar's most beloved films. It includes Toy Story, Monsters Inc., The Incredibles, Luca, and many more! The Brisbane season features brand-new holes from Pixar's two latest releases, Turning Red and Lightyear. Putt your way around nine or 18 holes at Northshore Brisbane, for a strictly limited season from Friday, June 17 until Sunday, July 24. Tickets are currently on sale, and you can secure yours here.
There's a party going on at SLQ
Get ready to par-tay! The State Library of Queensland celebrates 120 years and to mark the special occasions it's hosting some extra ordinary birthday festivities. On Saturday, June 18 take a behind-the-scenes tour of rare collections, whimsical children's exhibitions and story picnics with award-winning song writers.
Celebrate the longest night of the year
People around the earth have been celebrating the Winter Solstice as an astronomical event, marking the longest night of the year, since ancient times. Northey Street City Farm has been celebrating the Winter Solstice for more than 25 years with its annual festival of live music, dancing, talks and workshops. The event is for all ages. Enjoy good food, a lantern parade and a beautiful bonfire. The Festival on Saturday, June 18 invites the Brisbane community to celebrate our relationship with nature. Listen to First Nations knowledge, attend permaculture and sustainable living talks, and appreciate local music and multicultural performances. Be a part of a ceremony that models setting intentions for the new year. The full program and tickets can be found at the Northey Street City Farm website.
Head to the CBD for some noodles
After a two-year hiatus, Brisbane Night Noodle Markets presented by Citi returns this week. The Markets are sprawling in a new location at the City Botanic Gardens from Wednesday, June 15 to Sunday, June 26. The Markets offer mouth-watering mix of multicultural flavours. Wander through the street food style stalls offering tasty eats of pan-Asian fare from local and national vendors. You'll see Hoy Pinoy, Flying Noodles, May's Malaysian Hawker, Gelato Messina and Twistto. Book your free ticket via the website.
Wacky, wild and wonderful exhibitions
The Great & Grand Rumpus exhibition at State Library of Queensland has you stepping into a wild world of wonder, wackiness and whimsy. Explore large cardboard sculptures scaling more than 4.5 meters high and watch as they are brought to life by interactive digital projections. Get hands on and craft your own mythical creation, allowing your inner child to experience the limitless imagination of make-believe places. You can also see how more than 1,000 innovative storytellers just like you have crafted and sculpted mythical worlds and creatures based on ideas workshopped by kids over the last 18 months.
Check out the Museum of Brisbane's current exhibition. The home-grown Making Place: 100 Views of Brisbane is where museum-goers can look at more than 100 artworks depicting some of the city's most iconic scenes. The wonderful exhibition features works from renowned artists including Margaret Olley, Vida Lahey and Judy Watson. There is also an atmospheric soundscape by Artist in Residence Lawrence English.
The stunning immersive play experience, Imaginaria combined audio-visual art, inflatable architecture, light installations and futuristic gamification suitable for all ages. Step inside, slip off your shoes and engage with AI projects, sensor-triggered LED waves and giant silk parachute canopies. There are also cosmic gardens, an anti-gravity sunset, an electronic hall of mirrors and a digital wishing well that whispers your greatest desires.
Counting the beat
If dancing is your thing, check out the Mad Dance Festival at Metro Arts on Friday, June 17 and Saturday, June 18. The festival is a roster of awe-inspiring performances, creative projects, dance battles, workshops and more! This weekend's events include Rhythmology (ages 15+); and This Time It's Personal (ages 15+). Suitable for all ages though is the 'let loose and groove' Daily Dance at Dusk and Shake Down: Free community dance classes being held at West Village precinct. Visit the Metro Arts website for more information.
Grab yourself some fresh produce
Grab your mask and your shopping bags and head to one of the many markets around Brisbane for some fresh fruit and vege. You'll find amazing produce, plants, food and wares at Brisbane's Saturday Fresh Market, Rocklea; Riverside Markets, Brisbane CBD and City Botanic Gardens; Kelvin Grove Village Market, Kelvin Grove; Jan Powers Farmers Market, New Farm; Davies Park Market, West End; Carseldine Farmers & Artisan Markets, Carseldine; and the Redcliffe Farmers & Artisan Markets, Redcliffe.
Due to the ongoing COVID-19 pandemic, events may be postponed or cancelled at the last minute. We do our best to ensure our events are up to date, but be sure to check the organiser's own event page for the most current updates.
You can find more at our comprehensive What's On page for all the kid and family fun around Brisbane, the Gold Coast and Sunshine Coast. 
---
You might also like…
4 Unique things to do on the Sunshine Coast this weekend
Written by
Calista Bruschi
When she's not moulding Play-Doh or dancing in the living room with her children, Calista Bruschi is an editor and writer. She has oodles of experience working on newspapers, magazines and websites. Calista likes to organise and be organised. She loves being a mum, Italian food, wine, sport and stationery. She hasn't sleep a full night in more than five years and is powered by coffee.