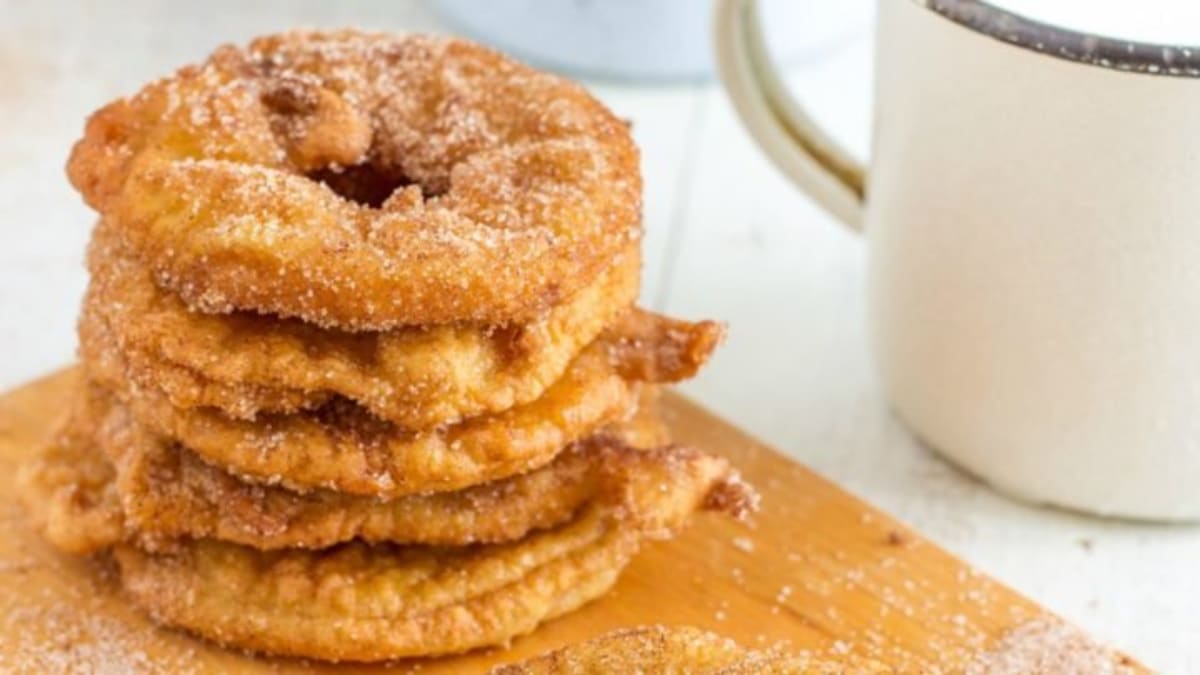 Recipes
Simple and delicious apple and cinnamon fritters
These simple and delicious apple and cinnamon fritters look amazing! They also make a perfect after school snack.
The kids will love helping you make — and eat — these warm, crisp and sweet treats. Enjoy!
Prep 2 minutes
Cooking time 8 minutes
Serves 4
Ingredients
1 cup self-raising flour
1/4 tsp bicarbonate of soda
1 cup soda water, chilled
1/2 cup caster sugar
1 tsp ground cinnamon
2 large pink lady apples
Vegetable or canola oil, for shallow-frying
Method
Sift flour and bicarb into a bowl. Gradually add soda water, whisking until a smooth batter forms.
Combine sugar and cinnamon in a shallow dish.
Peel and core apples. Cut into thick rounds (4 rounds per apple).
Heat oil in a large, deep frying pan over medium-high heat. Dip 1 apple round in batter, allowing excess to drain. Add to oil. Repeat with 3 more apple rounds. Cook for 1 to 2 minutes each side or until golden. Using a slotted spoon, transfer fritters to a plate lined with paper towel to drain for 20 seconds.
Add fritters to cinnamon sugar. Toss to coat. Transfer to a plate. Repeat with remaining apple, batter and sugar.
Stack fritters on serving plates.
Top with ice-cream and drizzle with golden syrup. Serve.
Nutritional Information (per serving)
Calories: 577; Energy: 2,415kj; Fat: 15.8g; Saturates: 5.3g; Fibre: 3.6g; Protein: 6g; Sodium: 420mg; Carbs: 103.7g
Written by
Calista Bruschi
When she's not moulding Play-Doh or dancing in the living room with her children, Calista Bruschi is an editor and writer. She has oodles of experience working on newspapers, magazines and websites. Calista likes to organise and be organised. She loves being a mum, Italian food, wine, sport and stationery. She hasn't sleep a full night in more than five years and is powered by coffee.