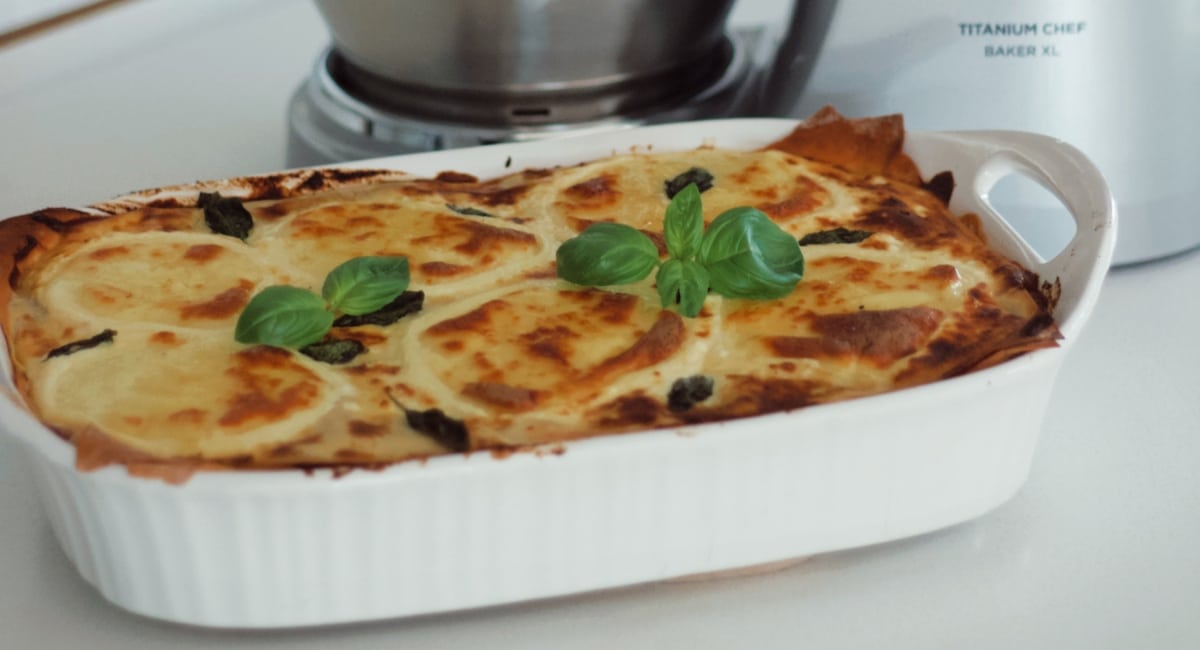 Read
Beef and ricotta lasagne
Who doesn't love a nice, hearty lasagne?!
Iconic cooking brand, Kenwood, encourages families to get creative in the kitchen, drawing on the shared experiences of baking and cooking to create new family recipes and traditions. Recently partnering with mum and nutritionist Ana Robinson to develop a series of nutritious yet delicious recipes, Kenwood Kids in the Kitchen inspires parents and children to create memories and recipes that will be passed down for years to come.
With Kenwood's catch-cry of 'The joy of homemade' in mind, Ms Robinson recently whipped up this beef and ricotta lasagne meal. It has hidden vegetables, for fussy eaters.
It was incredibly easy to create — I gave the recipe a spin at home — and made for a delicious meal for the whole family to enjoy. Of course, if you simply don't have the time to make your own pasta sheets (as this recipes calls for) purchasing fresh sheets from your supermarket yields a similar result. If you're struggling for dinner inspiration this week, give this beef and ricotta lasagne a try.
Prep 35 minutes
Cooking time 1 hour 15 minutes
Serves 4
Ingredients
2 1/2 cups flour
4 eggs
1/2 cup iced water
500g beef mince
2 carrots, chopped
2 zucchini, chopped
1 eggplant, diced
1 brown onion, diced
2 garlic cloves, crushed
1 tbsp dried Italian herbs
400g tin tomatoes
350g tomato passata
1kg fresh ricotta
600ml thickened cream
1 cup Parmesan cheese, grated
1 mozzarella ball, sliced
Method
Make lasagne dough. Add flour and eggs to mixer and combine using dough attachment on a medium speed. Once combined, place mixture on a lightly floured surface and knead until smooth and elastic. Return to bowl and cover with a tea towel.
Preheat oven to 180C. Link a baking tray with baking paper.
Place carrots, zucchini, eggplant and onion on baking tray. Drizzle with olive oil and roast for 35 minutes. Once cooked, allow to cool on tray.
Add tinned tomatoes, roast vegetables and garlic to a blender. Add salt and pepper. Blitz until a smooth sauce forms.
In a large frying pan, sauté beef mince until just browned. Add tomato and vegetable sauce, passata and dried Italian herbs. Stir.
Add ricotta, thickened cream and Parmesan to a food processor and blitz until smooth.
Lightly flour a bench top. Cut dough into six [6] pieces. Leave one of the bench and cover the rest with a towel. Using your hands, flatten and shape one piece of dough into a 1/2-inch thick rectangle. Dust lightly with flour and pass it through the widest setting of a pasta machine. Fold into thirds and pass through the machine again. Repeat 10-12 times. Dust dough if it becomes sticky.
Without folding the dough, pass it through the next setting on a pasta machine. Continue to reduce the space between rolls after each pass, lightly dusting the pasta with flour on both sides each time, until the pasta is about 1/6-inch thick and 3 inches wide. Lay on a tea towel. Do steps 7 and 8 for remaining dough, until you have flattened it all.
To assemble lasagne. Pour some sauce on the bottom of a baking dish. Place 2-3 sheets of pasta (depending on the size of your dish) on top. Top with meat sauce, then ricotta mix. Repeat: pasta sheets, meat sauce, ricotta mix, until you are at the top. Place sliced mozzarella on top.
Bake for 35 minutes or until golden on top.
Nutritional Information (per serving)
No nutritional information available for this recipe.
Written by
Calista Bruschi
When she's not moulding Play-Doh or dancing in the living room with her children, Calista Bruschi is an editor and writer. She has oodles of experience working on newspapers, magazines and websites. Calista likes to organise and be organised. She loves being a mum, Italian food, wine, sport and stationery. She hasn't sleep a full night in more than five years and is powered by coffee.