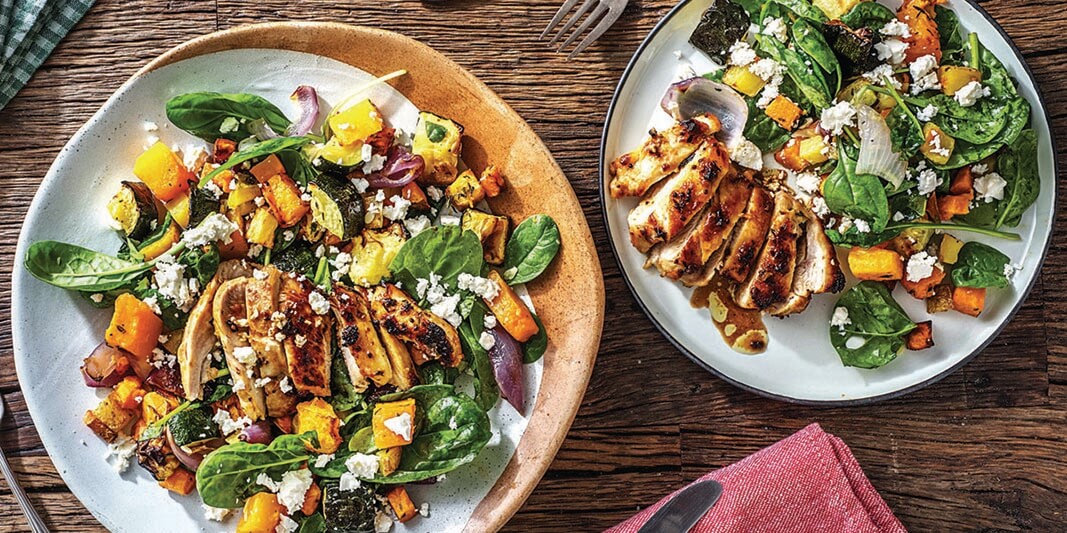 Recipes
Honey-Thyme Chicken & Roast Veggie Medley with Feta
In need of some dinner inspiration? This Honey-Thyme Chicken is nutritious, delicious and sure to be a meal-time hit with the fam-bam.
Ready in: 45 minutes
Feeds: 4
Ingredients
2 potatoes
olive oil (refer to method)
1 bunch thyme
400g peeled pumpkin
2 sweet potato
1 red onion
2 zucchini
4 cloves garlic
1/2 tsp salt
2 tsp honey
40g wholegrain mustard
1 large packet chicken thigh
60g baby spinach leaves
50g feta cheese
Method
Before you start: Line two oven trays with baking paper and grab a large frying pan.
1. PREP THE VEGGIES: Preheat the oven to 220°C/200°C fan-forced. Pick the thyme leaves. Cut the potato (unpeeled) and sweet potato (unpeeled) into 1cm chunks. Cut the red onion into 3cm wedges. Cut the zucchini into 1cm chunks.
2. ROAST THE VEGGIES: Spread the peeled and chopped pumpkin, potato, sweet potato, red onion and zucchini over two oven trays lined with baking paper. Drizzle with olive oil, sprinkle with the salt and half the thyme and toss to coat. Arrange in a single layer and roast for 25-30 minutes, or until tender.
3. MAKE THE SAUCE: While the veggies are roasting, combine the garlic, honey, wholegrain mustard, a drizzle of olive oil, the remaining thyme and the water in a small bowl. Season with a pinch of salt and pepper and mix well. Set aside.
4. COOK THE CHICKEN: In a large frying pan, heat a drizzle of olive oil over a medium-high heat. Once hot, add the chicken thigh and cook for 10-14 minutes, turning occasionally, or until browned and cooked through. TIP: The chicken is cooked when it is no longer pink inside. Pour the honey-thyme sauce into the pan and turn to coat the chicken. Cook for 1-2 minutes, or until the sauce is bubbling and slightly thickened. Remove from the heat.
5. MAKE THE ROAST VEGGIE TOSS: In a large bowl, combine the roasted pumpkin, potato, sweet potato, red onion, zucchini and baby spinach leaves. Crumble in 1/2 the feta and toss to combine.
6. SERVE UP: Thickly slice the honey-thyme chicken thigh. Divide the roast veggie medley between plates and top with the chicken. Spoon over any remaining sauce from the pan on the chicken. Crumble over the remaining feta.
Recipe courtesy of HelloFresh – Australia's leading meal kit provider that offers a family plan filled with fresh, natural ingredients and delicious twists on classic dishes. By providing professional tried-and-tested recipe cards with pre-portioned ingredients, HelloFresh gives you more time to focus on the fun stuff – preparing a wholesome, homemade meal everyone can enjoy!
---
RELATED:
Pulled Kid-friendly Chicken Burgers with Apple Coleslaw
Homemade Chicken Nuggets
Winter-Warming Vegetable Chicken Hotpot
Written by
kidsonthecoast