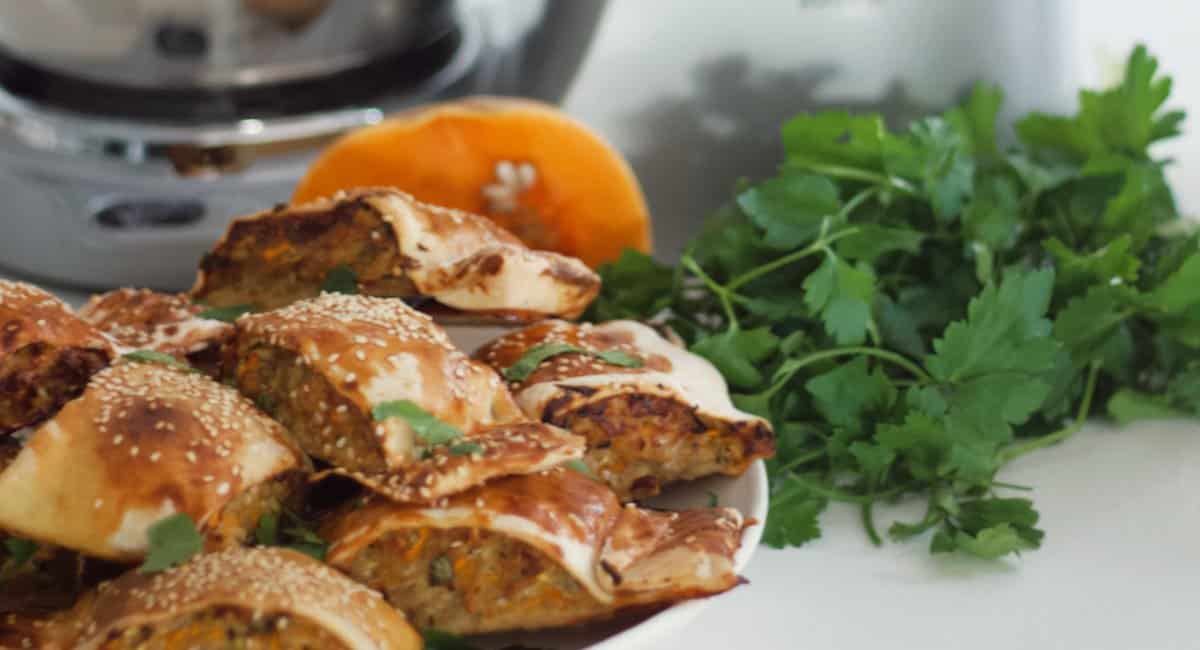 Read
Pork and Pumpkin Sausage Rolls
Iconic cooking brand, Kenwood, encourages families to get creative in the kitchen, drawing on the shared experiences of baking and cooking to create new family recipes and traditions. Partnering with mum and nutritionist Ana Robinson to develop a series of nutritious yet delicious recipes, Kenwood Kids in the Kitchen aims to incite excitement among parents and children to inspire new memories and recipes that will be passed down for years to come.
"As a mum, I've struggled in the past with creating healthy yet delicious recipes for my children. We all know that kids can be fussy little eaters," Ms Robinson says.
She and her children recently created these pork and pumpkin sausage rolls and have kindly shared the recipe with us. They make a delicious afternoon snack or lunch box treat.
Prep 15 minutes
Cooking time 25 minutes
Makes
Ingredients
1 1/2 cups flour
50g butter, cubed
1/2 cup iced water
500g free range pork mince
1 cup pumpkin, grated
1 zucchini, grated
1 brown onion, diced
2 cloves garlic, diced
1 tsp Worcestershire sauce
1 cup parsley, chopped
1 cup sourdough bread crumbs
3 eggs
Sesame seeds
Fennel seeds
Method
Make dough by adding flour and cubed cold butter to mixer. Whisk until a crumbed texture forms. Swap the whisk attachment to the dough beater. Slowly pour water in until a dough forms. Add some flour to a clean and dry bench. Remove dough and knead until smooth. Wrap dough in cling film and place in the fridge to chill.
Preheat oven to 180C.
In a large mixing bowl add pork mince, onion, garlic, pumpkin, zucchini, Worcestershire sauce, parsley, breadcrumbs and 2 eggs. Mix with your hands until well combined. Season with salt and pepper to taste.
Take dough from the fridge. Remove cling film and place on a lightly floured bench top. Using a rolling pin, roll out into a 30cm x 40cm rectangle.
Place pork mixture along the long side of the pastry, leaving 3cm on the edge. Fold pastry and enclose mixture. Use fork to press down the sides.
Separate egg white from egg yolk. Use the egg yolk to brush over the top of the pastry. Top with sesame and fennel seeds. Cut into slices.
Place sausage rolls on a baking tray lined with baking paper. Bake for 25 minutes or until golden brown.
Nutritional Information (per serving)
No nutritional information available for this recipe.
Written by
Calista Bruschi
When she's not moulding Play-Doh or dancing in the living room with her children, Calista Bruschi is an editor and writer. She has oodles of experience working on newspapers, magazines and websites. Calista likes to organise and be organised. She loves being a mum, Italian food, wine, sport and stationery. She hasn't sleep a full night in more than five years and is powered by coffee.