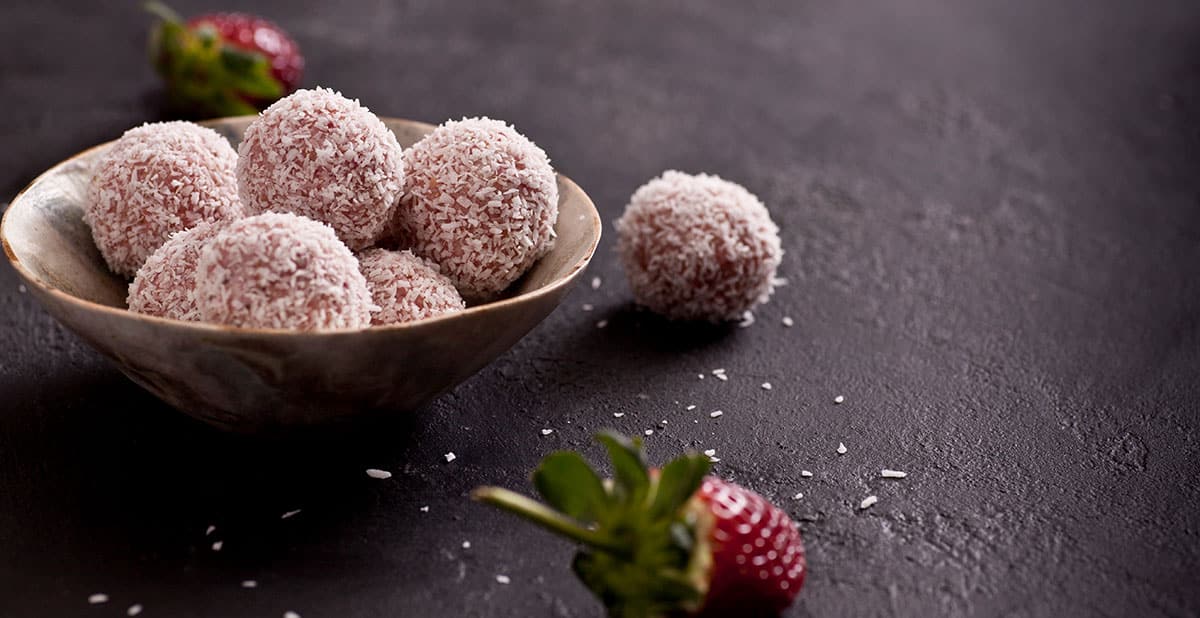 Home & Health
Strawberry Bliss Balls
Yum, it's strawberry season!
Not only are strawberries known as natures candy, they're also bursting with health benefits making them the perfect addition to your weekly shop.
Rich in both vitamin C and folate, they are important for a healthy immune system, and perfect for growing kids!
These Strawberry Bliss Balls are easy to make and a fab lunchbox treat.
INGREDIENTS:
200g Queensland strawberries, hulled
1 tablespoon strawberry syrup (optional)
1 cup desiccated coconut plus a little extra for rolling
¾ cup rolled oats
1 tablespoon nut butter
2 tablespoons coconut oil
Large pinch salt
1 tablespoon chia seeds or chopped toasted nuts
METHOD:
Place all of the ingredients into a food processor.
Process until the mixture comes together.
If the mix is too sticky add a little more desiccated coconut.
Roll into balls and coat in coconut.
Store in an airtight container in the fridge for 2-3 days.
NOTES:
You can make these balls with oven-dried strawberries which have a more intense flavour and a slightly chewy texture
Try one of the other nut butters like pistachio or almond as a fresh change from peanut butter
Makes about 20 balls
Recipe courtesy of Queensland Strawberry Growers Association
Love strawberries? Try this Easy Strawberry Tart. Or for a delicious snack, try these Yummo Jaffa Balls.
Written by
kidsonthecoast