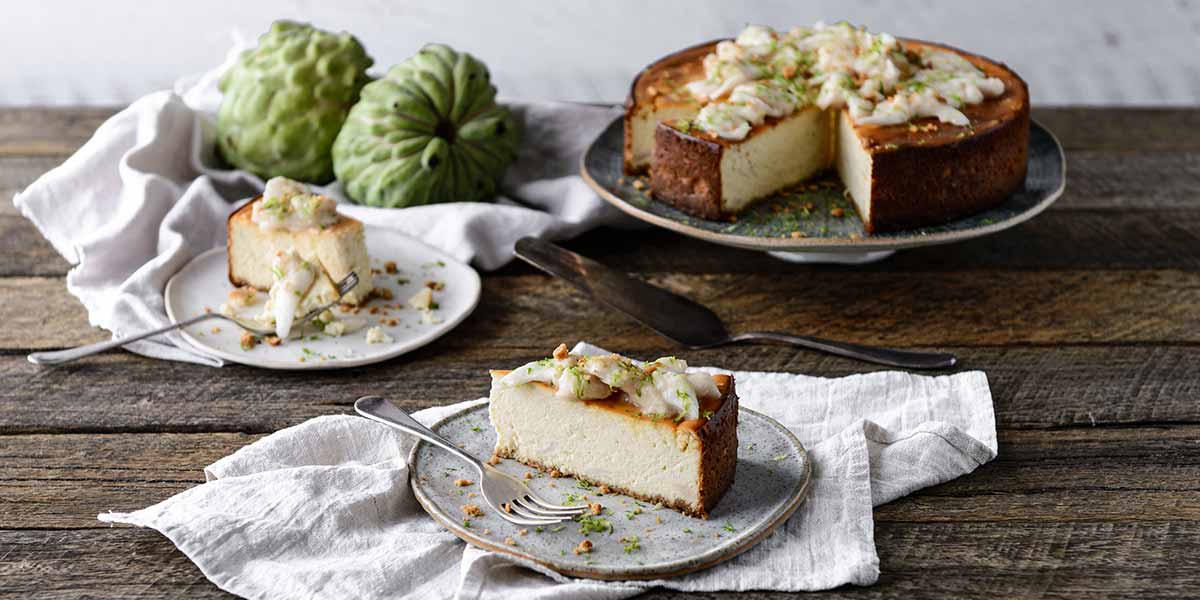 Read
Ricotta and custard apple cheesecake
Did someone say CHEESECAKE? This ricotta and custard apple cheesecake is a creamy and creative take on a classic dessert.
It's also incredibly delicious and super easy to make! A perfect winter treat.
Hot tip: You can also use an electric hand blender to make the filling instead of a food processor, however it may not be quite as smooth.
Prep time 10 minutes
Cooking time 45 minutes
Serves 8-10
Ingredients
FOR THE FILLING
500g smooth ricotta
500g cream cheese (two blocks)
4 eggs
1/3 cup granulated sugar (75g)
2 tsp lime juice
1 tsp lime zest
1 tsp vanilla
Pinch sea salt
1/4 cup plain flour (40g)
1 cup custard apple flesh – approximately 1 medium custard apple
FOR THE CRUST
6 ginger biscuits (80g)
1 tbsp butter, melted (20g) To decorate
TO DECORATE
1/2 cup custard apple, extra
1 tsp lime zest
1 tsp lime juice
2 ginger biscuits, crumbled
Method
Preheat oven to 180C. Brush a round 23cm springform tin with a bit of the melted butter.
Crush or blitz the ginger biscuits to a fine meal. Scoop 2 tbsp of crumbs into the buttered tin and spread the biscuit meal around the sides, allowing any extra to settle in the base. Combine remaining butter and biscuit crumbs in a bowl and stir until just mixed. Press the mixture into the base of the tin, then pop the pan into the refrigerator while you make the filling.
In a food processor, blend ricotta and cream cheese until smooth. Add eggs, sugar, juice, zest, vanilla and salt to the processor – blend again until thick and smooth. Stir through custard apple, then fold in flour.
Pour mixture into prepared pan and gently crisscross a knife through the batter to break any air bubbles. Smooth the top of the cheesecake and place tin on a baking tray. Bake cheesecake for 45 minutes, then turn the heat off, prop the door open a centimetre or so with the end of a wooden spoon, and leave the cheesecake to cool in the oven for a further 1 hour.
Remove cake from oven, place on a rack and cool completely before releasing the side of the pan. Top cake with extra custard apple segments, zest and crumbled biscuit to serve.
Recipe & images courtesy of Custard Apples Australia
Nutritional Information (per serving)
No nutritional information available.
---
You might also like…
Sundried tomato and goat cheese empanadas
Sugar-free oat biscuits
Written by
Kids on the Coast/Kids in the City