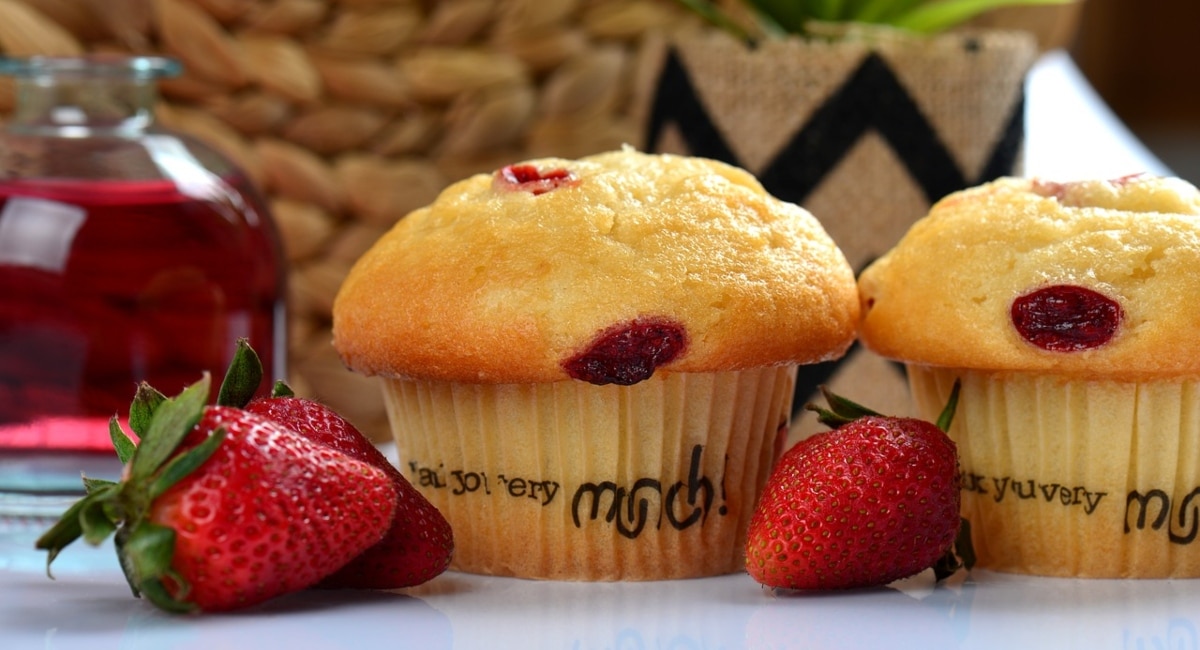 Recipes
Sweet and fluffy strawberry muffins
These strawberry muffins are delicious! They are fluffy and moist and bursting with fruit. Have them as a snack or for breakfast-on-the-run.
There seems to be an abundance of strawberries at the moment, so what better way to use up a punnet than by baking a batch of strawberry muffins. We like them because they are moist, fluffy and lightly spiced with cinnamon. They are also full of strawberries.
Savour one with a cuppa, pack them in the kids' lunchboxes or grab one as an afternoon snack. They're so versatile!
Prep 15 minutes
Cooking time 17 minutes
Makes 12
Ingredients
3/4 cup + 2 tbsp all-purpose flour, spooned and levelled
3/4 cup whole wheat flour, spooned and levelled
1/2 cup + 2 tbsp almond flour, spooned and levelled
1 tbsp baking powder
1/2 tsp cinnamon
1/2 tsp sea salt
1 cup unsweetened almond milk
1/4 cup extra-virgin olive oil
2 large eggs
1/2 cup cane sugar
1 tsp vanilla extract
1 1/4 cups diced strawberries
1/2 tsp flour to dust the strawberries
Method
Preheat the oven to 200C and grease a 12-cup muffin tin.
In a medium bowl, combine the flours, baking powder, cinnamon, and salt.
In a large bowl, vigorously whisk together the almond milk, olive oil, eggs, sugar, and vanilla.
Dust the strawberries with the ½ teaspoon of flour and toss to lightly coat them. This will prevent them from sinking to the bottom of the muffin cups.
Pour the dry ingredients into the bowl of wet ingredients and stir to combine. Gently fold in the strawberries. Use a 1/3 cup measuring cup to scoop the batter into the muffin cups.
Bake for 17 minutes, or until the muffin tops spring back to the touch.
Let cool for 10 minutes, and then transfer to a wire rack to cool completely.
Nutritional Information (per serving)
No information available.
Written by
Calista Bruschi
When she's not moulding Play-Doh or dancing in the living room with her children, Calista Bruschi is an editor and writer. She has oodles of experience working on newspapers, magazines and websites. Calista likes to organise and be organised. She loves being a mum, Italian food, wine, sport and stationery. She hasn't sleep a full night in more than five years and is powered by coffee.