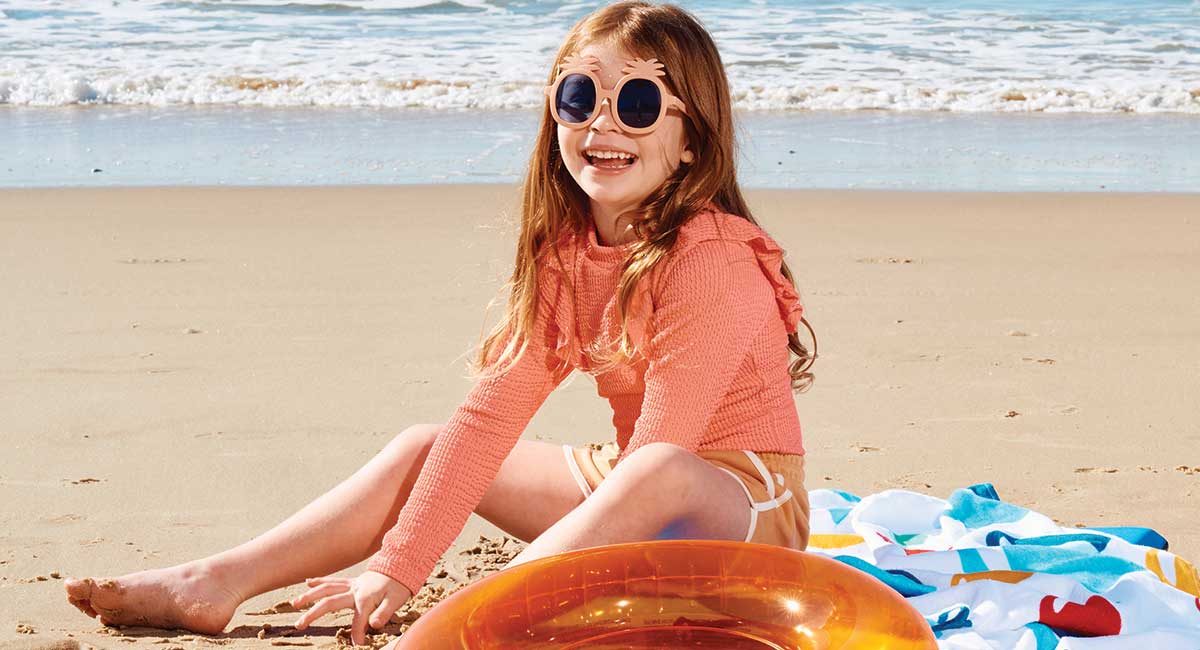 Home & Health
Water safety essentials for Queensland families
It's that time of the year where the sun is setting that little bit later, the coastal breeze feels warm on our skin, and a refreshing dip in the water is the perfect tonic, any day of the week. Yes, whether it's a natural swimming hole, a sand-fringed beach or even our own backyard pools, spending balmy days cooling off in the water is what living in this part of the world is all about.
Because of this, arguably there is no more important skill to learn for a child growing up in Queensland than how to swim.
"In Australia swimming is more than a sport. It's a lifesaving skill because we spend so much time living around the water," says Kingswim Executive Manager and mum of two, Katie Adams.
"Once your child learns to swim and understands water safety, these lifesaving skills stay with you for life."
Startling statistics have shown that babies and toddlers can drown in as little as five centimetres of water, so Katie encourages parents to start familiarising their child with water from birth, and enrol their little ones in lessons as early as three months old.
"You can begin to get babies comfortable in the water from birth during their bath times," she says.
"We begin our Baby Play classes from three-months old as a gentle introduction to the water, under the supervision and guidance of specially trained infant swim teachers. They cover the basics of being in and around the water with an infant, how to hold your baby, developing breath control in preparation for submersions, to get them comfortable with the water."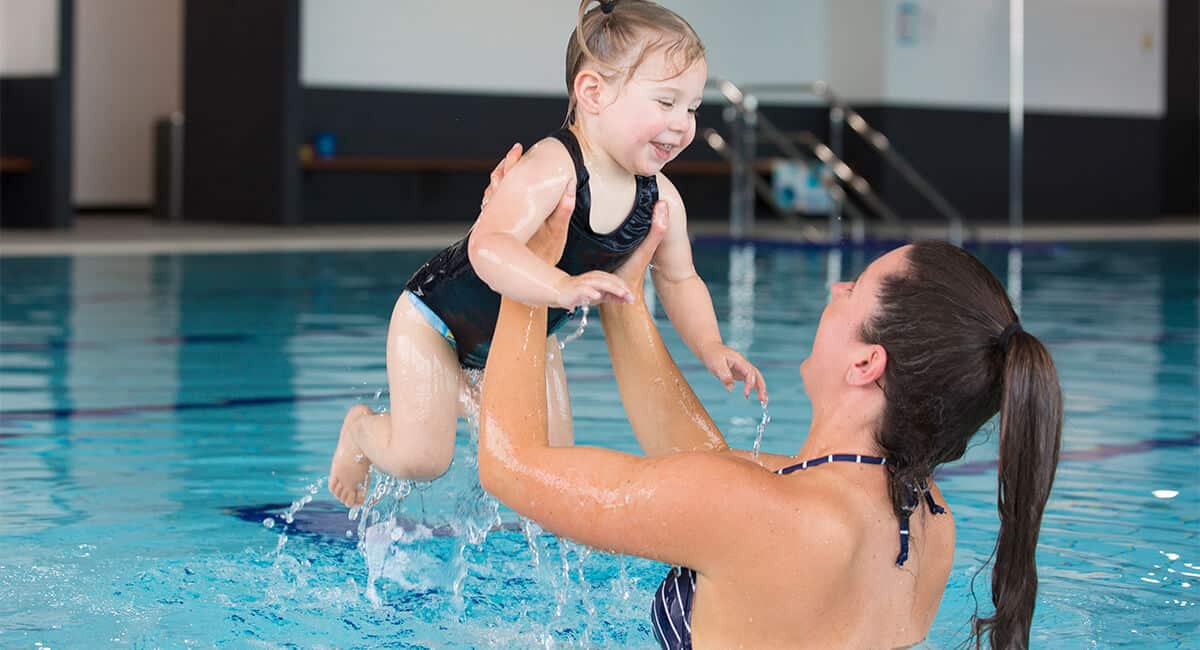 Choosing a learn to swim program
In choosing a swim school, Katie says parents should always select one that has accredited teachers and to visit the centre first.
"It's important to look for somewhere with quality water," she explains. "A strong chlorine smell and cloudy water are signs that the water may not be at its best. We would recommend that parents book for an introductory lesson so they can experience the program first-hand and know that it's right for them."
With centres in Robina, Lutwyche and Carindale, Kingswim is one such accredited organisation that has a learn-to-swim program for children as young as three months right up to adults, and water safety is paramount in their lessons.
"The kids know they are not allowed in the water until their teacher invites them in," Katie explains.
"We promote and educate kids to always have a grown up looking out for them when near any body of water, as well as always reading any signs first so they know the rules to keep them safe."
Kingswim also teaches not-so-obvious skills that can provide life-saving benefits to little swimmers. "In our Baby Play class, we teach parents about infant reflexes and how they can keep a baby safe in the water," Katie says.
"We work on their grasp reflex, by placing a finger across the palm of the baby's hand and they instinctively grab hold. By practicing this, it becomes more of a learned action, they learn how to support their body weight and are independently holding on. By learning this skill, babies could potentially hold onto something to stay above water."
Learning to swim needs to be fun!
While life-long lessons are being taught, learning to swim doesn't need to be a strictly serious business either, especially when it comes to helping hesitant little ones find their feet.
"Our lower levels are all about developing confidence and having fun in the water," Katie says.
"They get a lot of attention and encouragement, especially with the small class sizes."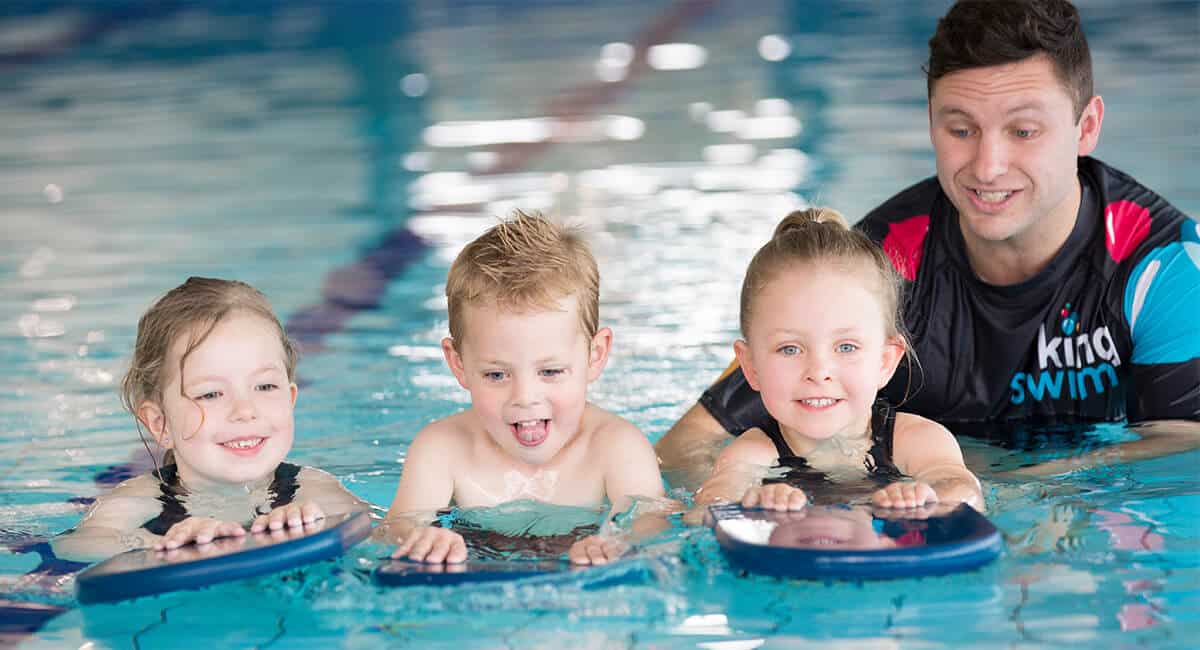 The swimming expert believes a child who is timid around the water also benefits from gentle encouragement before they attend lessons to help them be comfortable in a pool sooner.
"For parents at home, it's important to talk your kids through what they will experience, the fun they will have and to make swimming a positive activity."
Whilst learning to swim is a skill every child should have, having that ability still isn't a guarantee that they will be 'drown proof'.
"We advocate that knowing how to swim can make a child safer in and around water, but there are many other unknown factors that can influence their safety, including rips at the beach and slips around the pool that could change a situation quickly," Katie asserts.
"Around the water, never assume anything."
Katie advises that, whether it's at the beach, pool or river—no matter what the water depth—it's always a must to keep a child within 'arm's reach'.
"Active supervision is vital," she says. "Age, ability and experience do not ensure you are completely safe around the water."
"I have unfortunately rescued two children who went under the water and, in my experience, it happens very quickly and with little sound. It is so important to watch children around the water, as you can't rely on them to call for help."
And if you think having flotation devices in the water with your kids helps keep them safe, then that's one very big myth.
"Flotation devices can give parents and young swimmers a false sense of security of the child's real ability in the water," Katie explains.
"In lessons, they have their purpose when used intermittently and at home they are a wonderful support for parents, but use them wisely and with caution, as they are not an alternative to supervision."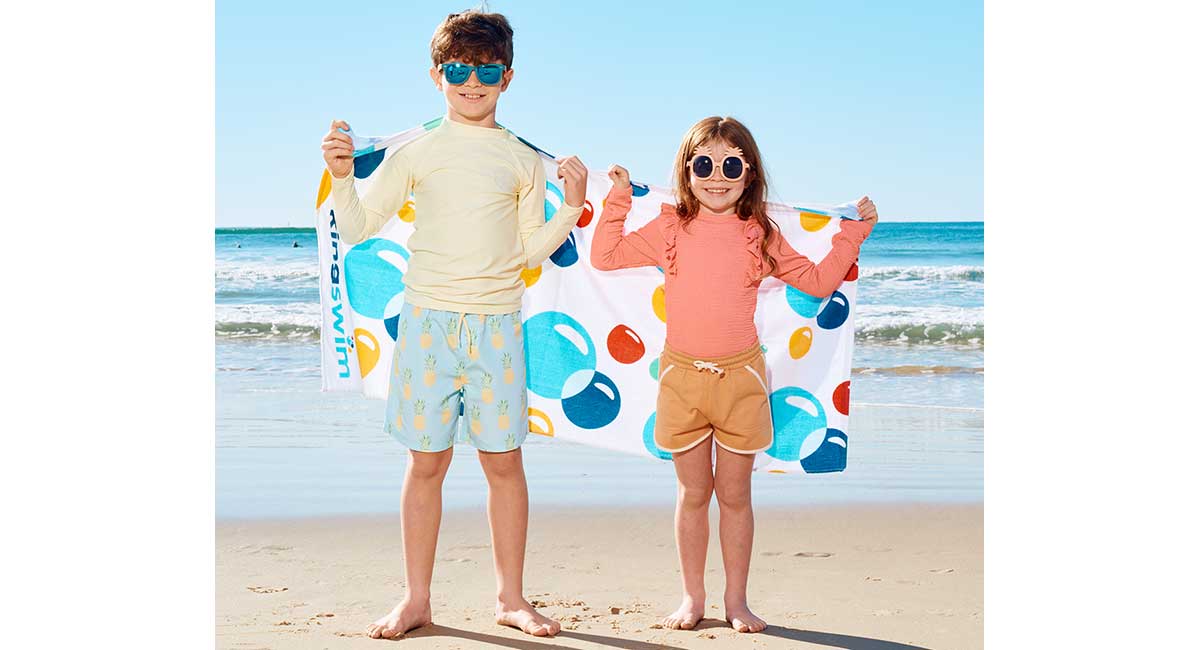 Water safety at the beach
When it comes to water safety at the beach, between the flags is always the safest place for the kids to swim—even if those crashing waves look pretty daunting.
"The flags will always be up in the safest place to swim, so don't think that if you see calm water further down the beach that it's a good choice," says Surf Life Saving Queensland Community Awareness Manager, Helen Hallett.
"If you swim where the waves are crashing, they will always push you back into the beach. If you're in a flat part, it's usually the water trying to get back out in the ocean quickly, and that's often a rip current. That's why you won't see a set of flags where it's very calm."
When it comes to understanding which flags are which, the rules are pretty simple.
"A red and yellow flag indicates the safest place to swim," explains Helen. "The black and white flags indicate where people should ride their hard surfcraft, and the red flag is for danger. An orange or amber flag means people should proceed with caution."
If you are caught in a rip current and not a confident swimmer, Helen explains that lying flat on your back and floating is the best course of action. "Lie on your back and stay calm, and the current will only take you out to where the waves are. Then hold your hand up and a Surf Lifesaver will come out and help."
Did you know? What the kids wear in the water can make a big difference to their water safety. According to SLSQ, the best colours for visibility are pink and fluro yellow as they are the only colours that can be seen at the bottom of a pool.
---
You may also like…
The unexpected benefits of learning to swim early
Directory of kids swim lessons on the Gold Coast
Directory of swim schools in Brisbane