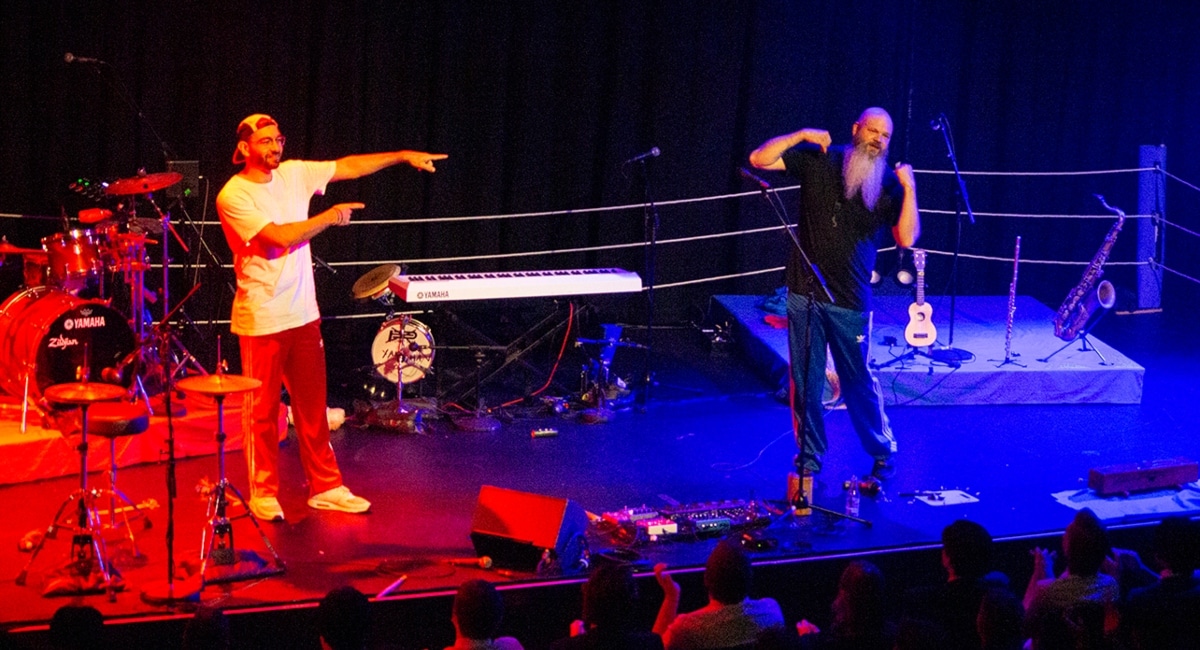 Events
Loop the Loop: QPAC's most anticipated and hilarious musical battle
As far as pitches go, "They'll make music with vegetables they found in the fridge that morning" would have to be up there on the list of unusual things that pique my interest. Yet, that's exactly how I became aware of Loop the Loop being performed at Queensland Performing Arts Centre's Cremorne Theatre. A curiosity I simply had to satisfy!
Loop the Loop is a highly immersive and combative show. Set in a boxing ring, complete with blue and red corners, two veteran musicians go head-to-head in a battle unlike anything you've ever seen before.
In the blue corner we have Adam Page. An acclaimed multi-instrumentalist, composer, music educator and record producer.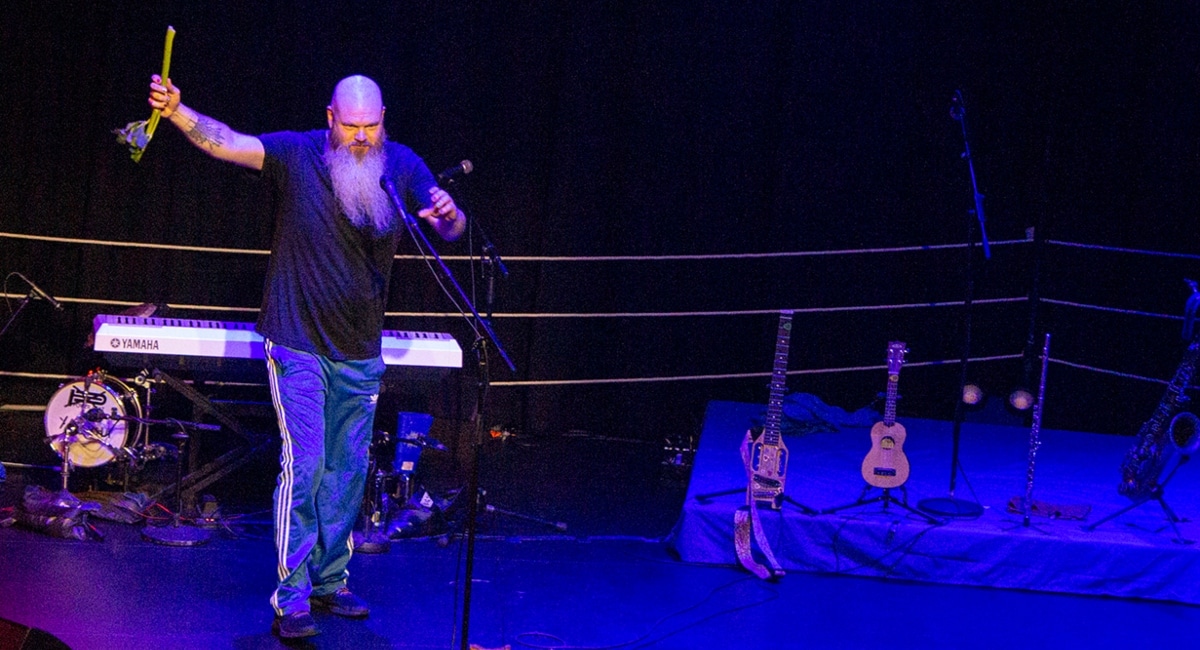 He faces off against Gene Peterson in the red corner. A master musician, exceptional pianist and consummate percussionist, who was once described by Scene Magazine as "the Michael Jordan of the percussion world". He's not too bad a rap artist either.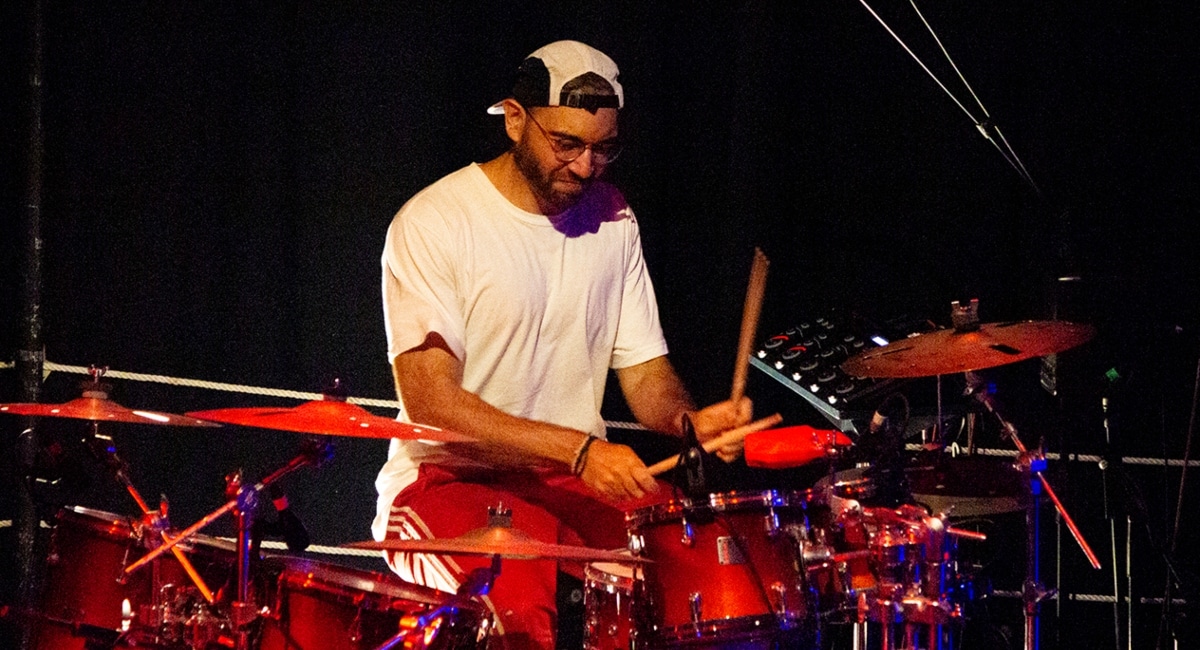 Loop the Loop is a unique blend of their musical talents, competitive spirits and improvisation skills. The outcome? A show so outrageous and funny, it cannot be missed.
Both Page and Peterson attempt to outplay each other via different musical instruments. The looping effect pedal allows each artist to create a variety of riffs, giving the impression of a live band.
As I'd hoped for two musical heavyweights, the competition is fierce. Page and Peterson pull out their best tricks from an extensive arsenal.
Though the pair are friends, the nature of the performance has a certain influence on the competitiveness between the two. It only adds to the theatrics and the back-and-forth one might expect of two boxers competing for a title.
Musical wizardry
The pair not only blow audiences away with their world-class musicianship, but also perform music made from toys, Adam's beard, kitchen utensils and the aforementioned vegetables!
Using kids toys and household items creates a sense of relatability for the show's audiences. There is sheer in seeing inanimate objects recognisable from home brought to life. It's a creative (expert level gamesmanship, really) contrast to the instrumental artistry the show displays.
The balance between the musical and the comical is smooth. However, at times things get chaotic. It's something the Page and Peterson embrace, especially given the amount going on and the high level of musicality and performance.
Sometimes quirky, often hilarious, at times unbelievable, but always impressive. Families (or anyone aged seven years to 107) will love this crazy, fun-filled show.
Get your tickets
Loop the Loop is at Cremorne Theatre, QPAC from Thursday, May 19 to Saturday, May 21.
Visit the QPAC website for bookings.
All tickets: $39
Written by
Calista Bruschi
When she's not moulding Play-Doh or dancing in the living room with her children, Calista Bruschi is an editor and writer. She has oodles of experience working on newspapers, magazines and websites. Calista likes to organise and be organised. She loves being a mum, Italian food, wine, sport and stationery. She hasn't sleep a full night in more than five years and is powered by coffee.