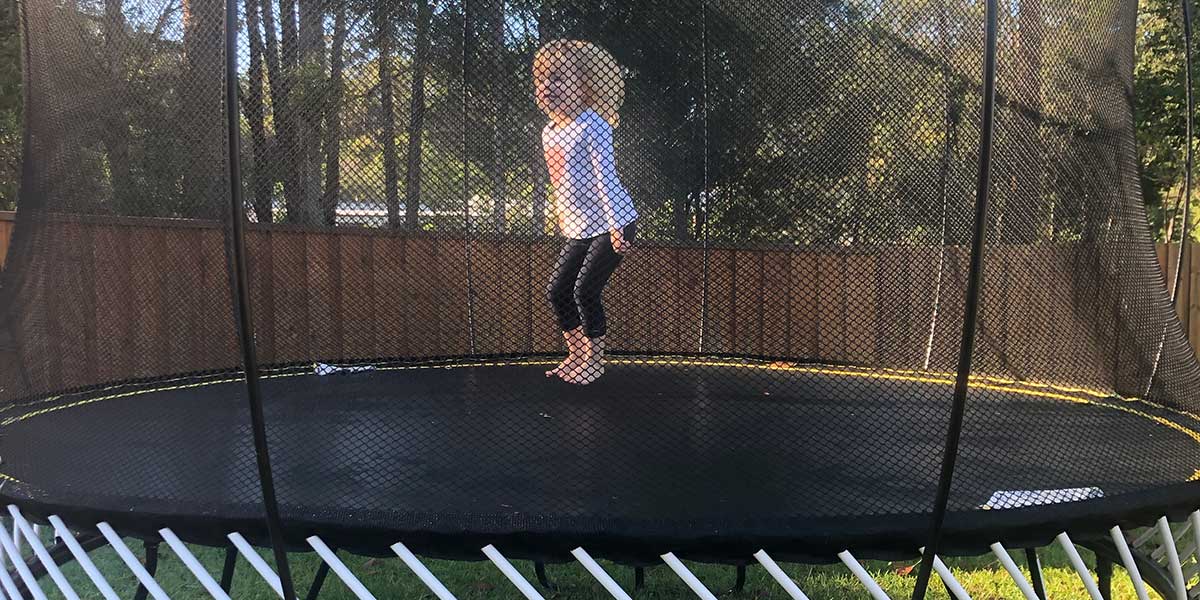 Products
We put a Springfree trampoline to the test
On a quest for the perfect trampoline, we were given a Medium Round Springfree Trampoline to test, and the little ones spent several months putting it through its paces. Claiming to be the world's safest, highest quality, and longest lasting trampoline, can it really keep twin three-year-olds happy, and for how long? After all, a trampoline can be one of the best investments you might ever make for your backyard. But it can also be the biggest.
A bit of history
It's always good to know the backstory on a product, and this one has a great tale to tell.
Over 20 years ago, concerned for the safety of his three children, Dr. Keith Alexander, Professor of Mechanical Engineering at the University of Canterbury, in Christchurch (NZ), decided to build a safer trampoline for his family. It took him 15 years to perfect the spring-free design, and now it's one of the most popular trampolines available to families.
Which size?
As space is often tight for households, we opted for the Medium Round Springfree Trampoline with a 3m jumping surface. It provides plenty of space for the kids to enjoy a good bounce and fit well in the backyard, without dominating the space. If you have a bigger backyard there are stacks of bigger sizes and shapes to choose from, including medium and large oval, large square, and jumbo round, and their smallest trampoline the Compact Round is great for urban backyards.
We also opted to have in-home installation, which we were super-happy with. They turned up on-time, and the trampoline was set up really quickly, something that probably would have taken us hours to do.
Safety first
Most of us who grew up in the typical Aussie backyard will have witnessed (or experienced) the pain that an old-fashioned trampoline can inflict. So, in choosing a trampoline nowadays, safety was our biggest priority.
Springfree's key sales pitch is its claim of being the world's safest trampoline, and this success lies in its spring-free design. Rather than the jumping surface being held at the side by springs like a traditional trampoline, the mat is held under tension by flexible rods, which lie beneath the trampoline jumping surface, out of harm's way.
Around the edge of the trampoline is a soft-edge mat, that removes any hard edges, and the safety net is held in place with flexible rods, so there is literally nothing to hurt yourself on! Our kids tried, and tried, and no matter how they bounced, there was nothing but… more bouncing!
Being able to let the kids onto the trampoline and know they aren't going to hurt themselves is critical, so it received a big tick from us there.
Safety note: Only ever have one child bouncing at a time
How sturdy is it?
We all know the backyard with the tatty, never-used trampoline sitting sadly in the corner. It lasted a few years before the rust set in, the nets frayed and the surface deteriorated.
The Springfree Trampoline has been parked in the backyard all summer and kept the kids entertained for hours and hours, and it still looks nice and new. As well as the endless bouncing, it has also been used as a cubby house, a tea party location, entertainment for a kids' birthday party, and a place we love to lay back and do some cloud busting (off the itchy grass!). There's no sign of wear and tear, despite the Queensland sun or sudden downpours.
Springfree is that confident in the durability that every part of the trampoline comes with a 10-year guarantee – yep, including the net, frame and mat. For a one-off purchase such as this, a 10-year warranty brings essential peace of mind in the trampoline's longevity.
We always knew the kids would love the trampoline, but did wonder whether they would get bored of it after a month or two. But, they are on there all… the… time!
With twins to look after, there's not often chance to sit down and chat. But with the trampoline in the backyard, we can now put our feet up for a little while – knowing the kids are going to be happy. As a family, we are definitely looking forward to many more years of happy bouncing!
---
You may also like…
11 alternative (and super-fun!) uses for your trampoline
The best playgrounds on the Sunshine Coast
6 great ideas to keep the kids active these Easter holidays
Written by
kidsonthecoast