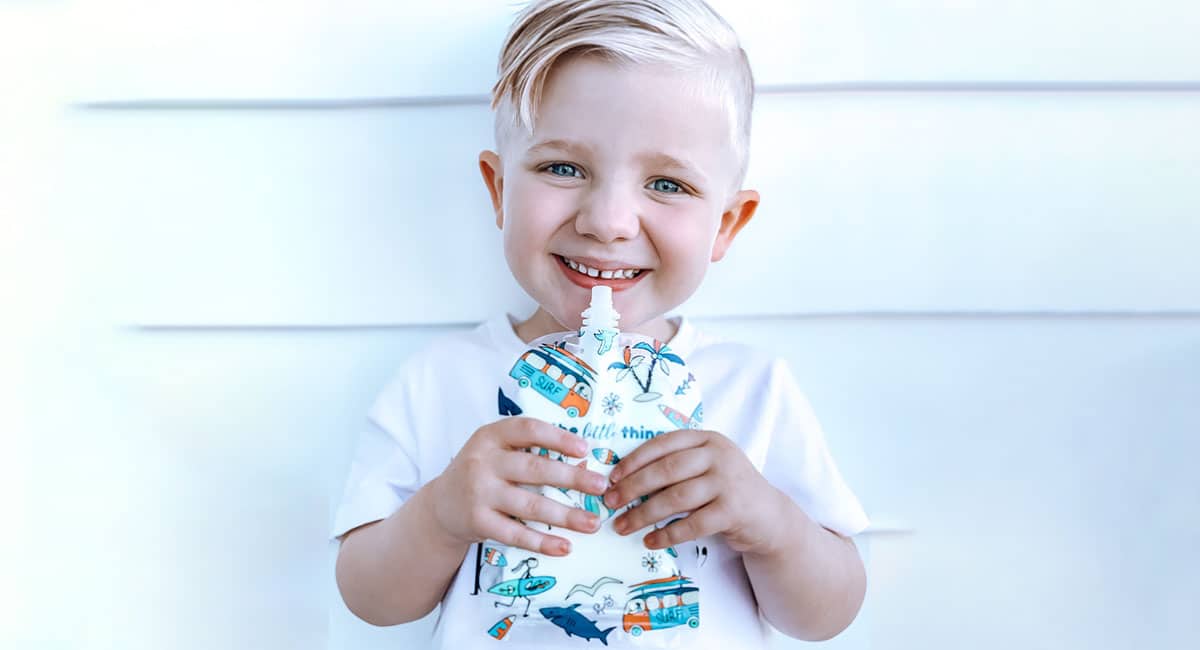 Products
The reusable baby food pouches that make on-the-go feeding a cinch!
We all want to do our bit to cut down single-use plastics. But what if there was an eco-friendly switch that could save you hundreds of dollars each year, be better for baby, AND be a cinch to do…? Meet Sinchies reusable pouches and snack bags!
What are Sinchies reusable pouches and snack bags?
Designed in Australia for healthy home-cooked feeding on the go, Sinchies are a clever solution to fast-food for babies. This range of reusable food pouches and ziplock bags are proving to be so popular with Aussie parents, they are fast becoming one of a busy family's must-haves. 
Freezer safe, and free from BPA, Phthalate and PVC, Sinchies are strong, sturdy and moisture resistant. Because you fill them yourself, you monitor exactly what goes in, ensuring your child has all the nutrition from your home-cooked baby food (and none of the nasties from pre-packaged food!), whilst also removing any need for single-use snack bags or single-use store pouches. Saving you money and reducing waste. Win-win!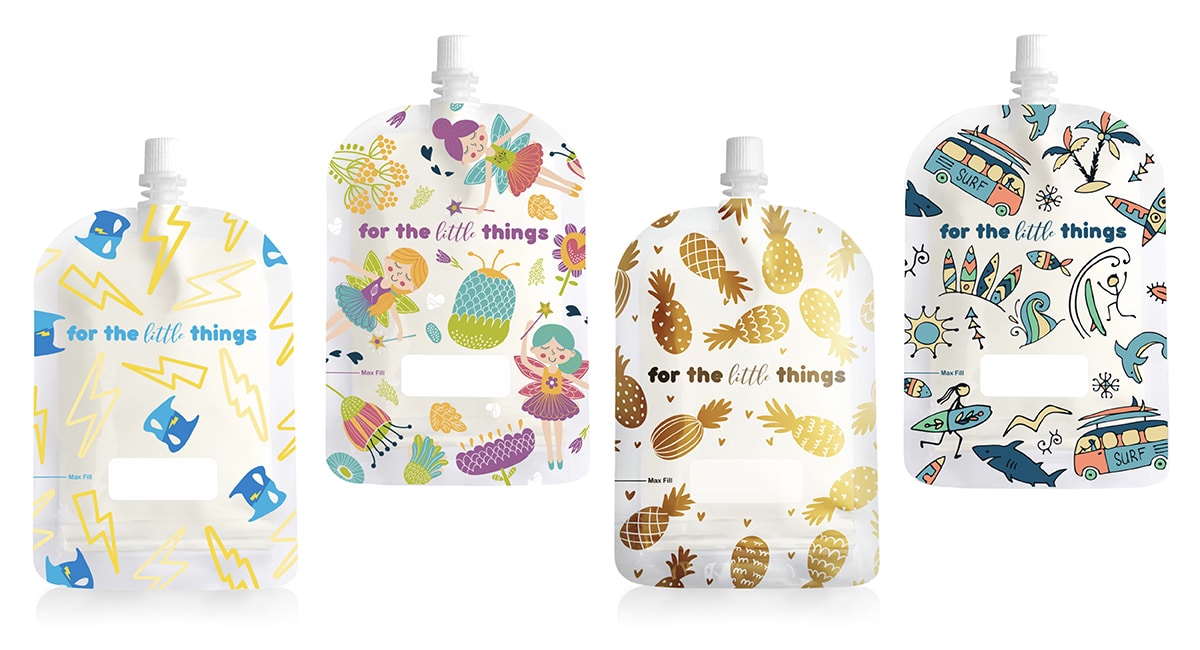 All sound too good to be true?
Luckily we have plenty of hungry children and time-poor parents on the team, to really put the Sinchies range to the test. Here's our verdict:
Sinchies Reusable Spout Pouches
Mum to 7-month-old Lily*: With Lily being our second child, store-bought pouches are a regular in our days – because she is often fed on the go, whilst we run around with her big brother. But I have always been concerned about what's in them. I know they say 'organic' and 'preservative free' on the packages, but you never really know how true that is. Plus, they are very expensive.
I make my own baby food for when at home, so filling up a couple of pouches at the same time was no trouble at all. The pouches are super easy to fill – simply open up the ziplock seal at the bottom of the pouch, fill them up and seal, and you are good to go. And so much cheaper than the single packs from the store!
Lil was very happy feeding from them. The spout was very similar to the store-bought single serve pouches. We tried a couple of sizes of Sinchies and found that the 150ml and 200ml ones were perfect for our little one. 
The Sinchies pouches worked well for everything we feed her – savoury purees, yoghurt and fruits. And it was so great to be able to feed her homemade food, on the go. 
I absolutely love all the cute designs they come in. It's great that they are transparent – both so you can see when the food is finished, and also see every corner for cleaning.
Cleaning was easy. Open them up, use the brush to give them a clean, and leave them to dry. I didn't have one of their drying racks, but I think it would be super-handy to have, so will be adding that to my Sinchies collection soon!
HOT TIP: The pouches also have loads of other uses. We used a couple of the pouches for a family BBQ in the park – filling one with salad dressing and another with tomato sauce!
Reusable Snack Bags
Mum to 4-year-old Elliott*: We never (repeat, never) leave the house without snacks. Elliott is always on the go and easily hangry, so healthy snacks within easy reach are essential.
I usually pack crackers or veggie sticks in single-use ziplock bags, or snack boxes. So swapping to Sinchies ziplock bags wasn't a huge shift from our usual routine. 
I loved that they are so durable. Snacks felt a lot more protected in the Sinchies than they are in a normal ziplock bag. The ziplock seals on the Sinchies bags are really solid and close easily, so you know there won't be any leaks or accidental spills.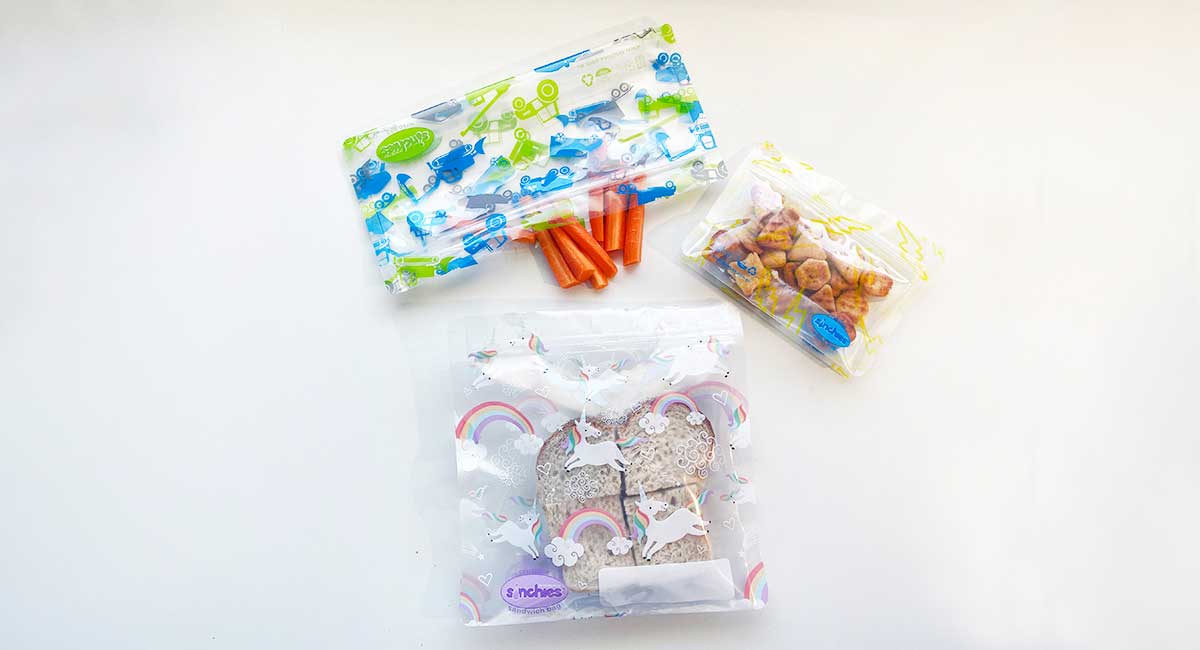 Cleaning the bags was easy too. Open them up, stand them up using the expanding gusset on the bottom. Give them a clean with the brush, and turn them upside-down to dry. 
We also used them for his lunchbag at Kindy. The selection of different sized bags meant we had the perfect collection for packing a sandwich, snacks and fruit. And they are really easy for Elliott to open and close, keeping his food for the day nice and fresh. A much better solution than glad wrap or single-use plastic bags.
I can imagine using them for all sorts of other things too – especially when travelling – such as toothbrushes, soaps.
The cost
Sinchies reusable pouches and food bags are surprisingly affordable:
See more on the Sinchies website.
//EXCLUSIVE//
Kids on the Coast & Kids in the City readers can get 20% off! Use code KIDS20 at the checkout.
---
Kids on the Coast were provided with a sample of pouches and bags from Sinchies to enable us to write this review. 
*Names have been changed for privacy
Written by
Kids on the Coast/Kids in the City