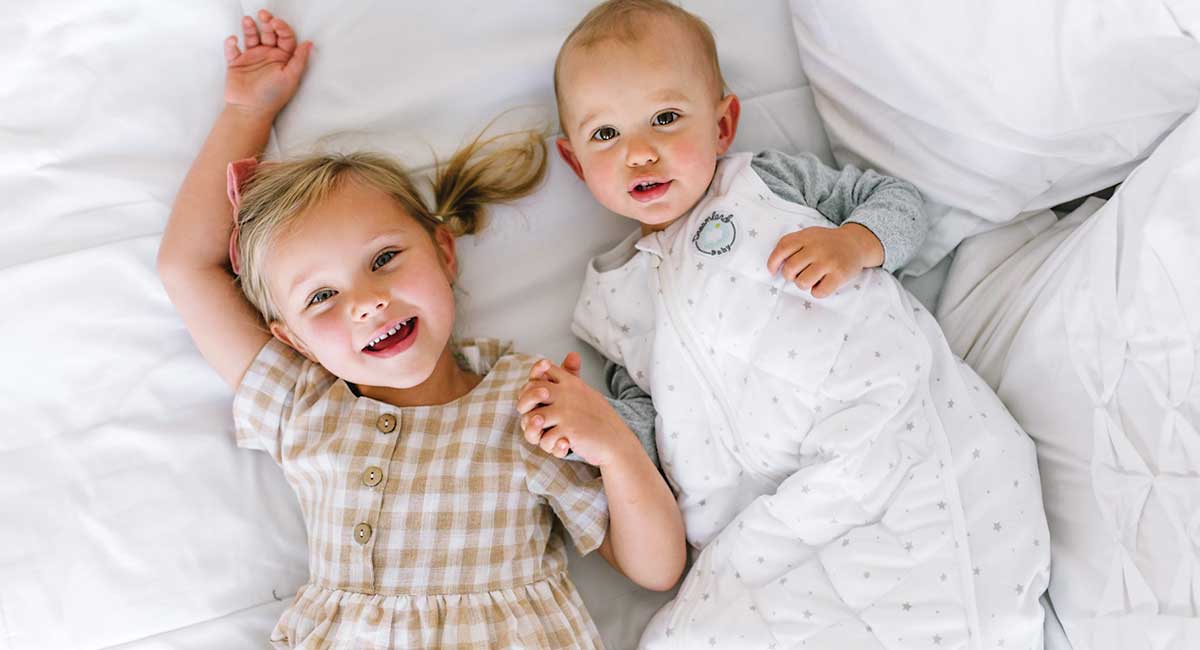 Reviews
The weighted sleep sack helping Aussie babies to 'sleep like a baby'
Oh, Mama! How many times have you heard the phrase 'sleep like a baby' and felt like laughing/crying?
Yup, we love our babies and will do anything for them. But the sleep deprivation can send you c-r-a-z-y! And once a baby is in an unsettled sleep pattern and the parents' exhaustion sets in, it's a really tough cycle to break.
One mum desperate for a full night's sleep, decided to combine the soothing effect of a weighted blanket with a baby sleep sack, in the hope of settling her 6-month-old son who was waking every few hours. Many concepts later and a trip to USA Shark Tank, and the Dreamland Baby Wearable Weighted Sack was launched. 
Weighted blankets have been used for many years to reduce stress, increase calmness and improve sleep in children and adults. Engineered to be approximately 10% of your body weight, a weighted blanket mimics the feeling of being hugged, helping you to fall into a deeper, more restful night's sleep.
But does it help to settle babies too? 
We had a chance to test a Dreamland Wearable Weighted Sack out for ourselves recently on gorgeous (yet terrible sleeper) Elliott*.
Here is our review!
What's in the box
The first thing you notice on unwrapping the sleep sack is how soft it is. Not just soft but SOFT. Made from 100% natural soft cotton for temperature regulation (0.6 TOG), the sack has a two-way zip for those late night nappy changes.
The top of the sack is lightly and evenly weighted, from the shoulders to the toes. This weight is designed to mimic your arms holding them, to give Bub a sense of security and comfort.
The Dreamland Baby Weighted Sleep Sack is machine washable (cold water, delicate cycle) and can be tumble dried (low heat) or dry flat. 
Is a weighted sleep sack safe?
Naturally, the first question on every parent's mind is whether it is safe. Designed in collaboration with paediatricians, NICU nurses and certified sleep consultants, and approved by a paediatric pulmonologist for breathing safety, the Dreamland Weighted Sleep Sack is fully compliant with ACCC Standard AS/NZS 1249:2014. There is ample room for kicking and healthy hip development, and it is acknowledged by the International Hip Dysplasia Institute as a "hip-healthy" product when used as directed. The sack is safe for babies who are rolling and does not restrict movement. Bub can safely roll, sit or stand, and the inner beads are non-toxic and BPA free.
As the weight is carefully designed to be no more than 10% of a child's weight, it is recommended to choose the sizing by weight/height, rather than age.
So… does a weighted sleep sack really help?
"Elliott is 8 months old, he wakes every few hours and cannot settle himself. So, I must admit, I was a bit skeptical that anything would work," says Caitlin. "But we noticed the difference the first night! Elliott was far more settled when in the weighted sack, as compared to his ordinary sleep sack."
With Elliott more settled, Caitlin went one step more and seized the opportunity to help him learn to self-soothe. 
"With the additional comfort of the weighted sack it was much easier to get him settled back in the cot," explained Caitlin. "Previously, I would have just taken him back to bed with me after a feed – presuming he wouldn't settle in his cot. Now we can get him back to sleep with minimal intervention. We are also occasionally dropping the night feed to make it through 8 hours. It's been amazing!"
"We were at the stage of contemplating sleep school, the weighted sack has saved us the stress of doing that, something I was never keen on but was getting desperate. So pleased we gave the weighted sack a try!"
Dreamland Baby Wearable Weighted Sacks are available exclusively in Australia at Stylebub.com.au
*name changed
---
RELATED:
Why we LOVE this new Retractable Pacifier Clip
Baby sleep and what to expect by six months old
Is it time for a Baby Sleep Consultant?