Let's be honest, clubbing and kids are two words that have never really gone hand-in-hand. And even for those couples that regularly hit a dancefloor in their heyday, most sadly hang up their glow sticks once children come along, knowing that their raving days have come to an end.
However, Big Fish Little Fish (BFLF) has seen this gap in the market and firmly answered it with their family-friendly raves. Already a success in Sydney, Melbourne and the UK, Brisbane families were lucky enough to experience their first event on Saturday 3rd February, at the Met in Fortitude Valley.
With a theme of 'Space Exploration', from the moment you step through the doors, the old-school rave vibe is everywhere. The smiling people in hi-vis handing out glow sticks, the happy crowd on the dancefloor, and the genuine love for the music and culture in the air is irrefutable.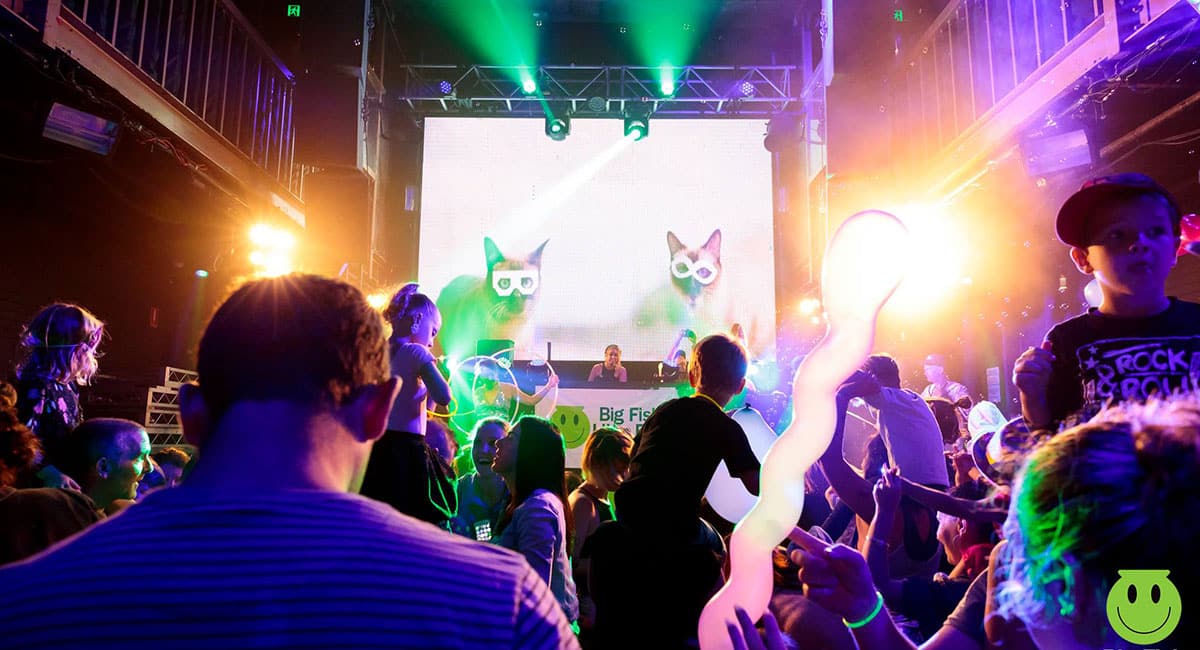 But it's equally all about the kids – a balancing act that BFLF has absolutely nailed. With a bubble machine pumping out thousands of bubbles in the air, hula-hoop dancers, face painting, a toddler soft play area and ball pit, balloons floating around, and a great craft area, the kids are having as much fun as the adults are.
As a parent who has also been a well known to spin a glow stick or two in my time, I was unsure how the afternoon would go. How do you dance with little ones? Will they get hungry, bored, will it be too loud? And I was concerned how much the old raver in me would clash with the parent I've now become. But all those worries were put to rest the moment we got there, because it was designed for kids and parents to enjoy together; those worlds no longer being in opposing corners.
You could take packaged snacks in for the kids so there was no worry about hungry tummies, and the music was at the perfect level where you could still enjoy the tunes but it was set at a safe level for little ears. The nightclub was perfectly transformed into a family-friendly venue, with a dedicated baby change area, a pram park and toddler chill-out room. And though it was sold out, it didn't feel too full. Plus, being 2–5pm, you could happily enjoy it for the afternoon and still have time to get home for the usual dinner-bath-bed routine.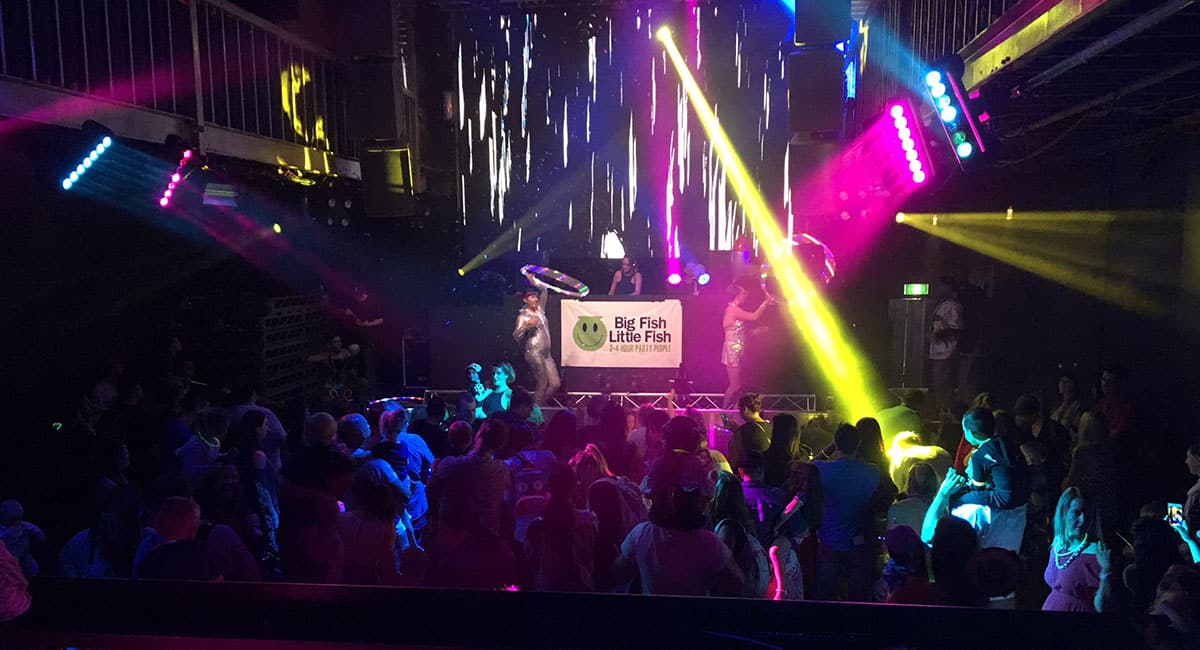 Binary Finary played a great set, with just the right balance of trance classics for the parents and nothing too banging for the little ones. Adding in the parachute over the crowd when they dropped their epic hit '1998' just made the shared moment even more special for families on the dancefloor. Having such legendary DJs from the heyday of trance behind the first event surely helped to ensure a sell out crowd and a successful launch.  
Big Fish Little Fish was the most fun we've had together as a family in a long time, and it was a great opportunity for the kids to share something that was (and still is) a large part of our lives (at least now when tell them mummy and daddy met at a rave, they don't simply think we are mad!). Where they can see their parents as 'real people' having fun, and where they can put into context the music we play in the car and the collection of glow-in-the-dark jewellery mummy still keeps in the drawer! The kids haven't stopped chatting about it and can't wait for the next one. They have just one request of, "More giant wibbly balloons from the sky next time please!!"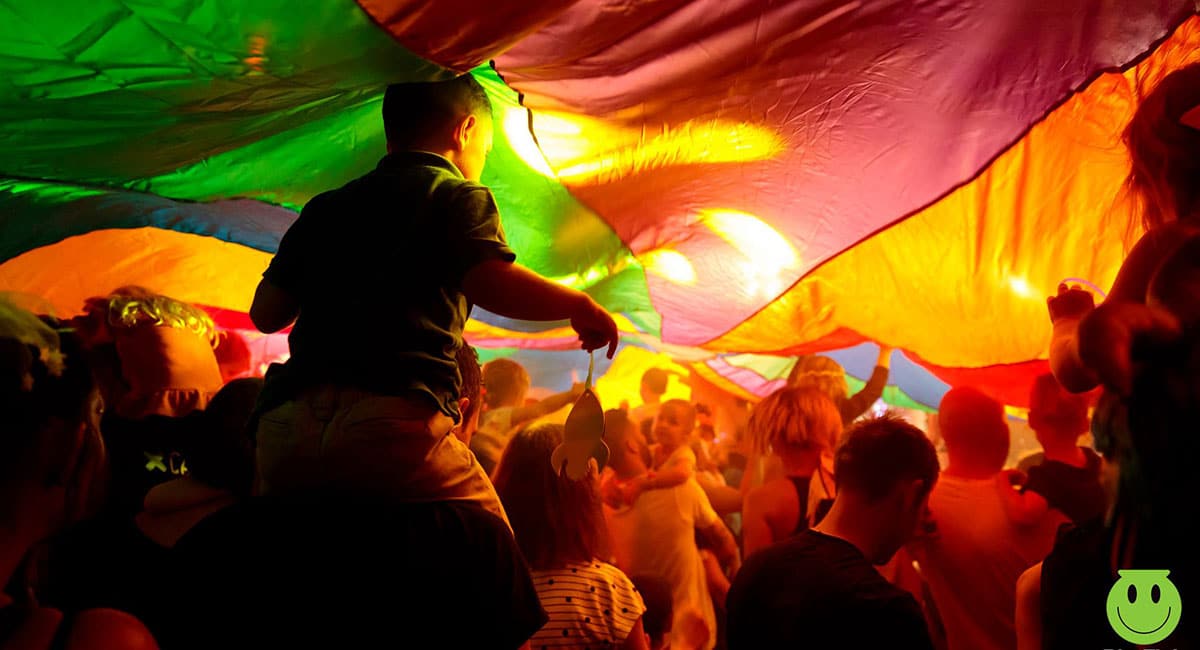 ---
You may also like…
An epic ninja course for kids is now in Brisbane
Brisbane Festival 2022: Activities for families to enjoy