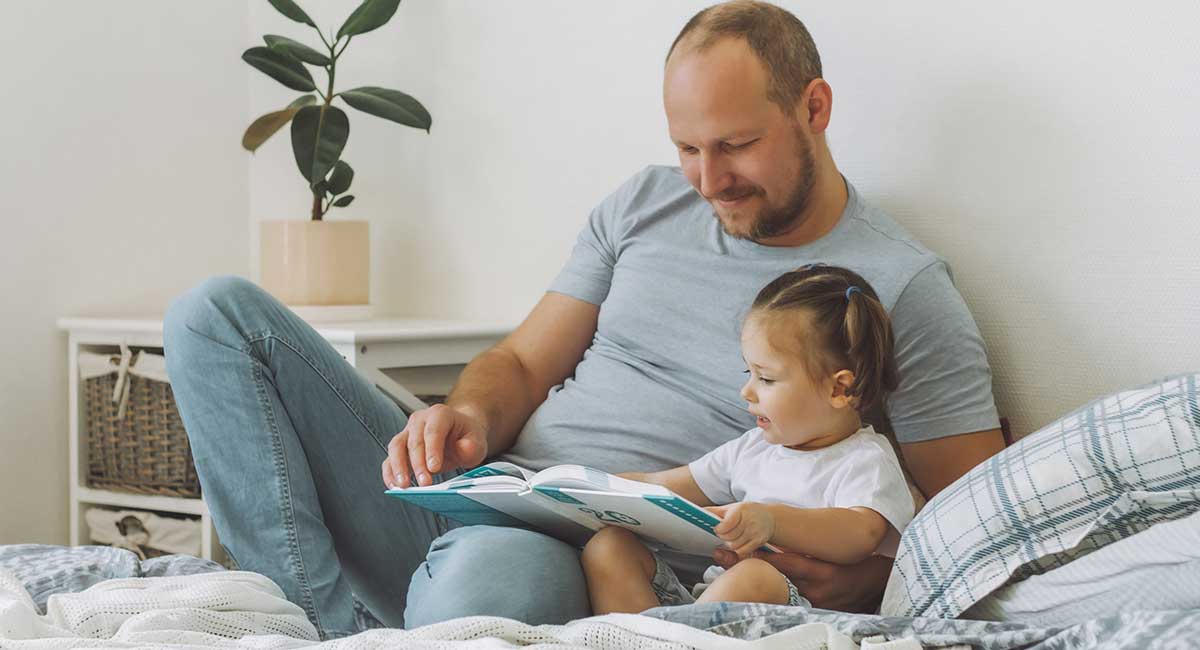 Education
Dads matter! Early literacy tips for dads
Research from the Murdoch Children's Institute (MCRI) has found that fathers who read to their children can have a unique impact on their child's language development and early literacy skills.
The study also found that the child's language development increased as they grew older, with results finding that fathers who read to their children at age two predicted better language development at age four.
"This may be because parents in the same household are reading the same books, but that the different ways in which they read has further helped child language development," said Dr Quach Postdoctoral research fellow at the Murdoch Children's Research Institute and Melbourne University lead author.
"Adults all tend to read books differently, such as focusing on different words, pronouncing things differently or emphasising different parts of the story. All these differences help children understand the different ways they can use language."
Dr Quach continued, "There is some research which suggests fathers are more likely to scaffold children's reading, which means they divide the reading in to smaller sections to enable the child to better understand the sections."
Also, dads are wonderful at silly voices! And, as Karen Gawen Young People's Services Supervisor from Sunshine Coast Council explains, these silly voices do so much more than entertain. "Dad's silly voices can spark more imaginative discussions, and bring to life the story in a completely different way than mum's reading might," said Karen.
Here's some simple ways for dads to get more involved in early literacy activities:
Shared book reading: Mum does a story one night, Dad the next. Mum might tend to focus on the character's feelings, whilst Dad might link narrative to something more pertinent to the child. 'They have a football! Remember when we took the football to the park last week to kick around?'
If you don't see your child every day, try to arrange a regular time twice a week that is the special reading night with daddy. If you work away, put aside time to read over the phone.
Children respond to your enthusiasm! So, read something that you are enthusiastic about. If you prefer non-fiction, choose books about famous people, how things work, or sport. If you need some ideas, head into your local library.
Make up your own stories. Kids love dads being silly, and this is the perfect opportunity to use those silly voices and get into a story with your child as the main character.
Tell stories about when you were young. Kids love to hear about their parents as a child, and they are easy to recount.
Get your child involved when you are doing household projects. Describe what you are doing, let them help write shopping lists, label items in the garage, or assemble furniture.
When you are driving, read billboards you see and signs.
If you play a board game with your child, pretend you've forgotten the rules and then read them with your child.
Always ask questions to see if they have understood what you are reading.
Do you have old magazines around the house? Let your child look at the pictures, tear out pages, cut out letters and search for words they recognise.
Read the menu together whenever you go out to eat.
Bust out the playdough – enjoy some quality time whilst also building those fine motor skills. Make letters, words out of playdough. Or build everyday objects and then chat about what you have made.
Free early literacy resources for parents
You can find plenty of free resources online, designed to help parents in their kids' early literacy development.
Parent Files: A fabulous resource for parents from Sunshine Coast Libraries, with tips and tricks to support mums and dads, play ideas and literacy games.
First5Forever: An initiative from Queensland State Government with activities, games, book recommendations and more to give children the best start in early literacy.
Rhymes with Ryan: What started off as a fun way for families to enjoy nursery rhymes during lockdown, Rhymes with Ryan has gained fans across the globe. Head to the Sunshine Coast Libraries' Facebook page every Monday night at 6.30pm for live virtual RhymeTime. Or all sessions are also all available on the Rhymes with Ryan webpage to watch on demand.
Toddler Tuesday: a fun session for little ones – where dads and their little ones can dance, sing, do yoga and play together. Due to continuing Covid 19 restrictions, the library is currently hosting their early literacy sessions for families online.
---
You may also like…
Early literacy games – anytime and anywhere
Early Literacy: What is it, and what do I do?
The important role of grandparents in a child's early literacy