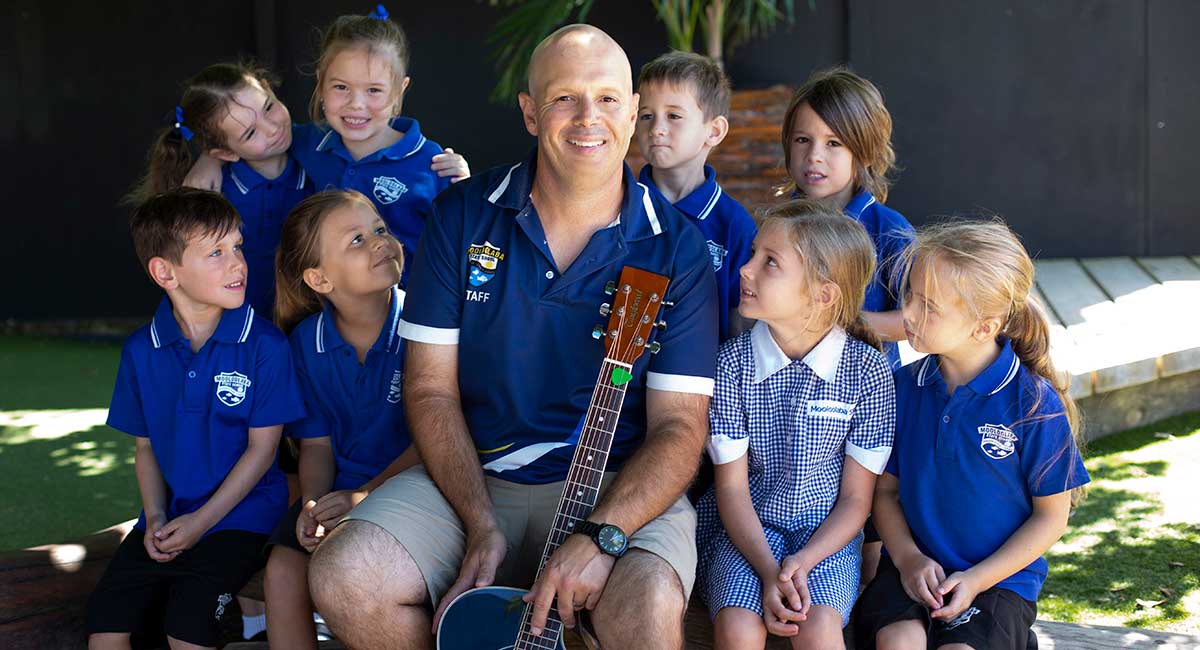 Education
The importance of male teachers in early education
The early childhood and primary education sector has traditionally been seen as the domain of women. Research suggests that male teachers make up just 2 per cent of the workforce in Australian early education. In primary education it's around 18 per cent, while in high schools it's 40 per cent.
However, more men are now seeing teaching as a worthwhile career — and with great benefits for the kids. We recently sat down with Mr Matt Griffiths (aka Mr G)from Mooloolaba State School. The Year 1 teacher spoke about his path into primary education, what it is about teaching that makes him feel fulfilled and why he feels education needs more male teachers in the classroom.
Choosing a career in early education
"I had finished my psychology degree at Queensland University of Technology (QUT) in Brisbane and was considering a two-year internship," Mr G says.
He had two good mates in his football team who were a couple of years into their teaching career.
"They were always sharing the wonderful achievements of their students," he says.
Although Mr G really loves psychology and how the mind works, he 'rolled the dice' and completed the two-year postgraduate teaching degree.
"I am so happy I made that choice."
It's important for schools to have more male teachers
Male teachers are under-represented, especially in early education.
"Some students can go through the whole of primary school and not experience a male teacher," Mr G says.
He feels it is important that students have experiences with males and females throughout their schooling. If more students could experience a male teacher in early childhood or lower primary it may provide strong, positive role models and father figures for students who may not have one.
Another benefit to having both male and female teachers in classrooms is that it gives young boys the opportunity to learn positive behaviours from teachers.
"Young boys who are disengaged or aren't interested in reading might really benefit from having a male teacher in the early year levels modelling some positive reading behaviours," Mr G says.
What do you enjoy most about teaching Year 1?
"I really enjoy the enthusiasm from all the students," he says.
In Year 1, Mr G says he bears witness to this amazing growth from every student.
"I love teaching them to read and I enjoy all the science behind it. The reading program at Mooloolaba State School is the best I have seen or heard about."
Mr G says another enjoyable part of being a Year 1 teacher is talking and communicating with the parents and caregivers.
"It is a year level where I am able to catch up with them and share their child's experiences on a regular basis," he says.
Encouraging more male teachers into early education
Limited visibility of male teachers further perpetuates the view that teaching is a job better suited to women.
"I think many young men might still have the thinking that teaching is a 'female occupation'," Mr G says.
"I am not sure how many young boys in Year 10, 11 or 12 have the hopes of being a teacher."
In fact, Mr G entered his teaching as a mature aged student at 23.
He says tapping into the mature-age market is something to be explored. Life experience and people from different types of employment are great to have among the teaching population.
"My school day flies. I invite the students in and then it feels like I am waving goodbye 10 minutes later. I wish people could see what a typical day entails, I'm sure we'd have more men flocking to become primary teachers!"
Being unique in the classroom
Mr G thinks his ability to make even the least enjoyable lessons engaging, exciting and something students don't want to miss out on is a unique quality.
"If students don't want to come to school, that is a problem for me," he says. "I need to adjust to ensure they jump out of bed excited about the possibilities of their school day."
He says he especially enjoys inventing games relating to mathematics and English concepts.
These are a few of my students' favourite things
Mr G believes being able to have a laugh with his students is one of their favourite things.
"Amongst all my jokes, pranks and giggles, they know they come to school to learn," he says.
Recently, a former student (who is now aged around 22) stopped Mr G at the beach.
"She said I was her all-time favourite teacher because I played games all day [fooled her]. She recalled some of the 'maths tricks' I had shown her and remembered the unusual ways I taught grammar and punctuation.
"I feel my job is done if students can still remember me in 20 years' time."
Written by
Angela Sutherland
After spending many years hustling stories on busy editorial desks around the world, Angela is now mum of two little ones and owner/editor at Kids on the Coast / Kids in the City. She is an atrocious cook and loves cutting shapes to 90s dance music.