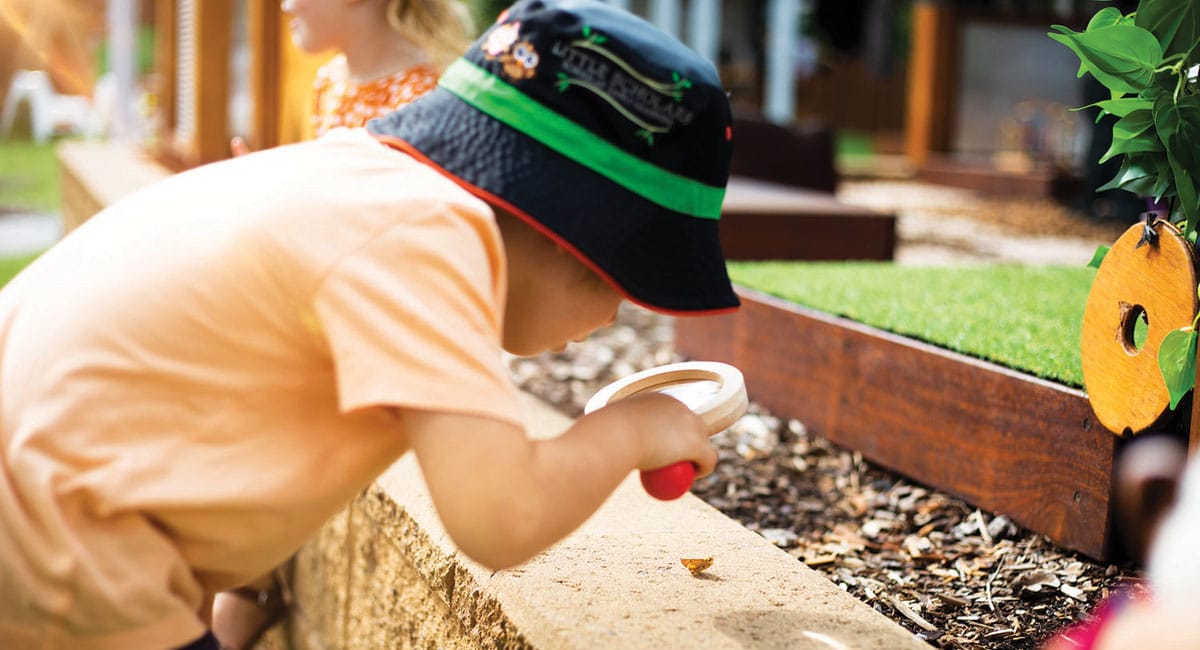 Education
How to choose the right early learning centre for your child
Enrolling your child into childcare is a big step. For most first-time parents, it can be a daunting experience. How do you know what to look for? What are the right questions to ask? 
Typically, your search begins chatting with your most trusted confidants: other parents! But what if you're the first of your friend group to have kids? Or what if you've moved away and you don't have the luxury of asking for trusted opinions?  
For most first-time parents, researching online is the first step in shopping around for the perfect early learning centre. From there, you have the shortlist of the centres you'd like to tour… and while it's a great way in seeing how the centre operates, it can add to the overwhelm. 
This one feels old.  
This one feels too hectic.  
This one has the right vibe… I think… 
Understandably, you have high standards and ideally you'd like to find a centre that aligns with your family values. Nobody knows your child better than you, so your intuition is quite powerful when choosing an early learning centre. But with gut instinct comes self-doubt, second-guessing and anxiety.  
To help eliminate the uncertainty, we spoke to Jae Fraser, Founder and Managing Director of the ten-strong Little Scholars School of Early Learning centres, and former President and current board member of the Australian Childcare Alliance. Jae has put together a series of key questions to ask during your childcare auditions to help you find the most suitable centre for your little one. 
General childcare policies and terms:
What are the operating hours? Is there a late pick-up fee?

 

Daily cost and the gap fee for government issued rebates (depending on your situation)

 

Is there an open-door policy for parents who may like to pop in and join an activity?

 

What happens if you need to miss a day due to illness or holiday?

 

What is the ratio of teachers to children?

 

If my child becomes unwell whilst in childcare, what is the procedure? (who is authorised to give medication, how do they manage allergies?)

 

How are behaviour issues managed? (Hitting, biting and bullying)

 

How are parents kept in the loop about their children? Is there an app that updates you on what activities are on, what food they are eating and how long they slept/rested for?

 

Is there a parent committee that I can be involved in?

 

Another important area; safety and staff training information. This will put your worries at ease and give you a clear idea of exactly who is in contact with your child.

 

How are centre staff screened? Is everyone trained in infant CPR and First Aid procedures? What other certifications and education do they have?

 

How long have your employees worked at the centre? (turn over is normal, but long term employees are an indicator of good culture) What happens if someone other than me or the other parent needs to do a pick up?

 

Does the front door require an entry code? What are the other ways people may access the centre?

 
Mental and social development:
A key role of early learning centres is to provide stimulation that encourages mental and social development. To gain more of an understanding of what your little one will be involved in, try asking things like: 
What types of activities do the children participate in? Are extracurriculars (dance, yoga etc) delivered by professionals?

 

Do you follow a particular curriculum or program?

 

What are the underlying values that you aim to instill?

 

Is there a wide variety of toys and equipment to keep them engaged?

 

How much emphasis is placed on reading? (look for how many books are available in classrooms and play areas)

 
Nutrition and feeding schedules:
This is an influential area that will have an impact both on your child and yourself. Think about how prepared you are to pack lunches, or if you'd prefer to have meals included. Some things to ask are: 
Does the centre provide snacks and lunch? If so, is there a qualified Chef? Do they use fresh ingredients and is all food cooked in house?

 

Does the centre follow an approved Nutrition Australia menu?

 

How and where are babies fed? Do they receive close contact during feeding and do I need to/ can I provide expressed milk? (If formula is provided, what type is it, and is there a lounge I can utilise for breastfeeding?)

 
Sleeping and toilet routines:
Last but definitely not least, sleeping and toilet routines are definitely areas you want to investigate. Especially details like: 
Nappy change facilities. Ask to see them and observe their cleanliness.

 

Are nappies and wipes included in your fee?

 

How does the centre handle toilet training and inevitable incidents that come with it?

 

Where do the children sleep? Do they have their own cribs/cots, and do you need to provide clean sheets and pillows?

 
With these questions and your natural instinct, you are more than prepared to begin the search in finding your dream early learning centre.  
Take your time, trust your gut and if something doesn't feel right, listen to that and continue to shop around.  
After all, the early learning centre you choose will play a big part in nurturing your child and allowing them to thrive.
For more information about Little Scholars, and each of its centres, please visit mylittlescholars.com.au, or their social pages:
Facebook: @LittleScholarsEarlyLearning
Instagram: @littlescholarsearlylearning
By Jae Fraser
Jae Fraser is the Founder & Managing Director of the Little Scholars School of Early Learning centres, and is also a current board member and former President of the Australian Childcare Alliance. Jae is a qualified teacher with 20 years of industry experience, and is passionate about creating the very best environments that allow children to learn and grow.  
---
YOU MAY ALSO LIKE:
New mindfulness program brings zen to Little Scholars