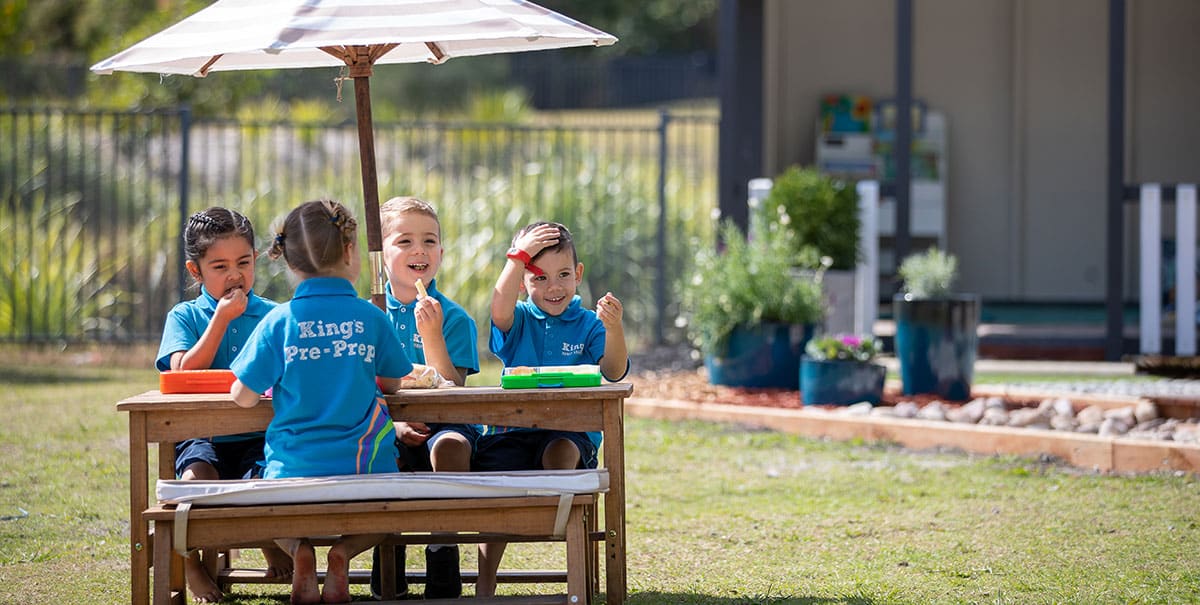 Education
King's Christian College opens a new school in Logan
Boasting 40 years' experience in education, King's Christian College has earned its place as one of the most well-respected private schools in Queensland. Already with two campuses on the Gold Coast – Pimpama and Reedy Creek – the growing school has been busy constructing a new school in Logan Village.
With the ongoing investment in infrastructure and quantity of housing developments being built in Logan, its easy to see why King's chose this thriving area of the city to call home.
"We are anticipating many families moving to the area," said Tracey Verreynne, Group Director of Early Learning.
King's College Logan Early Learning Centre opened in October 2019 for children aged two and a half to Kindergarten, whereas the primary school opens in January 2020 for Prep to Year 3 students. Year 4 will start in 2021, and an additional year level will be added each year, with High School (Year 7) commencing in 2024.
On completion, King's College Logan Village will operate an Early Learning Centre, Primary School and High School from the one campus, providing a seamless education for children from two years of age to Year 12.
"We are looking forward to welcoming families who are choosing King's for their Learning journey," said Ms Verreynne. "Our newly opened Early Learning Centre will give your child a start that's full of promise, and children attending King's Early Learning will progress 
into Prep at King's Christian College, providing a seamless transition 
to big school."
Sharing a campus allows early learners to become familiar with the greater King's environment. "Preschool students have regular excursions to explore various areas of the College," explained Ms Verreynne. "From counting school buses, playing on the large ovals, visiting primary classes or having older students reading with us, these experiences add value to the programme that we offer and prepare our preschoolers for their first year of school."
With the Reedy Creek campus turning forty years old and the Pimpama campus turning five in 2020, King's Christian College Logan is a small school with big school experience.
"Our aim is to deliver the same exceptional education program we already deliver at our Pimpama and Reedy Creek campuses," Ms Verreynne continued. "We can draw on this experience, success and innovative teaching methods to ensure that our King's Kids are given the best opportunities for success, and that we deliver a Christian Education for tomorrow's generation."
The early learning centre follows a programme of enquiry-based learning. "Students are given opportunities to foster a love for learning through child initiated and teacher extended learning," explained Ms Verreynne. "During term time, we also offer opportunity for families with preschoolers to build a sense of community through our weekly Playgroup held in our community room."
King's Christian College Principal Mr Rees Davis explained that the College's success lies in its values.
"The King's Foundational Values of Live Purposefully, Love Faithfully, Learn Passionately and Lead Diligently are the basis of the character traits that we seek to develop in our students," said Mr Davis.
"Over the years, King's students have done remarkably well in all areas of school endeavours. Their academic, cultural and sporting accomplishments have far exceeded what would be considered normal for the State of Queensland," Mr Davis continued. "Not everyone can be a star performer. Nevertheless, each person can grow to become an honourable person of good character. This is the vision of King's. We believe that each person is unique, endowed with special talents, and able to grow into the person God desires of him/her."
"We provide affordable education for young people who desire the opportunity to lay the foundations for successful lives," said Mr Davis.
Info: Where: 38 Anzac Ave, Logan Village | Call 5587 7600 to arrange a tour | More information at kingscollege.qld.edu.au/LoganVillage
PRINCIPAL'S Tours
• 6pm Wednesday 22 January
• 9am Saturday 6 June
• 6pm Tuesday 6 October
For more on what's happening at our local schools, try State-of-the-art learning precinct opens at innovative Brisbane school and Why all kids need STEM skills.