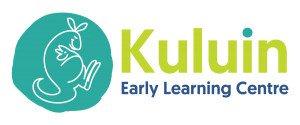 Kuluin Early Learning Centre prides itself on providing an atmosphere that is inviting, welcoming, safe and nurturing.
Kuluin Early Learning Centre has been established for 10 years and provides long day care for children from 6 weeks to 6 years 6.30am – 6.30pm. The dedicated passionate qualified Educators provide age-appropriate, interest-based, quality curriculums that encompass the Early Years Learning Framework and National Quality Standards.
Kuluin Early learning Centre received an Exceeding rating through the National Quality Standards.
The service provides a Government Approved Kindergarten Program that is facilitated by an approved Bachelor trained Early Childhood Teacher. The Kindergarten curriculum encompasses all five learning areas of the Queensland Kindergarten learning Guidelines and these are met both in the classroom, outdoors (River Kindy) and in the wider community. River Kindy is made available to all enrolled Kindergarten children and is available one day a week during the school term. River Kindy explores, environmental hazards, man-made hazards, tides and currents, flora and fauna, water safety, emergency services, and invited guests from our local community come along and facilitate workshops/experiences on topical interests.
CONTACT
WEBSITE: http://www.kuluinelc.com.au
LOCATION: Indiana Place, Kuluin, Maroochydore, Queensland, 4556, Australia