Schools and early education centres often organise activities for their students. These activities allow students to take a break from their usual school routine. They also stimulate and extend their learning experience. Earlier this year Kids on the Coast – Kids in the City had fun testing Laser Tag in a Box, and we couldn't help think it was an ideal activity for a school environment.
What's this? Laser tag in a box?
Nicole Lander wants to get kids and adults off their screens. She believes lasting memories are made in the outdoors, which is why she came up with Laser Tag in a Box.
She and her husband Peter founded the business in 1999 and have provided fun and excitement to thousands of people and businesses across Australia and overseas.
The mother of two started Laser Tag in a Box with a few thousand dollars and an idea. An enthusiastic gamer, Ms Lander want to take the video game experience and make it live.
She says children (and adults) spend so much time on screens, but with laser tag games they can get outdoors.
"The live-action gaming experience is thrilling," she says.
In the past 23 years, Laser Tag in a Box has been booked more than 25,000 times. It has also been exported to more than 55 countries and Ms Lander says she has patented the technology in Australia, the United States, the United Kingdom and Europe.
"Millions of people play our brand of laser tag, either by hiring the game or buying it," Ms Lander says.
While many of the rentals are to people in cities, the company also sends Laser Tag in a Box to those in regional and rural areas.
Laser tag in schools
Laser tag is a low-risk, fun, stimulating activity. Children practise cooperation and collaboration as part of a team, as well as working on their problem solving skills. What's also great about Laser Tag in a Box is that students don't have to go off-site for the experience.
"There is no need to go to a laser tag arena or a family entertainment centre," Ms Lander says. "There is no need for a bus."
She says Laser Tag in a Box is suitable for all primary school-aged children, including those in Prep. It's also perfect for outside school hours care or vacation care programs.
"We have different models for different age groups," Ms Lander says.
Even children with additional needs enjoy the games.
"We can alter the level of stimulation on the taggers, the kids are playing in a familiar environment with people they know and they can go at their own pace," she says.
Ms Lander says the best way to decide what you need to hire is to divide the maximum number of students by four.
"For example, if you have a class of 32 kids, we recommend you hire an 8-pack. You can then divide your day into four sessions."
Debbie Fox coordinates the OSHC program for Catholic Early EdCare Algester. She says Laser Tag in a Box was easy to organise.
"The children had an absolute ball," Ms Fox says.
According to Ms Lander, that sort of feedback is common.
"The laser games can be played outdoors or indoors all day, which makes us great value for money," she says. "I often hear about how engaged the kids are when they are playing and about how much fun they are having."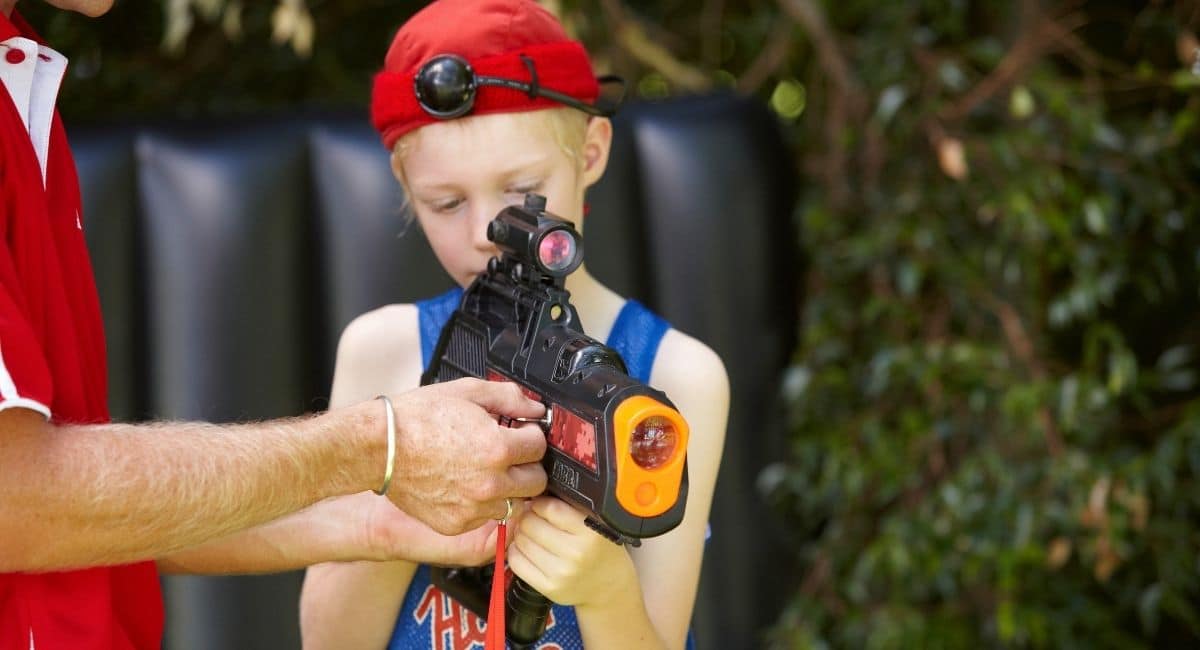 How does it work?
"Every package includes a 'Quick Start' guide with step-by-step instructions," Ms Lander says. "All the equipment is pre-set, so all educators need to do is turn on each unit and start blasting."
She says the Laser Tag in a Box website takes online bookings or you can call to book.
"Our staff are happy to answer any questions you might have along the way," Ms Lander says.
To ensure schools or centres have the equipment in time for the event, she recommends booking delivery in advance. Someone from the school or centre needs to sign for it.
Kids love playing Capture the Flag, Battle Royal, Team Elimination and Capture and Hold games with the laser tag.
"Best of all, you don't just have a couple of hours with our laser tag equipment," Ms Lander says. "When you hire with us, you get the laser tag gear for a whole 24 hours! I've heard about children playing games from dawn until dusk, it's that popular."
She says the laser tag equipment is intuitive and can perform both indoors and outdoors.
Want to know more?
Laser Tag in a Box is deliverable around Australia.
"A lot of education facilities like that it gets delivered to the door and their staff can run the games," Ms Lander says. "It means other people aren't coming to the campus, which can be reassuring from a child safety perspective."
Nicole Lander says she's proud to have an Australian-owned and operated business kids love.
"We believe kids who have happy memories in childhood grow up to be happier adults."
For more information contact Laser Tag in a Box on 1800 266 587 or visit the website.