Parents always want to give their children the best chance in life. Often, this means providing them with rich, educational opportunities. This was the case for Shilpa Shetty, franchisee of Kumon Upper Coomera Education Centre. Shilpa, wanted to enrol her son into Kumon but there was no centre nearby.
It got me thinking that, 'Hey, wait a minute, why can't I do this?", Shilpa explains.
Before opening Kumon Upper Coomera, Shilpa worked as a marketing researcher and in lecturing and administration roles in Australian universities. While her career was successful, Shilpa never felt completely fulfilled. She always wanted to work with children.
For Shilpa, becoming a Kumon franchisee was the perfect opportunity to run her own business. While also contributing to local children's education. So, Shilpa pursued her passion for children's education. And in doing so, she gave many children in the Upper Coomera area access to a learning method that develops students' skills in mental calculation, reading comprehension, and self-learning.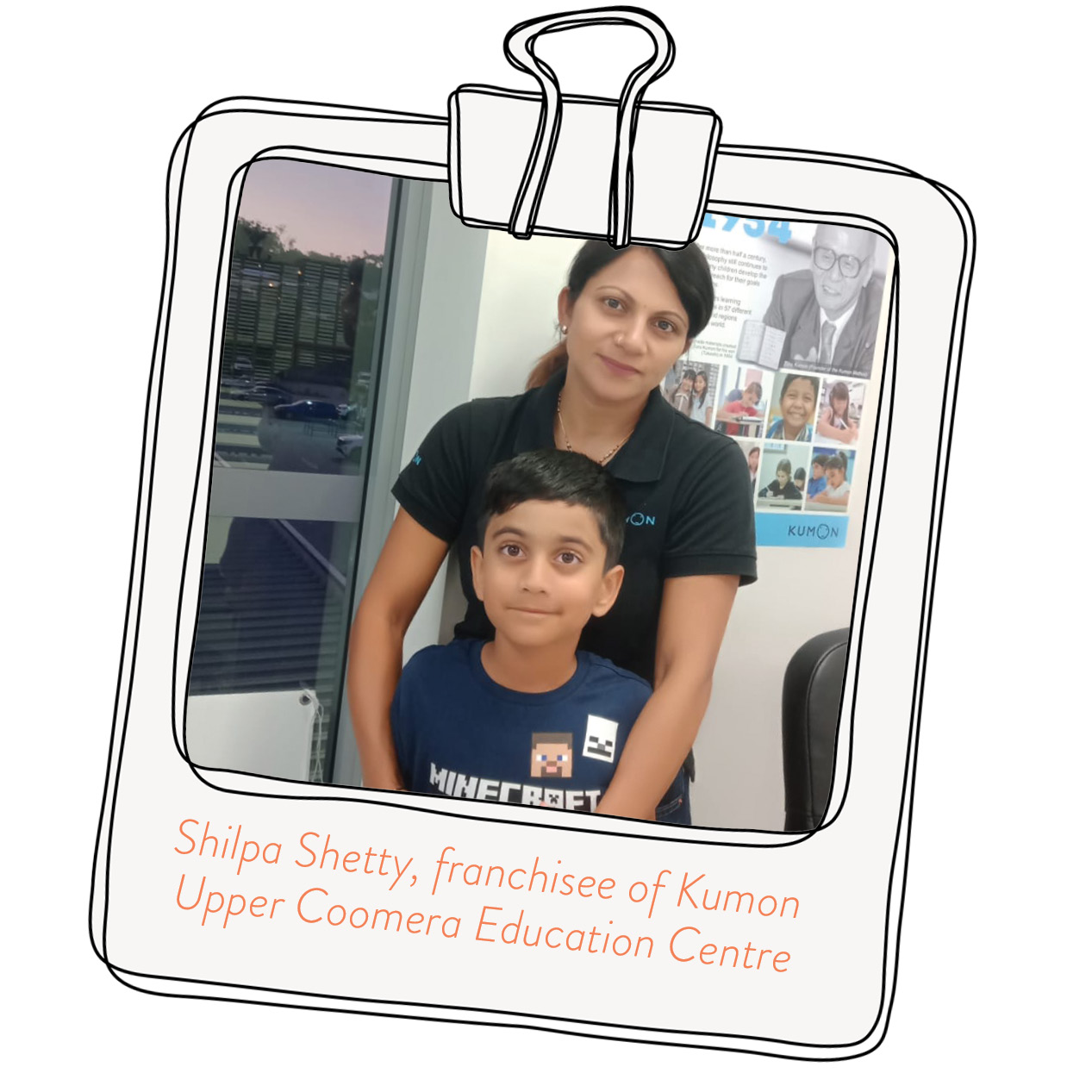 Kumon was established in Japan in 1958, and has since spread worldwide to 61 countries. Currently, 3.6 million students study a Kumon programme. Of this number, more than 46,000 are in Australia, spread across 300 Kumon centres in every state and territory. While becoming a Kumon franchisee is a significant commitment, many find their work to be personally fulfilling—as has Shilpa since opening Kumon Upper Coomera.
"I think what I love most is just seeing the children progress in their learning. Whether it be English or maths, or whether it be someone who couldn't read when they first started [Kumon]", Shilpa says.
"To see them being able to read is just an amazing feeling. We get that in our own children, but to see it in other children and know we had a part to play makes us feel really good".
A day in the life of a Kumon franchisee
As a Kumon franchisee, Shilpa works in partnership with her students and their families. She creates an individualised study plan for each child, assigns and sends home the worksheets that her students are ready to learn next. While providing parents with regular progress updates.
Shilpa is also the small business owner for her centre. So she is directly responsible for all her centre operations. But she doesn't work alone. She receives intensive support from Kumon Australia and New Zealand.
"They're constantly supporting you, whether it's just day-to-day activities or whether it's a different challenge", Shilpa says. "They really do assist every step of the way as much as they possibly can."
This includes providing a franchise opening kit, commercial rent subsidies and furniture, national advertising and marketing, ongoing training and professional development, and a personal franchise development consultant.
Kumon is recruiting new franchisees to own and operate franchises in Aspley, Ashgrove, Browns Plains (for sale), Currumbin, Ferny Grove, Highfields, Nerang, Oxley, Redlands, Redcliffe Peninsula, Robina (for sale) and Stafford.
If you want to be a leading educator in your community while running your own business, send the Kumon Queensland recruitment team an email today at .