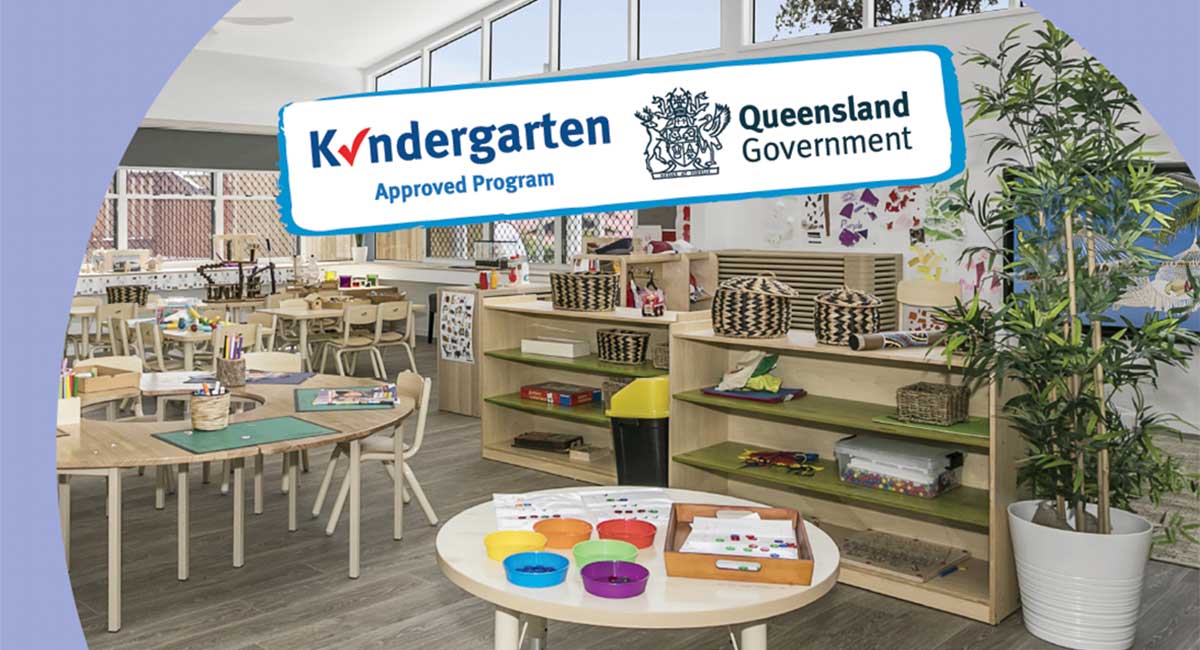 Education
What is a QLD Government Approved Kindergarten Program?
There's a plethora of accreditations and frameworks around early learning today, so it's no surprise that many parents feel confused when choosing a provider.
Amidst all the acronyms and ratings, one of the key accreditations when looking at a Kindergarten program is the Queensland Government Approved Kindergarten Program tick.
It looks like this!
But what is it, and why does it matter when choosing a kindy for your child?
What is a QLD Government Approved Kindergarten Program?
Approved kindergarten programs are designed to meet government guidelines to support children's participation in quality early childhood education.
The programs are offered in kindergarten services, long day care services and limited hours care services.
An approved kindergarten program must be:
provided for children in the year before Prep (i.e. children who are 4 by 30 June in the year they start
provided for 15 hours a week for 40 weeks, or 1 school year
play based
delivered by a qualified early childhood teacher
Lauren Hall, owner and founder of Sanctuary Early Learning Adventure believes that the government tick of approval ensures that parents know they are receiving the highest quality education from their chosen service. 
"We are proud that Sanctuary Early Learning Adventure's Kindergarten Program is fully approved and supported by the Queensland government," said Lauren. "We are innovative, creative, modern and we provide the absolute highest levels of education, experiences and care. That tick reassures parents that we are making a positive impact on their child's development."
How does this differ from the EYLF (Early Years Learning Framework)
Rather than being a tick of approval on the program, the EYLF is a set of guidelines designed to support early learning teachers in classrooms from birth to five years. These guidelines define five broad learning outcomes, which early learning curriculums should aim to fulfil across all year levels.
The guidelines are:
Children have a strong sense of identity
Children are connected with and contribute to their world
Children have a strong sense of wellbeing
Children are confident and involved learners
Children are effective communicators.
"Sanctuary's curriculum is guided by the Early Years Learning Framework (EYLF), with a holistic approach, to incorporate all areas of learning and development," explained Lauren. "All of our Educators are highly qualified and have their own individual philosophy centred around the best outcomes for each individual child, while also adhering to the national guidelines set out on the EYLF.‍"
Why should an approved program be play based?
It has been well documented that play-based learning in the first five years brings the best outcomes for the child. This approach ensures that a child is best prepared for school (both socially and academically), but also that they develop a love for learning and those essential life skills such as critical thinking, curiosity, and creativity. 
"At Sanctuary Early Learning Adventure, we believe that a collaborative approach to learning is the best way to encourage growth and development," Lauren explained. "The value of play in each child's development is paramount, so each day is fun as we strike a balance between collaboration and free expression while still being a QLD Government Approved Kindergarten Program."
Lauren believes that, for the best outcomes, these programs should be child focused and initiated, inspired by children's curiosity, imagination, and designed to nurture the development and growth of each child. 
"As parents ourselves, we understand the trust you are placing with us when enrolling your child. Our commitment to you is that we will provide a safe and nurturing environment, while delivering the highest quality program and meaningful experiences."
---
Written by
kidsonthecoast